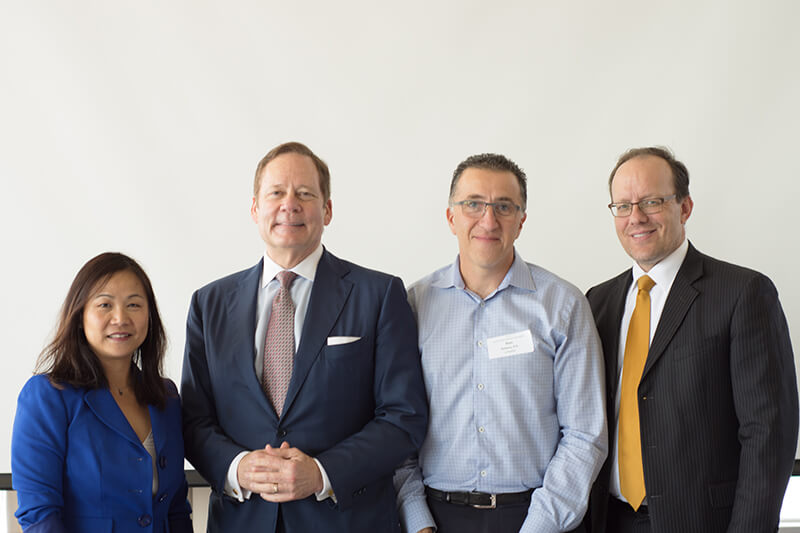 Making Innovation Happen
By Andrea Richard
Innovation starts with an organization's culture and its people, according to panelists at the February South Florida Executive Roundtable.
"I think it starts with hiring. If you hire smart people who have the ability, interest and vision that you share, you'll be able to operate at the highest capacity," says Tom Hudson, vice president of news and a special correspondent for WLRN, South Florida's National Public Radio member station.
Hudson was joined by W. Allen Morris, chairman and CEO at the Allen Morris Company, a full-service real estate firm; and Ron Antevy, president and CEO at e-Builder, who recently sold his 23-year-old business to Trimble Corp. for $500 million. Joanne Li, dean of Florida International University's College of Business, was the moderator.
SFBW is the exclusive media sponsor of the executive-level luncheon, which was held at the Rusty Pelican in Key Biscayne Miami. For tickets, visit sfexecroundtable.com.
Define "innovation" in your sector, in your company.
Hudson: Understanding and acknowledging first that audience patterns have changed, and that we need, as a media representative, to listen to the audience and meet them where they are, and no longer expect them to come to us. I think knowing what the audience is coming to us for, and we know on our public radio station that people are coming to us for local, narrative, storytelling journalism.
Antevy: We are a technology company, so innovation is at the core of what we do. The way I would define it is similar to what Tom said—listening to your industry and your customers and finding new ways to solve a problem.
Morris: This is my passion: Imagining what people want and really need that they don't know yet, and designing projects around what they will want and need in the future.
That's a big and tall order. As a leader of your organization, how do you create a culture of innovation?
Morris: No. 1, with joint ventures with other companies that are experts in things that I don't know how to do. We hire people that are experts in things that I don't know how to do. And we have millennials in our company that use social media and technology that I don't use. They attend events that I don't relate to and are energized by things that are different. That's how we design real estate gathering places and spaces for lifestyle events.
Antevy: A couple things I would point to. We give people an opportunity to learn. We send people to conferences. We make that a part of our culture. And making it OK to fail is a big, critical part of innovation. When you build and design software, you're going to get stuff wrong and that's not a failure, it's part of the process. If you make it not OK, people will just want to do the right thing, and they'll take the safe approach, and you won't be able to innovate.
Hudson: We don't greet any idea, any request, any risk-taking with "no." That's not our first answer. Instead, our answer is, "How might we accomplish that?" If the goal, for instance, is to engage with a community that doesn't normally appear on media—say, high school students, whom we've heard a lot from recently because of the tragic consequences [the high school shooting] in Parkland—how might we engage with students in how they are paying for college or looking for work as they are moving into adulthood? We like to create opportunities with our employees and allow them the space to explore things, allow them the space to fail, but you have to start those conversations in an environment that those ideas are going to come in, in the first place. ♦