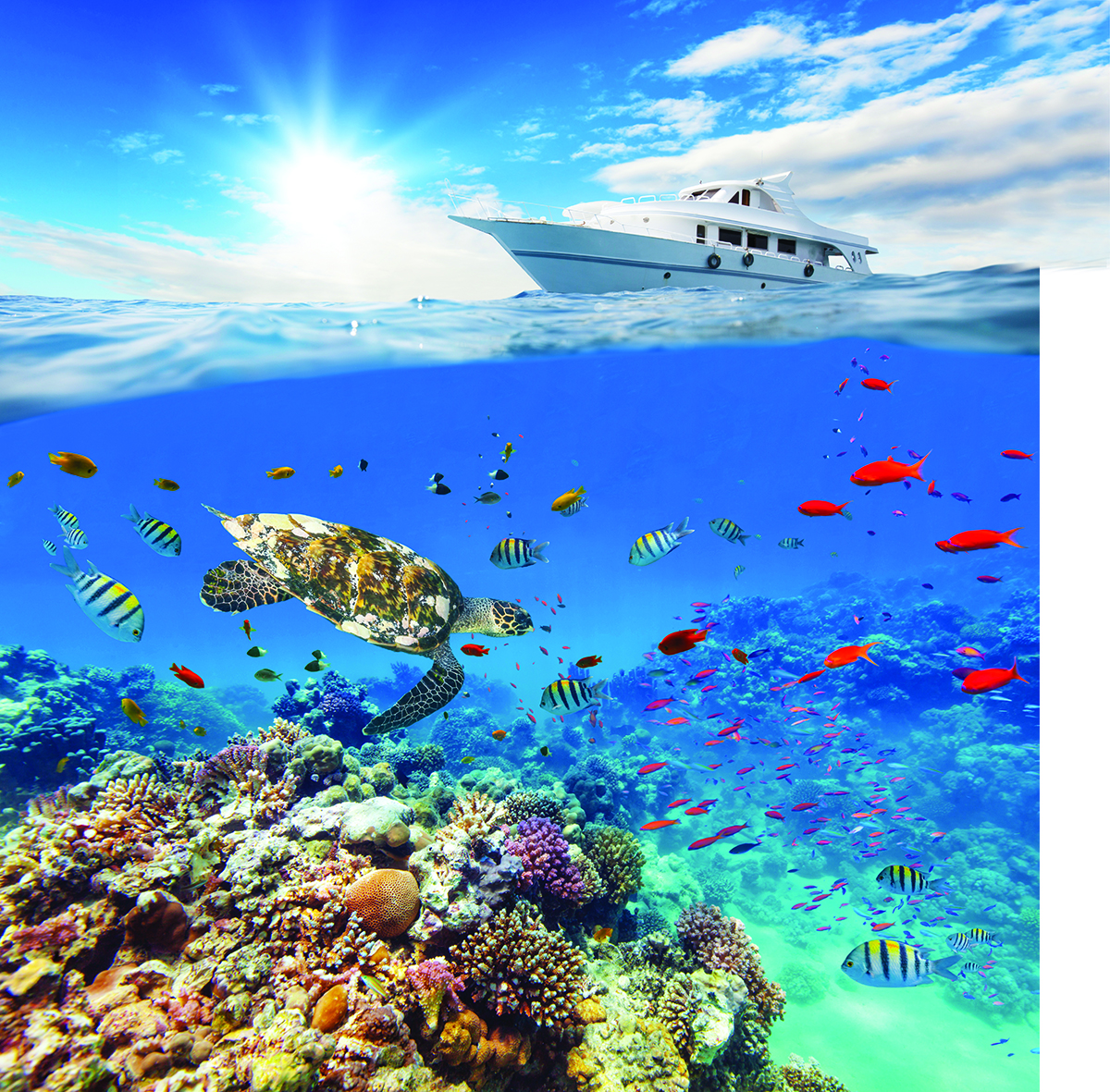 Miami Boat Show Goes Green
When the 78th annual Progressive Insurance Miami International Boat Show comes to port Thursday, Feb. 14, at the Miami Marine Stadium Park and Basin, show organizers want attendees thinking green.
Making its debut at the five-day show, which runs through Feb. 18, on Virginia Key will be the Costa Conservation Village. The village, presented by sunglasses manufacturer Costa del Mar, aims to educate and inform visitors about critical environmental issues, including efforts to restore and protect marine ecosystems while preserving game fish.
"We're doing our part on educating boaters about the environment," says show director Larry Berryman, adding reusable aluminum water containers will be available for sale at the show along with water stations to refill them. "We're just trying to do things a little more friendly to the environment."
The idea behind the reusable water containers is to discourage the use of single-use plastic water bottles, which frequently are discarded into the ocean. Berryman says several local and regional businesses have partnered with the show to place an emphasis on conservation. "It's our 'kick plasticsí campaign,'" Berryman says. "It (conservation) is a big deal for the entire planet."
Costa del Mar's offshore fishing community leader, Andrew Cox, says the company long has been at the forefront in conservation. "Costa is such a conservation-minded company," he says, adding the conservation village is new to the boat show. "This year Larry and I teamed up to focus on conservation."
Cox says other conservation partners will use the village to showcase what they're doing to protect the environment.
There will be three water-filling stations at the show. Each metal water container features a "kick plastics" logo. For the third consecutive year, there will be no Styrofoam on the premises. Environmentally conscious products will replace hard plastic utensils, and plastic straws will not be used.
This year marks the second time both the Miami International Boat Show and the Progressive Insurance Strictly Sail Miami will share the Virginia Key location. In the past, Strictly Sail Miami was held at the Miamarina at Bayside.
Berryman also points out that the Miami Yacht Show has moved to a new location in downtown Miami. "We will have connectivity," he says. "You can buy a combo ticket for each event. We're working with them on cooperative advertising."
Boat show organizers estimate at least 100,000 visitors will attend this year's show. The Miami show attracts boat enthusiasts from around the globe and is recognized among the largest and best in the world.
Berryman says this year's show brings expansion of the sailing and boating education elements at the show. "Our introduction to power boating course is very popular," he says. "Boat USA helps with that."
The $149 price for the course includes three hours with a licensed captain on the water and also includes show admission. Berryman says a "women on the water" program is also being offered, too.
Show attendees can experience the boating lifestyle firsthand, with test drives as well as boating and sailing seminars.
This year, the accessory vendors will exhibit on the east side of the campus.
More than 1,400 new boats will be on display both on land and in water. Many of the new models will make their debut. One new model being displayed by Midnight Express is the 60-foot Pied-A-Mer large center console powerboat. It has two full bedrooms and one full bathroom design.
Other boat models on display include the Scout 530 LXF and 235 Dorado, Technohull's Omega 45, and Iconic Marine Group's (the parent company of Donzi Marine) first catamaran.
The show will feature a variety of dining options from caterer Great Performances. The show has partnered with many well-known Miami area restaurants and food trucks to offer choices waterside and upland.
New for wine lovers at the 2019 show—and straight from the California vineyards—is the Meiomi Home, designed to resemble a coastal California bungalow, complete with a kitchen/wine-tasting room. Meiomi, a California coastal winemaker, will educate and provide samples of chardonnay, pinot noir, rosé and sparkling wines. The show's all-inclusive VIP admission includes one day's entry with many exclusive amenities. In addition to complimentary food, drink and entertainment, patrons may use an indoor luxury lounge with air conditioning and Wi-Fi. The VIP deck offers views of the Miami skyline.
Economic Impact
• Show organizers expect the show to generate at least $800 million for the local economy.
• Out-of-town visitors will add $53 million to the economy.
• Visitors travel from as many as 35 countries to attend the show.
• The show supports more than 6,000 full-time jobs, organizers say.
If you go
• Where: Miami Marine Stadium Park & Basin, 3501 Rickenbacker Causeway
• When: Thursday, Feb. 14, through Monday, Feb. 18, 10 a.m. to 6 p.m.
• Admission: Opening day is $40; combination ticket with Miami Yacht Show is $83. General admission is free for children (12-under) or $25 for ages 13 and up; combination ticket with yacht show is $53. Multiday passes are $45 for two days, $100 for five days. VIP tickets are $150 ($175 on opening day).
• Information, tickets and parking: miamiboatshow.com/tickets-and-parking