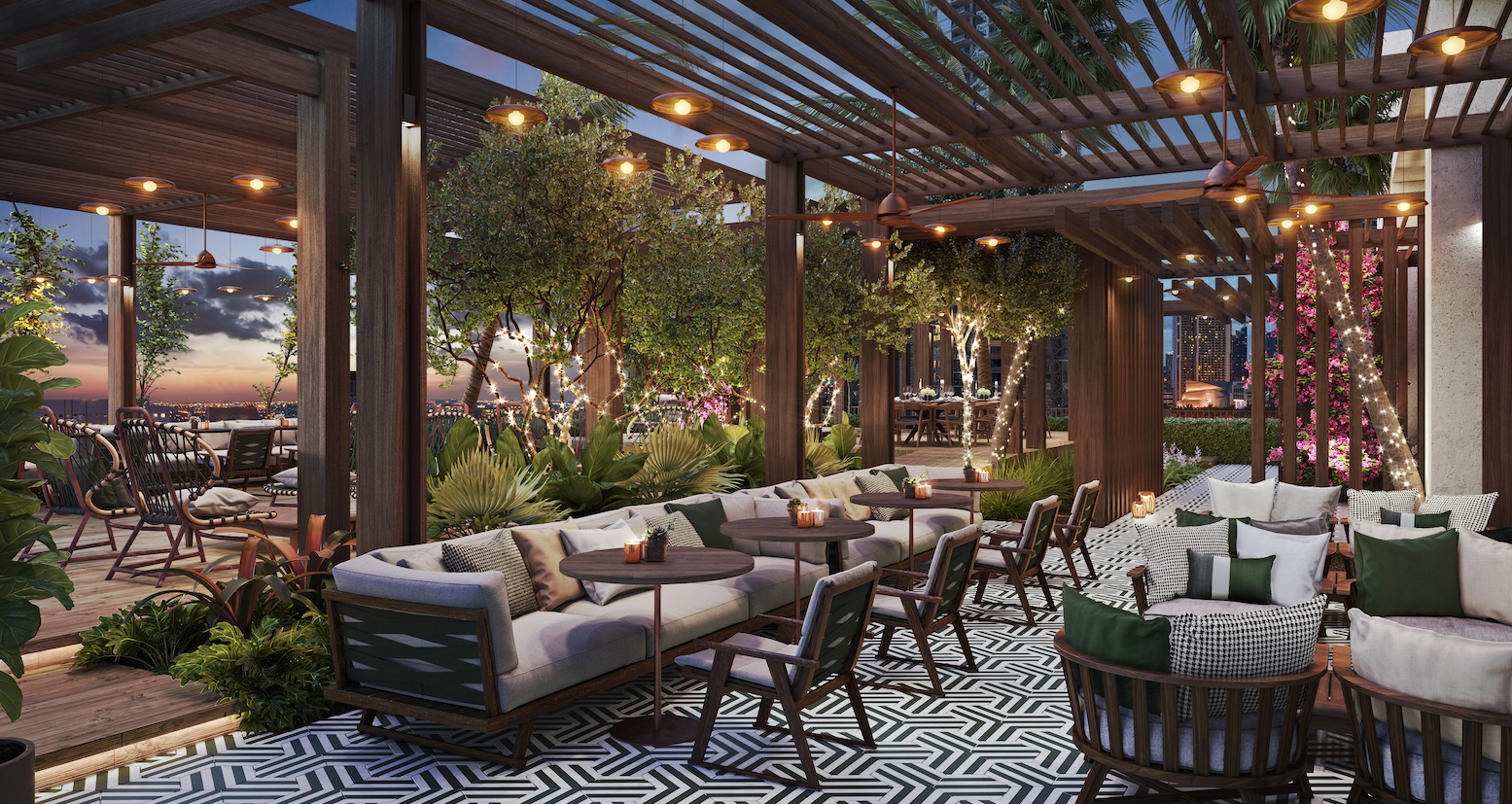 All in One
Natiivo Miami is being built to house everything you can think of—within 51 floors
Integration is the watchword of the in-process Natiivo Miami tower. The 51-story Arquitectonica skyscraper—developed by Sixth Street Miami Partners, with sales by Cervera Real Estate—will contain multitudes, like a glistening vertical city in which to eat, work, live and play.
The first boxes to be ticked are its condominium residences (448), condominium hotel residences (140) and a hotel (100 units). But that's just the start. With interiors by Urban Robot Associates, Natiivo Miami will also be the first development designed, built and licensed for homesharing, creating a hybrid hospitality and residential experience for owners and travelers alike. With short-term rental restrictions in flux in the state, that fact that the tower is approved for short-term rentals is a bonus in terms of flexibility and investment opportunities.
So how will the residents and visitors fill their time when they're not on the town? The project features a pair of innovative concepts: a creative office space called Creative HQ, as well as the members-only social club Natiivo Social. And in a recent announcement, Natiivo confirmed that it will be home to two of Miami's most coveted restaurants, Dolce Mercato (by Dolce Italian) and Bodega Taqueria. Dolce Mercato combines the feel of a sophisticated food hall with the charm and service of a sit-down restaurant, and will offer an array of food options, ranging from hearty Italian cuisine to a healthy Mediterranean menu delivered in an array of food stations. Bodega Taqueria at Natiivo Miami is the new spin-off concept of Bodega Taqueria y Tequila, South Florida's iconic spot known for its toothsome Mexican street food. It will feature the fast-casual food it's known for, offering tacos, burritos and other authentic favorites, as well as an expansive outdoor patio and iconic airstream.
Meanwhile, intended to cater to Miami's burgeoning creative and technology class, Natiivo's Creative HQ represents Miami's first-ever designated creative office condo and is located on the fifth through eighth floors. The 127 office-condos will be delivered tenant-ready and fully finished in order to provide the ultimate office experience. Creative HQ is designed with open floor plans, advanced technology and ultra-high-speed internet access. Sales for the creative office condos are being handled by One Commercial Real Estate, led by CEO Daniel de la Vega.
The icing on the project's cake will surely be Natiivo Social, an exclusive, project-defining social club that spans three floors and 70,000 square feet, featuring dynamic performance spaces and restaurant offerings, coworking spaces, a 16,000-square-foot poolside retreat and a 18,000-square-foot health and fitness center (cardio and Peloton equipment, pilates studio, boxing ring, an exclusive outdoor training terrace with jogging track and CrossFit equipment, a member's locker room, plus steam, sauna and spa). Natiivo Social will be created and curated by the experts: the prominent hospitality group, LDV Hospitality, led by John Meadow. LDV Hospitality will be curating the food and beverage options, as well as the conceptual design and entertainment programming.
Natiivo is an ambitious undertaking that will take time to execute—it is not opening until Summer 2023. But when it does, those inside will have the benefit of a prime downtown location by Miami World Center, with panoramic ocean, Biscayne Bay and Miami skyline views.