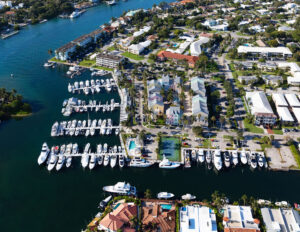 PORT 32 Marinas, LLC (PORT 32) recently acquired one of South Florida's most coveted waterfront properties by purchasing Lighthouse Point Marina at 2831 Marina Circle in Lighthouse Point, situated on the Intracoastal Waterway, just minutes from the Hillsboro Inlet. The deal entails the first marina acquisition by the new PORT 32 leadership team, which joined the company in late 2022 and seeks to grow its network of marinas within Florida into new markets along the Atlantic Coast and Gulf of Mexico.
"Lighthouse Point Marina is a special lifestyle property in an extraordinary location, tucked just inside the clear Atlantic waters of the Hillsboro Inlet," Austin Schell says, CEO of PORT 32 Marinas. "Here at PORT 32, we love cruising with friends and family, saltwater fishing, and ice-cold drinks on the waterfront, which makes Lighthouse Point a perfect fit for our growing portfolio of premier coastal marinas. After almost 60 years of unbroken family ownership, we are thrilled the Spiekers chose PORT 32 Marinas to carry on their legacy as the first non-family owner of Lighthouse Point. To all our Lighthouse Point Marina members and the surrounding community, we look forward to introducing you to our leadership team and hope to meet you on the docks, at the Nauti Dawg restaurant, or on the saltwater sometime soon."
The waterfront location features the 2,271-square-foot Nauti Dawg restaurant offering 90 seats in an indoor and outdoor setting with six dedicated transient slips. Lighthouse Point Marina offers 102 wet slips that can accommodate 25- to 80-foot vessels. The 4,410 total linear footage marina had been family owned and operated for over 50 years and had never been offered for acquisition previously. Amenities at the marina, located less than ½ nautical mile from the Hillsboro Inlet, include a fuel dock, live bait station and ship store, which make it one of the most desirable marinas for boaters.
CBRE's Julie Fisher Berry and Sheila Roux represented the seller, Lighthouse Point Marina Inc., in the transaction. Led by Julie Fisher Berry, CBRE's Marina and Shipyards brokerage team in South Florida has transacted over $1.5 billion in marina and shipyard sales.
"Lighthouse Point Marina is one of the most coveted marinas in South Florida due to its location near the Hillsboro Inlet and the surrounding area of Lighthouse Point. The owners have built a loyal customer base by providing great service, operating an excellent restaurant, and keeping the marina in impeccable condition," Berry says, a senior vice president with CBRE in Fort Lauderdale. "CBRE is honored to have represented the owners and identified the buyer of this high-profile marina property. After a strategic offering process, PORT 32 Marinas emerged as the perfect buyer. CEO Austin Schell and his team have engaged with the owners and staff for a smooth transition that will continue the successful legacy that the Spieker family built."
Photo credit: Smith Aerial