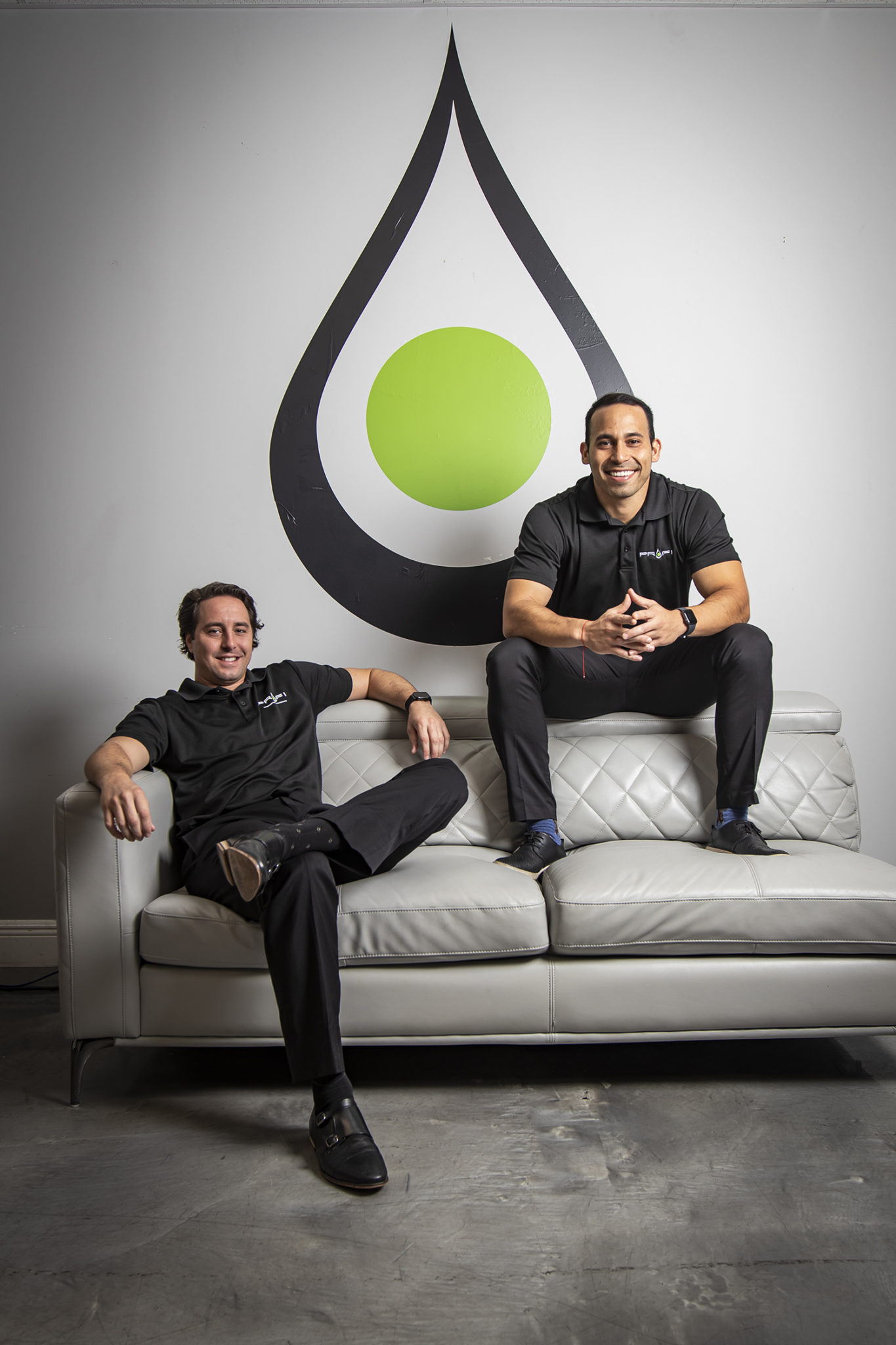 ProFi: A college project Turns into a thriving business
Photography by Eduardo Schneider
Some businesses start in a garage, but ProFi Construction & Maintenance can be traced back to a messy apartment.
CEO and President Mike Loudis and his childhood friend, Chief Operating Officer Patrick Cueva, were working a security gig while attending Florida State University when Loudis talked about how he had to write a business plan for an entrepreneurship program. While kicking around ideas, Loudis talked about the messy apartment he shared with three other guys and finding it would cost $200 for maid service.
"Hey, why don't we hire students to clean apartments for half the price," Loudis recalls saying. "Pat said that was a good idea, why don't we start it?" They cofounded the business in 2011.
Cueva recalls thinking how he learned from his entrepreneurial parents that a business should seek to fulfill a need. The apartment cleaning concept, which they named College Cleaners, seemed to do just that.
Loudis said they approached a janitor at their apartment complex and asked if he wanted some side work. They put an ad in the campus magazine and came up with set rates. They used their contacts, including fraternity brothers, and started booking jobs quickly. At one point they had 80 students getting big apartment complexes prepared for students to return in the fall.
They entered a business plan competition, and out of more than 75 contestants, were one of about nine to get placed in an incubator. They were an oddity as a non-technology company that was already generating positive cash flow.
Loudis remembers withdrawing $30,000 plus in cash to pay workers. That resulted in a panicked effort to hide the money in backpacks when a school tour group came by the incubator, lest someone think something funny was going on.
The growth was further fueled when they started talking with student housing and property management firms.
"We set up programs and packages they could sell, to new students," Cueva say. Parents could prepay and know their children wouldn't live in a slovenly mess with College Cleaners on the job. "That's when we got real busy," Cueva adds.
Loudis stayed in Tallahassee an extra year after graduation to see how he could grow the business, "which scared the hell out of our families and parents." He worked at a bar a night and ran the company during the day. Some nights he would get home from the bar at 5 a.m. and then be in the cleaning business office by 8:30 a.m.
One of the residential customers also had office space, so the company branched into that. In six months, it had about seven buildings. Loudis and Cueva thought College Cleaners was turning into a bad name fit, so a graphic artist created logos with five different names, including ProFi. The two friends since elementary school in Weston expanded into South Florida and hired a general manager for Tallahassee so they could move home and be closer to their families. The Tallahassee operation eventually was eventually closed.
Burger Fi and PRO FI Connect
Cueva knew one of the owners of Burger Fi and they were hired for five locations to do night-time cleaning. Stiles, Aldi, Kimco, Duke Realty, Colliers International and many more followed.
They heard that Alliant Property Services was up for sale, so they bought it and put the two busineses together.
"They were doing $800,000 to $900,000. They were doing maintenance and we were doing janitorial. So, now we are the one-stop shop," Loudis says.
They eventually got out of janitorial contracts, a competitive space where workers make minimum wage.
"We are about people. Here, everyone needs to make a living," Loudis says.
They thought exterior maintenance would be a good niche and offer a scalable model. Three years ago, they added a licensed general contractor.
ProFi now has five main areas of business:
• Handyman services, including painting, window replacement, drywall repair, light bulb changes, door repair, drainage work, emergency board-up, street sign repair or replacement, parking lot striping and bumper painting.
• Porter services, including changing and relining trash receptacles, trash removal, lot or garage maintenance, restroom maintenance and window cleaning.
• Pressure cleaning, including heated units with enhanced performance.
• Street vacuuming and sweeping.
• General contracting and renovations, such as new office space, retail and restaurant buildouts.
Cueva said the expansions are the result of listening to customer needs.
"We started off cleaning and clients asked can we do this and do that. That ball kept going down the hill. The reason we added a general contractor is, clients asked if we could do the buildouts for them."
The company did $4 million in business in 2018 and hit $6 million in 2019.
They bought out three partners about a year ago, so now it's down to two.
After spending 2019 focusing on operations and improving the sales model, the company plans to expand the brand geographically.
"We see ProFi as a brand that can service commercial real estate in multiple cities across the nation," Cueva said. "If you have commercial real estate or own commercial real estate, our services are needed on your property some way, somehow."
It is looking at Naples and the Orlando area to open a second office and also is interested in Tampa. The strategy could involve buying an existing service company, such as a pressure-cleaning company, and then rounding its service lines with ProFi's lines. ProFi is open to seeking more capital to fuel growth.
Like most employers, labor is a big challenge for ProFi. For starting positions, it pays a few dollars over minimum wage, but it also tries to make the workplace enjoyable. It has quarterly events where workers can invite their families and a holiday party where workers can bring a "plus-one" and everyone leaves with a gift. It buys tickets to local sports teams' events and gives them to employees and clients. It tries to foster a fun atmosphere with a couch and pool table at its offices on Northwest 19th Street near Interstate 95, a 7,000-square-foot space it built out itself.
"We're all in. We are so focused. I think we will be biggest facility-maintenance company in Florida in the next five years," Loudis said.
"We have a big appetite," Cueva says. "There's no better feeling than sitting in a room with smart, ambitious people and putting things together." ♦