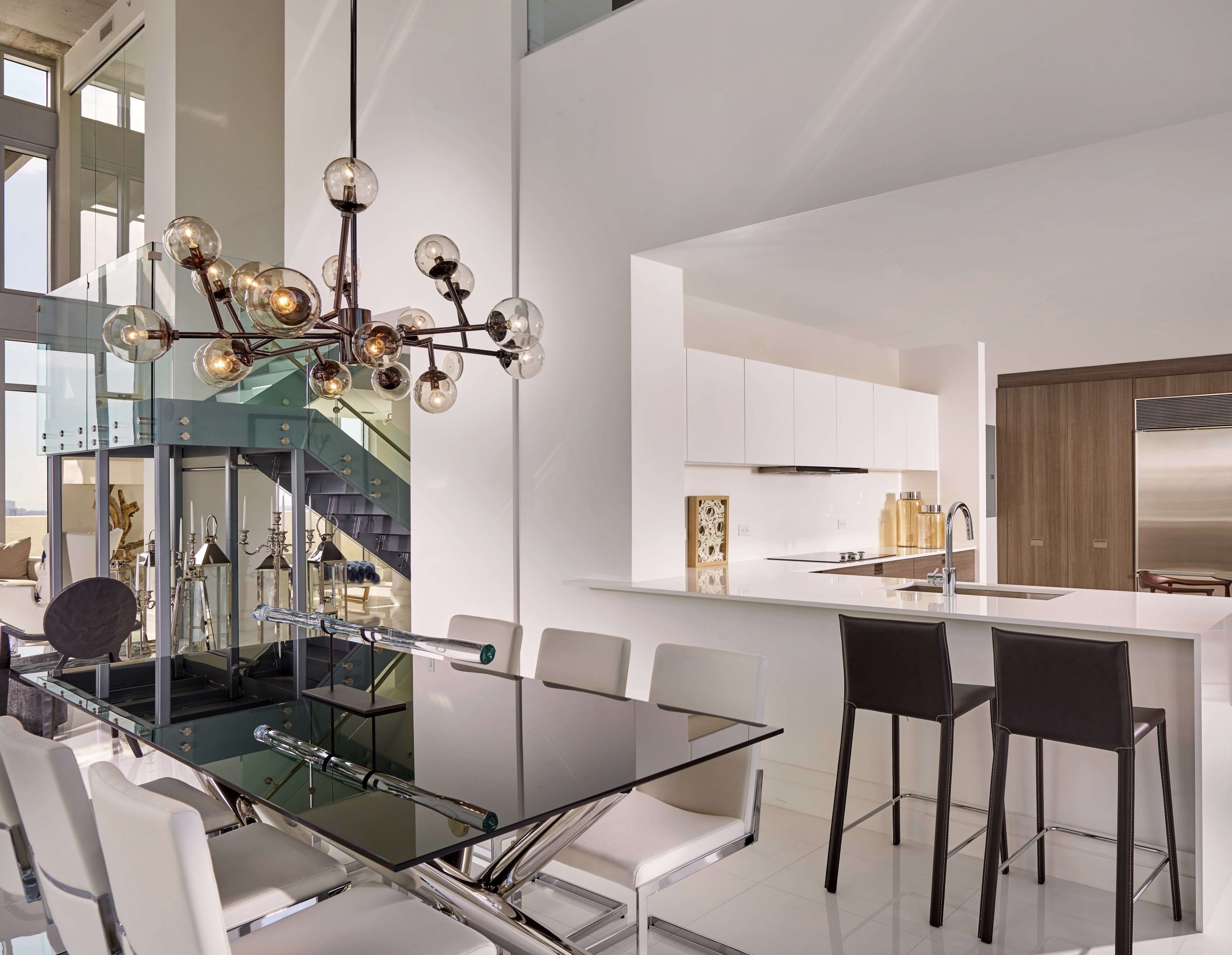 SFBW Showcased Raymond Jimenez's Miami Project Just Days Before His Upcoming Netflix Show Was Announced
When Jimenez wowed his clients with a condo tower's common spaces, one of the building's model penthouses became his next commission
When you complete a project and the client says, "I want more," that's the best-case scenario for any consultant or contractor—in any business—and it was especially sweet for Raymond Jimenez, founder and creative director of the architecture and design firm Raymond Nicolas.
More of Jimenez is what the world is about to get: Ray and his designer wife Eilyn will soon debut their new Netflix show, Designing Miami, on September 21.
But back to that happy client: Jimenez is known for his lush and tasteful residential projects, but his first large-scale commercial project was the lobby of 4Midtown in Miami; the 32-floor tower contains 392 units, from studios to three-bedroom residences. When the apartment building was converted into a condominium building in 2013 and required a facelift, the designer was tasked with a full renovation of the common areas.
The design studio of four set to work renovating the building's lobby, pool deck, fitness center, corridors, elevator cabins and common restrooms. The custom curved glass reception desk divides two separate seating areas: one with a muted, more calming ambiance; the other with brighter, more colorful finishes. Jimenez called on such vendors as AxoLight, Modular Arts and the Rug Co., and this particular alchemy so impressed his developer clients—Beztak Properties and Gold Krown Investments—that he found himself on the receiving end of another request.
"After they liked what they saw in the common spaces," Jimenez says, "they hired us to do a few model units," including Penthouse 6. The two-story 3,087-square-foot unit (located on the 30th and 31st floors) contains three bedrooms and 3½ baths, and features floor-to-ceiling windows. The penthouse was a raw space that now boasts a sophisticated a two-tone kitchen from Ornare, and custom-made furnishings in linen and leather from Artefacto and CasaDio. Throughout, white porcelain flooring is juxtaposed against exposed industrial concrete ceilings.
Jimenez had to pull off a neat trick in the 16½ feet between those gleaming floors and rough-hewn ceilings. A model unit must strike the right balance between "wow" and inoffensive. "For a model unit, you want to design something timeless that the overall population will find tasteful and aesthetically pleasing," the designer says. "You don't want to be taste-specific, because then you're going to turn off a lot of people. The best way to achieve this is to keep it neutral, keep it light, keep it clean." But he is quick to add: "You can still have fun, and you can still make it kind of eclectic, and you can see that we did that."
As with many a two-story penthouse, the staircase provides the "fun" and a conversation piece. What was formally a basic stairway with tension cables and metal posts became a standout moment, a modern sculpture in which the glass rails appear to float away from the steps through the use of standoffs—round steel knobs. The effect is somehow simultaneously industrial and elegant. "It's a $20,000-plus ticket item," Jimenez says of the staircase.
It was far from the biggest expense, though, in a residence with reflective floors ($30,000 to $40,000) and a $70,000 to $80,000 kitchen that features a peninsula with a waterfall countertop, and floor-to-ceiling, wall-to-wall millwork that is flush with the appliances. "Kitchens are one of the most standout environments of any home," says Claudio Faria, director at Ornare. "In this project, the finishes and attention to detail stole the show. To create an inviting and elevated contrast, Raymond went for the Stripe collection's warmer tones to make a statement with the cabinetry selection."
The sleek dining room is anchored by a smoked glass-topped table from Saccaro and leather dining chairs; the multi-bulbed chandelier was sourced from Planet Lighting. A selection of lanterns set on the floor below the staircase delivers the desired eclecticism.
Surprisingly, the renovation lasted only two or three months, "because there were really no structural changes," Jimenez says. If the confident, tailored finished product looks like a longer, more complicated job, chalk that up to the taste and personality of its stylish designer, who is looking to expand his creative footprint with Raymond Nicolas menswear in the coming months.