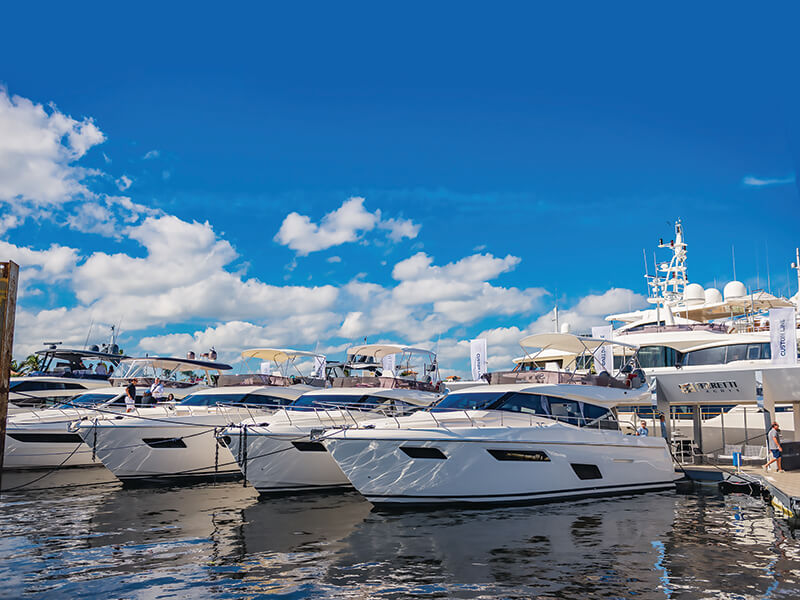 Smooth Sailing
Informa makes impact with boat show
By Andrea Richard and Kevin Gale
Barnum & Bailey had the "Greatest Show on Earth." Fort Lauderdale has "The Best Show on H2O," in the words of Mayor Jack Seiler.
The Fort Lauderdale International Boat Show had what might be called chamber of commerce weather for its Nov. 1-5 run. It even gained exposure on NBC's "Sunday Night Football" with beauty shots of yachts and a mention by the sportscasters of an enjoyable afternoon on the water.
The show provided the debut for Informa Global Exhibitions, which took over management of this year's show, which is owned by the Marine Industries Association of South Florida. Changes included better signage and composite flooring in the exhibition tents, which weren't necessary this year because there was no major downpour. There was widespread positive feedback on the new Wednesday-Sunday schedule, which replaced the Thursday-Wednesday schedule of past years.
Charlie McCurdy, CEO of Informa Global Exhibitions, spoke at a media kickoff for the show and at a business luncheon on the opening day. Fort Lauderdale has the biggest boat show in the world, he said, and "we are going to make it the most spectacular."
McCurdy provided an outsider's perspective of Fort Lauderdale and why Informa already has invested $7 million to improve the show. "Miami is a great city, but this is a city that's got the future. It's a city on the make," he told the audience. He lauded how the business community and government organizations welcomed him, saying he would recommend to any CEO that they consider operating in the area.
McCurdy shared some of his experiences in boating, noting that he celebrated his first birthday on a boat and was photographed safely tucked away in a laundry hamper. His father designed power yachts and ocean racing yachts, including a design that won the America's Cup.
With a terrorist attack in New York on everyone's mind, he said the show developed a multilevel approach to security, including consultants, surveillance cameras, barriers and drones.
The Global Business Luncheon included McCurdy; Lisa Lutoff-Perlo, president and CEO of Celebrity Cruises; and Sergey Petrossov, CEO of JetSmarter.
Petrossov's company is looking to build 50,000 square feet of office space and 100,000 square feet of hangar space at Fort Lauderdale-Hollywood International Airport. Petrossov's company is revolutionizing air travel, much like Uber and Lyft have changed auto travel—by matching its members with available seat inventory on private jets. That means a trip might cost $2,000 instead of $10,000.
He said JetSmarter chose South Florida for its headquarters because it's second only to New York for flight originations and destinations. It's also cost-effective; the Fort Lauderdale company is centrally located and can recruit talent from the three-county region.
Like McCurdy, he didn't anticipate the number of people in the community who reached out and supported the launch of his company. "Here, it seems like we matter and it gives us a good feeling inside that we have friends around us," he said.
Perlo echoed that: "People underestimate how wonderful it is to do business here. … I wish that so many other businesses would know that."
Although Celebrity and its parent company, Royal Caribbean, are based in Miami, the bulk of Celebrity's ships sail from Port Everglades. More international flights from Fort Lauderdale/Hollywood International Airport are on her wish list. "I think that's a big opportunity. We call ourselves an international airport, but we don't have a lot of international lift," said Perlo, a Broward Country resident.
Phil Purcell, CEO of the marine association, said the show benefited from a new foreign trade zone that allows boats to be imported and exported without paying duties, which helps gain sales from foreign buyers. He added the marine industry also supports research, noting that an event involving Leonardo DiCaprio raised $14 million at the Monaco Yacht Show, which is also operated by Informa.
South Florida might soon become well-known as a scientific center with the formation of the Marine Research Hub, which is filing as a 501(c)(3) nonprofit group. It is a partnership between the region's universities, including Florida International University, Florida Atlantic University, Nova Southeastern University and the University of Miami, which have existing programs in place.
On the second day of the boat show, the hub hosted a breakfast on the Grand Floridian luxury charter yacht with artist Guy Harvey as its keynote speaker. The colleges' marine research scientists also discussed various projects are in the works.
Harvey talked about the increasingly disturbing shark exploitation, in which millions of sharks are killed annually to sell their fins on the black market. He says sharks have powerful immune systems and can heal rapidly, so research is being conducted on how sharks could help human health. His Guy Harvey Ocean Foundation conducts scientific research and advocates for marine conservation.
FIU's Michael Heithaus shared a snippet about the program's Aquarius Reef Base, which is located off of Key Largo, 60 feet beneath the ocean's surface. "It is the only underwater ocean laboratory where scientists can spend up to nine hours underwater, studying the marine ecosystem," he said.
NSU's center in Dania Beach bears the name of Harvey, who told the audience he launched his business at the boat show 31 years ago.♦