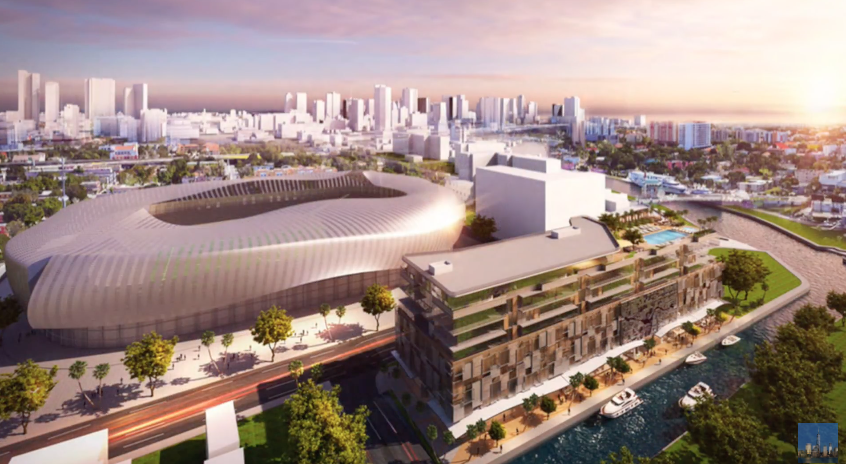 So just where is David Beckham's stadium site?
Retired soccer super star David Beckham is reportedly ready to buy the last three acres needed to complete his nine-acre stadium site, which made me interested in exactly where it is and what's in the neighborhood.
I was partially curious because Beckham had talked about fans walking en masse to watch games at previously proposed sites at PortMiami and next to the AmericanAirlines Arena. I'm also wondering whether Beckham's stadium would do more to transform its neighborhood than Marlins Park and Hard Rock Stadium have in theirs.
The general description of Beckham's current stadium site is that it's in Miami's Overtown area. More specifically, it's west of I-95 along U.S. Route 441. If you drive north from the Northwest Fifth Street bridge across the Miami River, you just go two blocks further and the site starts on the northeast corner of U.S. 441 (Northwest Seventh Avenue) and Sixth Street.
The neighborhood is largely multifamily homes, but there are a few properties listed on Loopnet.com
Across the street from the stadium, at 600 NW Seventh Ave., there's a 47,152-square-foot site listed by broker Jonathan Molano, who is part of the ownership group. A rendering shows how it could be oriented to marine activity along the Seybold Canal off the Miami River. Water taxi to the soccer game, anyone?
"We're getting a lot of interest and calls from all over the world," Molano said, about the property. "We are asking $11.8 million and we are not in a rush to sell; we believe the value is there."
Here's a link to a video of the site.
Just south of Molano's property is a 27,931-square-foot office building at 510-528 NW 7th Ave., that was designed by Oppenheim Architecture & Design. The asking price is $11.9 million.
Farther east, there are a couple of buildings that look like what you would have found in Wynwood before it changed. A 6,431-square-foot building is priced at $1.6 million while a 6,002-square-foot building is priced at $2.5 million.
One advantage the soccer stadium site has over Marlins Park and Hard Rock Stadium is that it's a lot closer to downtown. Potentially, it could help extend the concept of the downtown area to the west side of I-95 or at least get more people exposed to the neighborhood. Developments like the Brightline's Miami Central Station and Miami Worldcenter are already pushing into the eastern part of Overtown, a historic Black neighborhood that was sliced apart when I-95 was constructed.
As far as access, Interstate 95 and the Dolphin Expressway are nearby, but most of the exits aren't optimally positioned to get to the stadium easily. There will be some surface street travel like there is to get to Marlins Ballpark.
The stadium is about four blocks from the Culmer Metrorail station at 701 NW 11th Street. That's within walking distance for some of us, although perceptions of safety could be a factor. The website for Metrobus shows the area also has dense bus service.
The stadium is about a mile from the Government Center, which has Metrorail and Metromover stations, and MiamiCentral, where Brightline and Tri-Rail should have service well before the stadium is completed.
If Beckham still wants to have his grand promenade to the stadium, as they do in Europe, one path could go along Northwest River Drive, which connects to Northwest First Street and Flagler Street downtown. Many South Floridians are already familiar with Northwest North River Drive because that's the location of Seaspice and Garcia's Seafood and Grille restaurants.
There are plans to create a greenway along the river and Beckham's stadium could be just the impetus to create a bike and pedestrian friendly promenade along River Drive. As I wrote in the second part of our series on our transportation future, having these sort of paths can enhance property values and spur neighborhood revitalization.