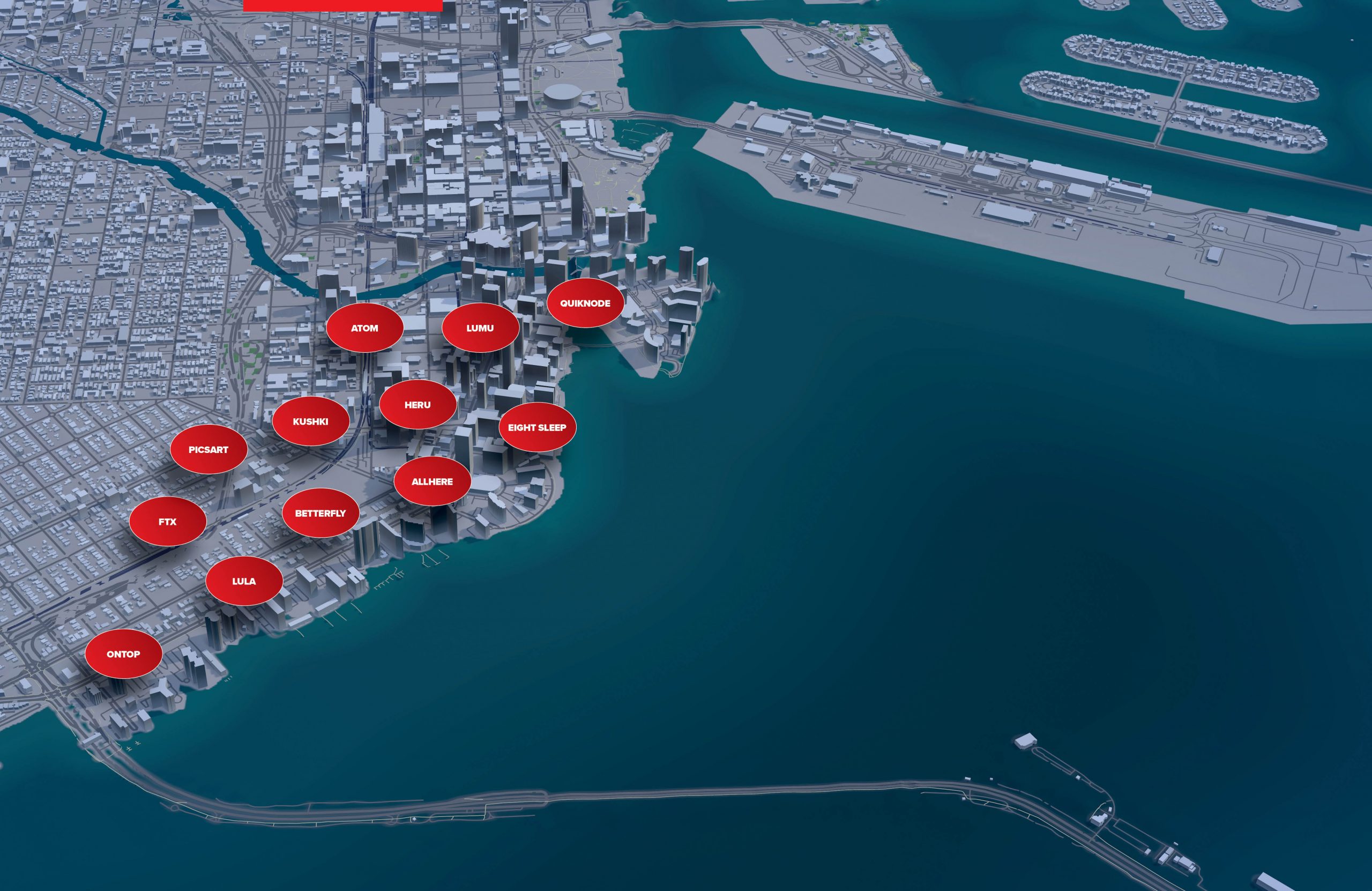 Softbank Group Has Exceeded Its $100 Million Commitment to Invest in Miami Startups—and That's Only the Beginning
The investment company is also actively growing and educating South Florida's talent pool
Last fall, SoftBank Group announced that it had exceeded its initial $100 million commitment to invest in Miami tech companies across its various funds by more than 250%, for a total of more than $250 million.
That's what you'd call fast work: The Miami Initiative was launched in January 2021 as a commitment to invest in companies either based in Miami or planning to relocate there. And SoftBank isn't through: the investment company has pledged to continue its support of Miami's growing tech ecosystem. Against a backdrop of unceasing news stories related to Softbank's stock price and compensation at the highest levels of the holding company, the march toward Miami continues: So far, SoftBank has invested in at least 12 tech companies with a presence in Miami, many of which relocated or expanded operations to Miami in recent months.
STARTUP SYNERGY
The cofounders of Ontop, for example, recently moved to Miami from Colombia. Ontop provides world-class solutions to enable employers to efficiently onboard, manage and pay globally distributed, world-class teams. "We closed a $20 million round led by Tiger, Point 72 and SoftBank, says Optop cofounder Julian Torres. "SoftBank is one of our most important investors as they provide key leverage through their vast network of startups and partners, and it has an amazing vision into the future of humankind, with [SoftBank founder and CEO] Masayoshi Son's 300-year vision plan."
Son, who launched SoftBank in Japan in 1981, has said that he's determined to change the future of the digital sector by backing bold tech entrepreneurs with a healthy appetite for risk. "SoftBank is interested in investing in the future of work and specially in financial technologies that enable the world's shift to remote work," Torres says.
Torres i candid about where the funds are most needed in this era of ubiquitous remote work: "Technology enablement, financial licensing and investing in talent density across the globe," he says. "We are a fully remote company and need people in all corners of earth to join our movement. We're eliminating the barriers between companies, workers and their relationship with money."
He explains that the choice of location—Brickell, Miami—was a no-brainer, both for its business environment and its geographic position. "Miami is becoming the next hub of venture capital, startups and innovation," Torres says. "It is a strategic city that connects Latin America and emerging markets with the United States. As we are operating in more than 75 countries, we need to have direct flights to every continent, so we can connect with our teams. Furthermore, the city's friendly approach towards crypto and fintech is really appealing for us as we are starting to build new financial solutions that give people faster, easier access to money."
A NATURAL GATEWAY
"SoftBank Group International entered Miami for two reasons. The first is that it is a natural gateway between Latin America and the U.S., where our funds invest," says SoftBank Group International's managing partner Shu Nyatta, echoing Torres' thoughts about the city's strategic location. "The second is that it fits into SoftBank's broader strategy of finding pockets that are underexplored and underexploited, pockets that have talent and opportunity and are just missing the capital. We bring the capital, along with the rest of SoftBank's resources that come with it. We did this in Latin America, we did this with underrepresented founders in the U.S. through the SB Opportunity Fund, and now we are doing it in Miami." SoftBank is drawing closer to its goal of having at least 100 employees in Miami.
In addition to Ontop, SoftBank has invested companies that run the fintech gamut, from the cryptocurrency derivatives exchange FTX to the electronic payment infrastructure company Kushki. Nyatta cites crypto, health care and climate as growth areas in Miami. "SoftBank Group International experiments, and then we build," he says. "That's what is happening with our Latin America Funds and with the SB Opportunity Fund—and it's what we aimed to do with the Miami Initiative. We are excited to be in the market and to have exceeded our initial commitment to invest $100 million by 250%. We are going to keep building and keep investing here, not just with capital, but with talent and infrastructure. Miami is a continuation of the momentum that happens when you direct the SoftBank brand and platform to an area that is underexplored and underexploited when it comes to technology and capital."
Nyatta believes the economic world had become less about nation-states and more about cities as drivers of innovation, and to say Nyatta is bullish on Miami would be an understatement. "Miami has an opportunity to become one of the world's greatest cities," he enthuses. "We view the city of Miami as a growth-stage startup that is well on its way to catching up to the others. This is not just a story about COVID-19 driving people here. That may have accelerated it, but Miami was already positioned to make the list of global tech hubs. To continue that growth, the momentum has to be sustained. We're working to help drive that."
SCHOOL DAYS
In addition to investing in Miami's tech startups, SoftBank is also investing in talent development for startup operations, data science and artificial intelligence through the SoftBank Operator School and partnerships with groups such as Data Science 4 All/Correlation One and local colleges. In 2021, SoftBank brought more than 20 expert founders and operators to Miami to speak in a master-class series designed to build a next-generation tech community in South Florida and Latin America.
The master classes, which were open to the general public, were part of a semester-long program that offers for-credit graduate and undergraduate courses to enrollees at Florida International University, Miami Dade College and University of Miami.
SoftBank partnered with WeWork on the program; registrants in Mexico, Colombia and Brazil were able to watch the sessions virtually from their local WeWork spaces. (SoftBank has been a major investor in WeWork.) "WeWork is proud to partner with the SoftBank Operator School and support the development of the next generation of the tech community around the world," says Claudia Woods, WeWork Latin America CEO. "We believe in the power of education and investing in students, who are our future. Together with SBOS, we know this program can make an impact for communities and create a future generation of innovators."
More Initiative Investments from SoftBank Miami
Lumu (SB Opportunity Fund): Colombian-born Ricardo Villadiegois determined to build the future of cybersecurity. Using actionable intelligence, Lumu provides a radical way to secure networks by enhancing and augmenting existing defense capabilities.
QuikNode (SB Opportunity Fund): Cofounder Auston Bunsenis simplifying blockchain infrastructure for teams large and small. QuickNode provides global API and Web3 developer tools for ethereum, bitcoin and seven other blockchains.
Eight Sleep (SB Opportunity Fund) Imported to Miami from Italy and Mexico (via New York), Matteo Franceschetti and Alexandra Zatarainare powering human performance through optimal sleep. Eight Sleep is the world's first sleep fitness company redesigning sleep by developing cutting-edge AI and machine learning models to track bio signals during the night and optimizing body recovery while asleep. The Pod, Eight Sleep's technology, helps users to fall asleep 20% faster and enjoy up to 40% more deep and REM sleep.
AllHere (SB Opportunity Fund)AllHere combines conversational AI, behavioral science and interactive nudges to foster attendance and engagement in kindergarten-through-12th-grade education. The company automates personalized, two-way text messaging with chatbots to improve attendance rates and guide students and families through school, for more than 8,000 schools in the United States. Its adaptive, evidence-based system provides 24/7 support so that teachers and staff can focus their time on the most meaningful support.
Heru (SB Opportunity Fund) Egyptian-born Mohamed Abou Shousha, is redefining real-time vision diagnosis and therapy. His team at Heru, a leader in wearable diagnostic and vision augmentation, delivers autonomous, personalized and accessible technology that gamifies the exam experience, optimizes disease detection and improves care delivery for everyone.
Atom (SoftBank LatAm Fund) Expanding from New York to Miami to continue growing in Latin America, Atom Finance is enabling enhanced, embedded investment experiences via a no-code, modular platform with a variety of B2B partners, in addition to its direct-to-consumer offering on web and mobile.
Kushki (SoftBank LatAm Fund) Led by Sebastian Castro and Aron Schwarzkopf, Ecuador-based Kushki is expanding the team into Miami while building out payments infrastructure for LatAm. The Kushki API platform enables local and cross-border payment across LatAm for credit and debit cards, digital cash, mobile wallets, bank transfers and alternative payment processes.
Betterfly (SoftBank LatAm Fund) With his move from Chile to Miami, Eduardo della Maggiora is building Betterfly, a leading technology company that combines well-being, financial protection and social purpose and offers corporate partners a benefits platform that automatically tracks and rewards employees' healthy habits with no-cost life insurance coverage and charitable donations.
Lula (SB Opportunity Fund) With Lula, Miami-native twin brothers Matthew and Michael Vega-Sanz are building out the infrastructure to become the "stripe of insurance" for companies big and small.
FTX (SoftBank Vision Fund)After winning the name rights to the Miami Heat's arena, cryptocurrency derivatives exchange FTX, led by Sam Bankman-Fried, is now planning a Miami office.
PicsArt (SoftBank Vision Fund 2)Hovhannes Avoyan is leading the visual storytelling revolution while building PicsArt, a creative platform and social editing app. He is now expanding his global operations into Miami.