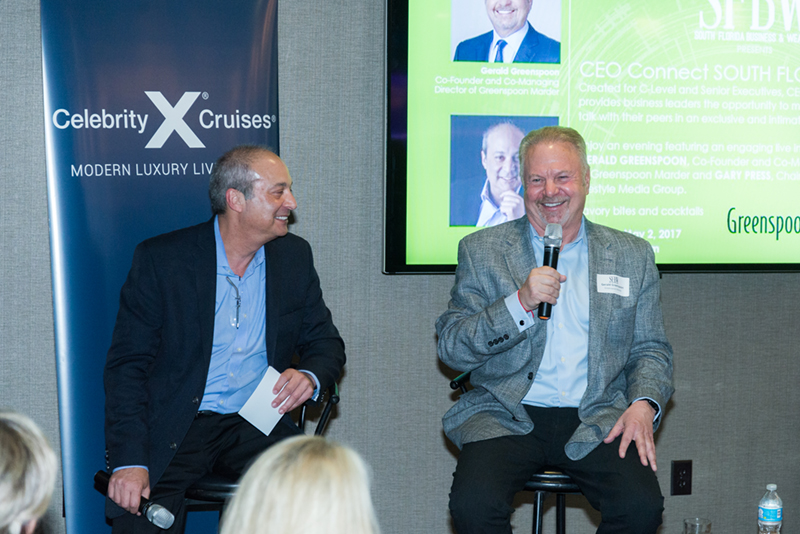 Super Lawyer
Gerry Greenspoon talks about growth, Amendment 2 conundrum
Gerry Greenspoon co-founded Greenspoon Marder in 1981 with a handshake over a kitchen table with partner Michael Marder. Today, the firm has more than 200 attorneys practicing in more than 60 areas of law, plus more than 600 supporting staff members, in 20 offices throughout the United States.
He and Greenspoon Marder have gained national attention for their work in the areas of real estate development, resort and timeshare development, condominium conversions, and finance and transactions.
He has been consistently recognized for more than 30 years as a top lawyer by Martindale-Hubbell's "Best Lawyers in America" list as published in U.S. News and World Report, Super Lawyers and The South Florida Legal Guide, among others. He was inducted into the Junior Achievement Business Hall of Fame.
He is a major donor and corporate partner to the Jewish Federation of Broward County and has been honored with the Jewish Adoption and Foster Care Options' prestigious Jacob's Ladder Award. He is a major donor and Investor's Circle member for Junior Achievement of South Florida; a major donor and Founders' Circle member for JAFCO; a founding trustee of the Greater Fort Lauderdale Chamber of Commerce; a trustee member of the American Resort Development Association; and a member of the Florida Land Title Association.
He earned his law degree at Nova Southeastern University, licensing at the University of Ottawa, and a bachelor's degree in commerce from Sir George Williams University (now Concordia University) in Montreal.
This edition of "CEO Connect" was held at Greenspoon Marder's headquarters in downtown Fort Lauderdale. Greenspoon was interviewed by SFBW Chairman and CEO Gary Press. The following transcript has been edited for brevity and clarity.
When you and Michael Marder started the company in 1981, did you ever plan on it becoming a huge, top 200 national law firm?
So, you have to go back to my age. Well, the answer to that is, hell, no. We were happy to start a business together and make a couple bucks and draw a salary on our first week, which we got from week one. Amazing.
And, no, we had no intention or plan of where we were going to go. We were just lawyers and we had good training behind us. My dear partner, I call my brother, is way smarter than me. And I'm a bit crazier. I actually call him my second wife. He and I hug, at times, and then we fight and get mad at each other, and then we make up and hug each other. That's what it has been like over all these years, and that's how we got to where we are.
You have had tremendous growth, especially over the past decade. Why?
It started off as basically filling a need for us to continue by adding legal services in order to accommodate the clients we had. As our clients grew, we grew. We have always managed to keep up with our clients—primarily in Florida, and eventually nationally. So, as they grew, we grew and we added different practice specialties. We always maintained a strategic plan.
We have a base for our business practice. We are a real estate, corporate, commercial litigation firm, which is the base of this company. In our case, being a professional service, it's all about adding to that base. It became a growth factor and strategy. We added those specialty practices, slowly. We added regulatory practices, consumer specialty practices, an alcohol and beverage licensing practice. And all of those areas do business across the country.
And then finally, most recently, and the most exciting, we added a cannabis practice.
Cannabis is turning into a major business, but it seemed like major law firms were reluctant to own a practice in that field. How and why did Greenspoon Marder become the first top 200 U.S. law firm to open a practice in that area?
Yeah, it's kind of fun.
Tell us more.
So, first of all, during our growth, the first thing we did is we saturated the market in Florida. The next piece of our growth, before we got to cannabis, was actually to get into New York City. We have a specific reason, why we grow just like any other business. Why did we go to New York? It is the capital of financial markets of the world. We established ourselves in Florida, we have tremendous expertise. We wanted to go the next step, so we went to New York. It's a continuing operation. We have several deals going on there right now and expect to become a major force in that city. We have 20 lawyers there now and that will probably triple over the next 18 months.
So, part of our search for strategic growth areas, it was less than two years ago, a couple of us in the firm started to pay attention to what's going on in the country with medical marijuana. We noticed what was happening in Colorado, Oregon, and California, where it's been going on for 60 years illegally—that's another story. As we saw states rolling out in the legalization of medical and recreation marijuana, we said, "Hey, this is another industry that is not going away and it is here to stay. And this is a great opportunity to jump in now."
We didn't know whether any other large firms were involved or not, and it turned out that they were not. But, for us, having the entrepreneurial spirit that we have in our firm, and all of our shareholders bearing the same opinion and attitude, we said, "OK. Let's work within the scheme of what is legal."
This is an area of law that we are accustomed to. We are used to regulated areas. We are used to industries where the law is different in every state and every jurisdiction, county, city. We've done this for 30 years, so this is nothing different from what we've already done. So, staying within those parameters, we said let's launch our practice. We started in Denver, Colorado, and we found an amazing practitioner, brilliant at what she does. And then we found an amazing practitioner in Portland, Oregon, who is like a superstar in that area. We found practitioners who understand the landscape and can deal with the regulatory market.
It's an emerging industry, so it's interesting. It's kind of like the end of Prohibition for alcohol, which is how we equated it. What it turns out to be, it's the same business practice. It requires corporate strategy, business strategy, perhaps commercial litigation, labor and employment law, and intellectual property and all things that we already do, so it feeds into our entire base.
And that's what is happening today.
Let's take it one step further. Let's talk about Amendment 2. You've recently raised concerns about legislation to implement the medical marijuana amendment. What are your concerns, and what should be done differently?
Amendment 2 was an amazing accomplishment that passed in the state of Florida during the 2016 election. It passed in a broad, significant legislation for the implementation of medicinal use of marijuana for specified ailments and illnesses. It was very broad and it received 71.3 percent approval.
With that in place, our firm immediately got involved in the process of getting a bill passed in the Legislature in order to implement what was written in Amendment 2. To make a long story short, it's quite a process, and it is not going well. There are many imposing interests that do not want to respect the will of the voters.
We put a constitutional amendment into place, which describes what should exist in the state of Florida and we cannot get the Legislature to implement it. It is quite frustrating.
Before Amendment 2, there had been licenses granted under very limited statutes enacted by the state of Florida for very limited purposes. There were originally five licensees, it turns out to be there are seven licensees. Basically, those seven licensees have what you would call an oligopoly in the state of Florida, but that's prior to Amendment 2.
What's happening in the Legislature today—why you've heard such frustration from me, why we've been writing about it in editorials and op-eds—is why are they protecting this oligopoly that is totally contrary to what was passed in Amendment 2? Not only that, you're making it impossible to meet the needs of the patients in the state of Florida. You cannot meet the patients' needs? You are not allowing small businesses to enter the market? They do not want additional licensees granted, except under very stringent circumstances. It makes no sense. And why does it not make any sense? We have the experience from 29 other states that have already implemented legislation like this. You don't have to reinvent the wheel. Just look at what is going on.
I'll give you one blatant example. Every state I've met with that has a medical marijuana program, restricts the licensees to have approximately three dispensaries—one license, three dispensaries. Sometimes four dispensaries. One state allows five. What has been granted in the state of Florida, to the seven licensees prior to Amendment 2, is unlimited. It's unheard of! What's the purpose? To prevent anybody else from coming into this business. And why is it important that anybody else comes into the business? Why do we care? There are so many reasons. We are a capitalistic market. We are an entrepreneurial market. There's so much knowledge that exists throughout the country, that those individuals should be allowed to enter this market and our Legislature is excluding them.
[Editor's note: The Legislature expanded the number of licenses by 10 after the CEO Connect was held].
There's more complications to it, for example, it's required that every company entering the market to be vertically integrated. Meaning, you must be a grower, a manufacturer/processor and a dispensary. You have to handle all three processes, none of which are related. They are all different. And we know, because we get hundreds of inquiries from people in Florida and around the world who want to enter this market, but they have different specialties.
When you are going through growth mode like you are … how do you handle change when you are growing so fast?
We plan for it in advance. Obviously, things happen that are unforeseen, which could be in administrative help or it could be in legal talent. We deal with it like any other business. We react quickly and implement changes where needed. ♦
About CEO Connect
SFBW's CEO Connect series is an exclusive, invitation-only monthly event that brings together South Florida's top business leaders to meet, mingle and talk among their peers.
The presenting sponsor is Celebrity Cruises. Gold sponsors include Greenspoon Marder, Shorecrest Construction, TD Bank, Optime Consulting and Silver Lining Catering and Events.
The evening begins with a cocktail reception for about 100 guests followed by the highlight of the event, a live interview between SFBW chairman and CEO Gary Press and a well-known C-level executive providing insight into their personal life, career and views on issues affecting the business community.
Partnering with SFBW on this exclusive event provides an opportunity to network with the area's business elite, generate new business opportunities, and increase brand awareness. For information, email Clayton Idle at cidle@sfbwmag.com.