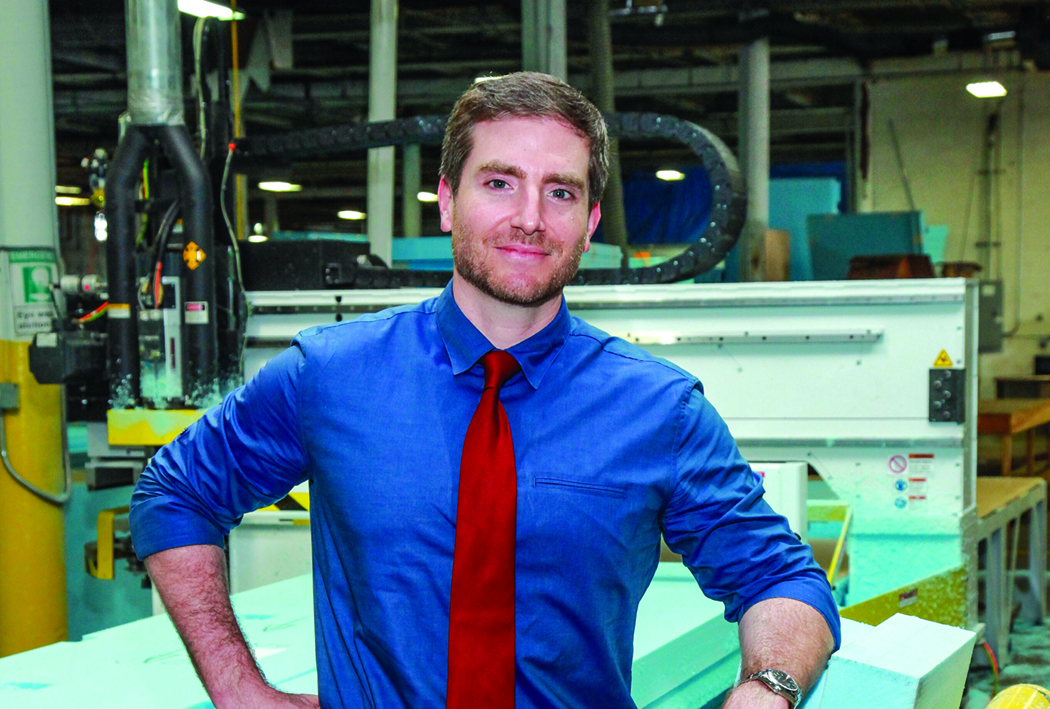 The Big Chill
Amerikooler grows with emphasis on culture, innovation
By Kevin Gale | Photography by All Star Event Photography
Tucked away in an industrial area of Hialeah is a thriving business that embodies achievement of the American dream.
The grandfather of president and CEO Gian Carlo Alonso was briefly jailed by the Castro regime and the family fled the country with only $20 that his grandmother had sewn in the lining of her purse. His father, Chairman Renato M. Alonso, came to Miami from Puerto Rico and started Amerikooler a few years later.
Amerikooler has now grown to a nearly $50 million a year revenue company with a 200,000-square-foot manufacturing complex near Miami International Airport. Renato is able to focus on his love of research and development these days while his son emphasizes corporate culture and a Six Sigma approach to continuous improvement.
The company's major customer groups for its walk-in coolers are convenience stores, restaurants, forensic labs, hotels, refrigerated warehouses and supermarkets. About 200 customers are listed on the Amerikooler web site. Products are distributed through dealers, about 60 of them on a regular basis.
Renato founded the company in 1985 after driving by a refrigerated warehouse with 24-foot-high insulated panels. He thought that was the type of business he would like to be in and started doing research. He started out with a small rented warehouse, but kept growing over the years.
"It was a bigger factory every summer with more machines," Gian Carlo says, which fueled his own entrepreneurial bent. "My dad and I had a great relationship. I always knew I wanted to work with him. He was hard on me. I studied and read hundreds of books on business and psychology. "
Gian Carlo graduated from Columbus High School and then got a finance degree from Florida International University and worked for CBRE as a commercial broker.
"He wanted me to come back and I wanted to come back. We missed each other," he says.
Gian Carlo became vice president of sales in January 2000. He has worked to deepen Amerikooler's footprint into more areas, such as New England, the upper Midwest and southeastern states. Oddly, enough, Amerikooler had few sales in its home state and was able to increase that ten fold.
Renato said he kept testing and grooming his son, to see if he could meet his expectations.
"He kept showing that he could, but I didn't want to let it go until one day he approached me and said, 'I want to be the president and CEO,' and I said, 'No kidding! Let's wait six months and show me what I want to see.' He exceeded my expectations.'"
As CEO, Gian Carlo has more than doubled sales with several strategies, including process improvement and an emphasis on measurable accountability.
The doubling of sales came without adding any staff, he says. "The productivity has been off the charts."
Culture has also been important.
"We have been able to hire people that I don't think normally would come to work for a manufacturing company. It's not on Brickell," he says. "We like to have a lot of fun, but are very metrics driven. It's a non-political environment. We don't have time for that BS."
The company is also nimble, he says. "It's not like a big corporation and you go to a committee. You like the idea and I like the idea – let's get it done."
Gian Carlo was accepted into an immersion program for business owners and presidents at Harvard Business School. He has been going three weeks a year for the past three years.
FIU has also conducted training on Six Sigma process improvement at Amerikooler and the company has 15 greenbelts, including Gian Carlo. Amerikooler is using Six Sigma to streamline inventory and move toward just-in-time completion of products for delivery to customers. The company has invested a lot in robotic automation and intelligent software.
For example, it took machinery from another industry and adapted it to cut foam for the coolers. "It's easy to say, but hard to figure out," Renato says.
The company emphasizes the energy efficiency of its products, which are made with extruded polystyrene foam insulation made by Dow Chemical. It's less subject to moisture intrusion than the commonly used polyurethane and comes with a 50-year warranty.
The company has ambitious plans for growth. Renato expects sales to hit $150 million in five years while his son expects $200 million. ↵