[vc_row css_animation="" row_type="row" use_row_as_full_screen_section="no" type="full_width" angled_section="no" text_align="left" background_image_as_pattern="without_pattern"][vc_column width="2/3″][vc_column_text]
By Michelle F. Solomon
Patricia G. Will is as surprised as anyone that she's become what she's christened herself as the "mom of a senior assisted living company.'' The real estate developer now has a portfolio of 28 Belmont Village senior living and care communities in the United States, and one in Mexico, and growing every day.
The latest venture for her privately held Houston-based corporation is entering into the South Florida market with two new facilities—one in Coral Gables, near the Shops at Merrick Park, and the other in Fort Lauderdale, near The Galleria mall.
The Belmont Village Coral Gables is unique with Baptist Health South Florida participating as an equity partner in the development. "We've had strategic alliances with health systems, but never where the healthcare system is also the institution investor," Will says.
The Harvard Business School grad says real estate, let alone senior living communities, wasn't even a blip on her radar when she was pursuing her MBA, but after graduation she found a niche developing medical offices and centers. 
"I think the way things end up is a cross between your acumen and your exposure and then, on top of all that, your interest and luck," Will says.
An incident in her personal life, however, is what brought everything together for her, when her mother-in-law, Josephine, began exhibiting signs of dementia. "It was back in a period of time when there wasn't a means to diagnose Alzheimer's or any other kind of dementia." She embarked on a search to see what the available options might be since her father-in-law was struggling to take care of his wife, and the family was experiencing "failure after failure of having caregivers in the home."
When her mother in law needed to be hospitalized, she would sometimes be sent to psychiatric units, and, when was discharged from the hospital, the cycle would begin again.
It was around the same time that, in 1987, Marriott Senior Living opened its first senior community, Brighton Gardens in Houston, which consisted of assisted living apartments, and an area for skilled nursing, but nothing for dementia care, Will notes.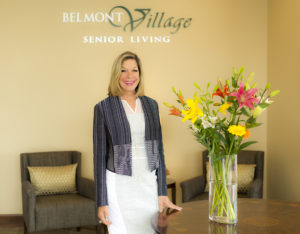 With her background in medical real estate development, time spent serving on hospital boards, and now her personal experiences, she saw the need for something different in the senior housing market.
"So I set out to kind of turn the paradigm, as it was then, on its ear and create both 'place and program' that addresses this age group, let's say, from 65 all the way up to 105, and to approach their housing needs as an opportunity, not a problem."
Will founded Belmont Village in 1997, but had spent three previous years researching and enlisting experts in gerontology, hospitality, architecture and information technology. Belmont Village's first community opened not far from the Texas Medical Center in Houston. But this development was different. There was a personal attachment, so instead of being the developer and leaving the management to another company, she also created an operating company.
"We co-own, with institutional partners, every building that we manage. We have stayed with everything we have made over the last 25 years. I think it is very important [in this sector] to have consistency and longevity of management."
The National Institute on Aging says the evolution began in 1975 when senior housing went from the convalescent or "nursing" home facility model to a more consumer-centered care model. Now, Will says, it's time for another leap forward for the industry and she believes Belmont Village is leading the charge.
"What's going to happen, and very soon, is that the generation of baby boomers is going to have a sizable impact on senior living," Will says, and Belmont Village is going to be ready. The number of Americans over the age of 65 is expected to more than double by 2060, with figures estimated at 98 million people. Will says not only will their needs be greater because advances in health care are helping people live longer, but because of greater expectations of maintaining active and independent lifestyles.
"We're at a bridge where having a nice environment and giving seniors a pleasant day isn't enough. We're at a cross between hospitality and health care, and that's what the future is." What she is assertive about, however, is that the health care aspect doesn't dominate, but "instead becomes an important pillar of support and quality of life in an environment that engages older Americans."
Belmont's villages are meant to be comprehensive, Will says, "an under-one-roof composite of independent living, assisted living, and for those that need greater care and services, a secure memory care." But Belmont's model goes beyond its competition, she believes.
Usually, after residents move into a senior care community, and health changes occur, couples who arrive together are forced to live separately. Will uses the example of a husband and wife who begin their senior living community journey independently. However, as time progresses, one may begin to experience cognitive impairment that requires more than independent living can accommodate.
"We don't want them to be separated into living in different areas of the community, so what we do instead is deliver services, and it isn't a one size fits all solution, either. The Belmont Village model provides programs where those who begin to require more care on a cognitive level can remain with their spouse in their original apartment, but would participate in programming that would benefit the resident that needs extra care, while allowing the other spouse to continue to enjoy their independence.
"They are still together. Even when one of them needs to move to our memory care unit when they have even greater needs, we still have ways for them to be together—by eating together in a common dining room or attending activities together," Will says.
Whether the need is physical or cognitive, she says the model is to follow seniors who enter their communities through whatever changes they experience without them having to move once they are settled.
"We're fighting off ageism by allowing for seamless integration. We are very aware that no two people age the same, and we address that."
Bringing university gerontology specialists into the mix and conducting research further shows how Belmont Village maintains its "everything under one roof" status. Belmont Village's first university affiliated community, Belmont Village Westwood, opened in 2009, in collaboration with the University of California at Los Angeles. In 2017, another community became affiliated with the University of California at Berkeley. Hospitals, such as the joint venture partnership with Baptist Health South Florida, will continue to expand, according to Will.
Will wants to take senior living out of its siloed existence, creating more integrated space, much like the approach at its site in Santa Fe, Mexico City. The senior living community is connected by a skybridge to ABC Medical Center, on the ground floor of the building are retail shops and restaurants, and an eight-story Hyatt Hotel is above 11 stories of senior housing.
"We expect to grow in South Florida and are committed to be here," Will says, adding that her company already has two additional sites selected. Belmont has created a cluster of communities in Los Angeles, Chicago and San Diego. "We began looking at South Florida the same way." ♦
[/vc_column_text][/vc_column][vc_column width="1/3″][vc_column_text]
SOUTH FLORIDA LOCATIONS
Belmont Village Fort Lauderdale
• Location: 1031 Seminole Drive, near Sunrise Boulevard, within close proximity to Galleria Mall.
• 12-story building with 204 apartments for independent living, assisted living and memory care.
• Equity partner: Harrison Street Real Estate Capital of Chicago.
• Slated to open: First quarter 2020
Belmont Village Coral Gables
• Location: 250 Bird Road, close to the Shops at Merrick Park.
• Construction slated to begin in mid-2020 with completion in 2022.
• Building's design is not yet finalized, but is expected to have 200 apartments with independent, assisted living and memory-care units.
• Joint venture partnership between Belmont Village Senior Living and Baptist Health South Florida.
[/vc_column_text][vc_column_text]
RATES
• Vary based on unit type and specific
care needs.
• Studio, one and two bedrooms available. There is no buy-in; all units are rentals.
• Independent Living: Starting at $4,900 a month. Includes two meals a day plus snacks in bistro, weekly housekeeping, as well as utilities, including basic cable and Wi-Fi, excluding telephone services. Scheduled transportation services seven days a week. Social, educational and recreational programs.
• Assisted Living: Starting at $5,950 a month. Includes same services as independent living, but adds three meals a day. Also, basic personal care services, regular monitoring of resident's wellness and periodic health assessments, personal laundry service, daily trash removal and bedmaking.
• Memory Care: Starting at $8,000 a month. Includes all assisted living services, plus enhanced medication management, and a research-based, seven-day memory enrichment program.
• Belmont Village does not accept government reimbursement, such as Medicaid, but does accept certain long-term care insurances, and Veterans Administration Aid and Attendance benefits. Medicare typically does not pay for assisted living or memory care. Private payments—that is, paying out of pocket— generally are what pay for assisted living or memory care living.
[/vc_column_text][/vc_column][/vc_row]