The U.S. is further restricting the Cuban regime's access to commercial aircraft and other goods, the U.S. Commerce Department announced Friday afternoon.
The move by the department's Bureau of Industry and Security cited continued repression of the Cuban populace and the Cuban government's support of the regime of Venezuelan President Nicholas Maduro, who faces challenges being recognized as the nation's legitimate leader.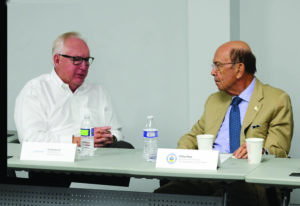 "This action by the Commerce Department sends another clear message to the Cuban regime—that they must immediately cease their destructive behavior at home and abroad," said Secretary of Commerce Wilbur Ross. "The Trump Administration will continue to act against the Cuban regime for its misdeeds, while continuing to support the Cuban people and their aspirations for freedom and prosperity."
A department press release said the Cuban regime is transporting tourists on leased aircraft subject to BIS jurisdiction. BIS is now revoking existing licenses for aircraft leases to Cuban state-owned airlines and will deny future applications for aircraft leases.  Given South Florida's prominence as an aviation center, it is possible the move could impact some leasing companies based here.
BIS is also expanding Cuba sanctions to include more foreign goods containing U.S. content and is imposing additional restrictions on exports to Cuba.
After a thaw in relations with Cuba under the Obama administration, the Trump administration has taking a tougher stance against Cuba. Cuba's support of the Maduro regime has been widely cited as one of the reasons he has been able to hold on to power.
In April, the Trump administration announced it would no longer wave Title III of the Helms-Burton Act. As a result U.S. citizens are able to file lawsuits over property that was seized after the 1959 Castro revolution. The upshot is that some South Florida cruise lines and other businesses have faced litigation over doing business in Cuba.
The Cuban economy appears to be under so much stress that its government is taking some unusual steps.
Reuters reported earlier this week that the Cuban government is reacting to an economic crisis by allowing some stores to sell domestic appliances and other goods in U.S. dollars amid a black market of people who purchase goods abroad and then sell them door to door.