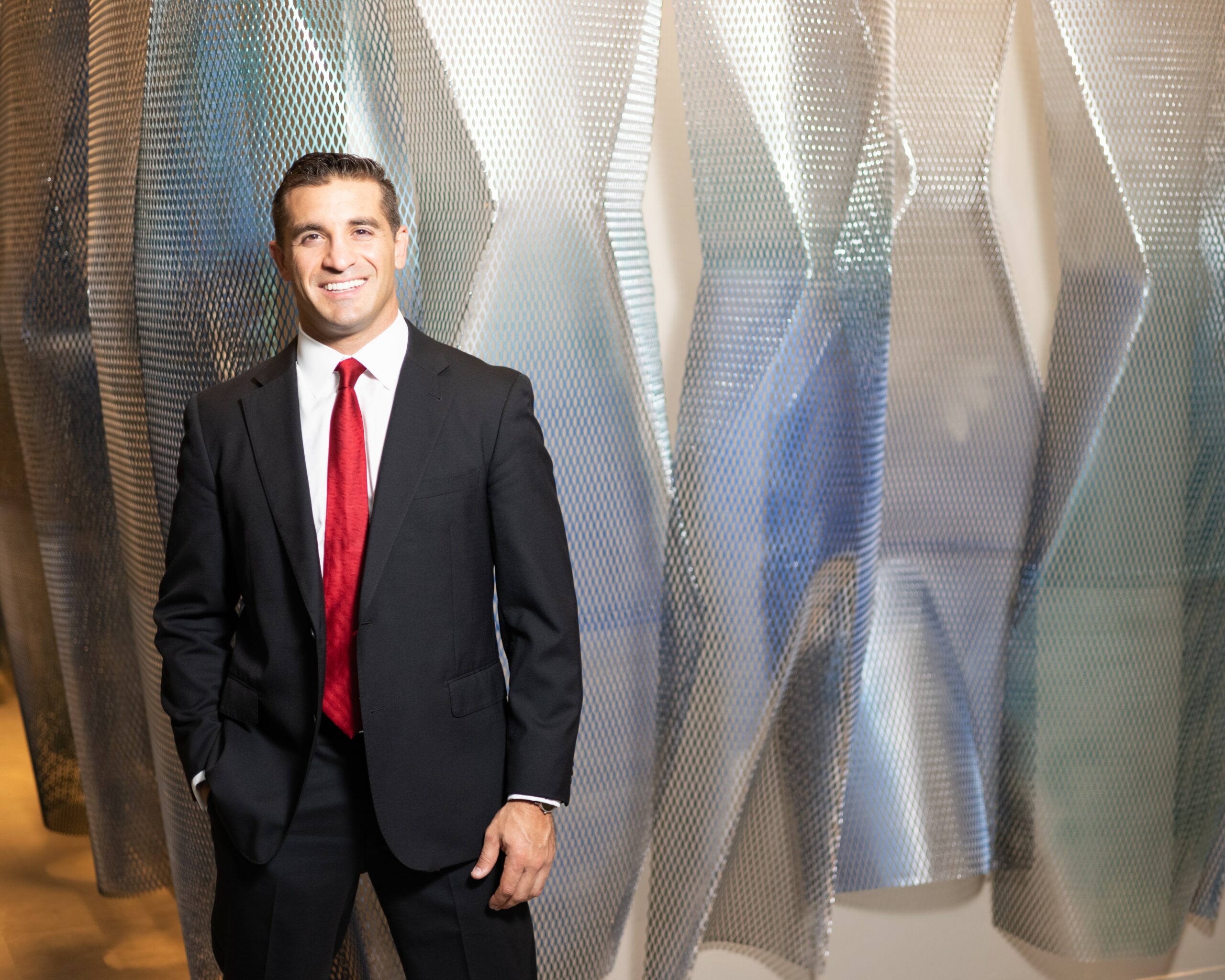 What Does it Mean to be a Client at Bank of America Private Bank?
It's all about service, says VP and private client associate Tyler Smillie
No patch of grass has ever grown under this marathon runner's feet. Tyler Smillie's bio reflects the density of the driven.
If his robust educational and work history reads like he's a Florida native, that's not the case. Born and reared in Long Island, New York, the private client associate and vice president at Bank of America Private Bank landed in Jupiter nearly 20 years ago, after his mother died, when his father needed a fresh start in sunnier climes.
In short order, Smillie racked up a pair of degrees from Florida State University's business school—a bachelor's and an MBA—and planted strong professional roots in the state. The more-traditional route is to notch at least a few years of real-world experience before enrolling in an MBA program, Smillie went straight through—and worked at the same time, in Tallahassee, first for then-state Sen. Joseph Abruzzo, then for the Florida Chamber of Commerce. He bartended at night to pay the bills.
Today, he's based in Fort Lauderdale but spends time in Boca Raton and at his log cabin in Jupiter Hills. He's been on this dream track—advising ultra-high net worth individuals since finishing grad school—initially as an associate private banker at Fifth Third Private Bank (a position he held for three years, being trained in every key division) and since 2019 at Bank of America.
"In my current role," he explains, "I oversee a team, and each of those specialists are the roles that I used to work in, as a lender, a private banker, in the trust department, in trust administration, wealth planning."
With the revival of the Miami art scene after a quiet year because of COVID-19, many families of means have been refocusing on investments in this area.
"We have a specialty division dedicated purely to art," he says. "Art services fall into several categories—acquisition, the financing of an art collection, the consignment of a collection, the planning around gifting a collection. There's the consulting piece of it, the lending piece of it, and when we have families interested in building a collection, we'll assist them in the process, perhaps at Sotheby's or Christie's—the big auction houses, because we have such deep relationships with those houses that we can add a lot of value. We offer a white-glove service for those types of clients."
Bank of America Private Bank hosts an annual event connected to Art Basel. "We have certain families coming down looking to add very specific pieces to their own collections," Smillie says, "or maybe they're interested in shopping their collections out."
Smillie has a personal connection to art; it's not just about doing deals. He's created art for more than a decade, ever since his Florida State days when he did work-study in the ceramics shop, and he's established relationships with Florida's emerging artists as they've progressed in their careers. Once those artists hit their tipping point, Smillie has his antennae up for his clients. And then a deal can be in the making after all.
These days, around 20 families rely on Smillie's expertise in every conceivable financial area. "That allows me to spend more time with each of the families," he says, "the kids, the grandkids, the entire family, their businesses, their goals. If I had hundreds of clients, there would be no way I could do that. We've helped families who've moved to this area, and they're looking to build real estate portfolios and want to finance everything from a custom home to a yacht they want to put behind the house. In some cases, they're looking for a [certified public accountant] or an attorney and we'll refer names of professionals we know and trust—really help shepherd them to South Florida."
It doesn't hurt that Smillie has gone through the relocating process from New York himself; he estimates half his clients have been part of the southern exodus. His view of the so-called great migration is subtle but real; people aren't giving up their New York homes, but it's a question of emphasis, a balance shifting—perhaps eight months in South Florida instead of four or six, or the second headquarters in Florida becomes the primary office.
His clients' lifestyle changes mean that Smillie has to move quickly. For example, a client attends a boat show and immediately wants to put their new dock to use. "We'll put the pieces together to acquire a yacht and then do the financing," he says. "That's another specialty unit we have. Owning a yacht of some size—there are a lot of questions: How do I flag it? Do I flag it in the U.S.? What are the labor laws for the crew? What about insurance? We shepherd them through it through our marine specialists. I'm the point of contact and I'll bring that specialist into the conversation. We're the concierge. Our clients are very busy and we're saving them time—that's the most important thing we do. And being able to execute."
Photo by Brett Hufziger