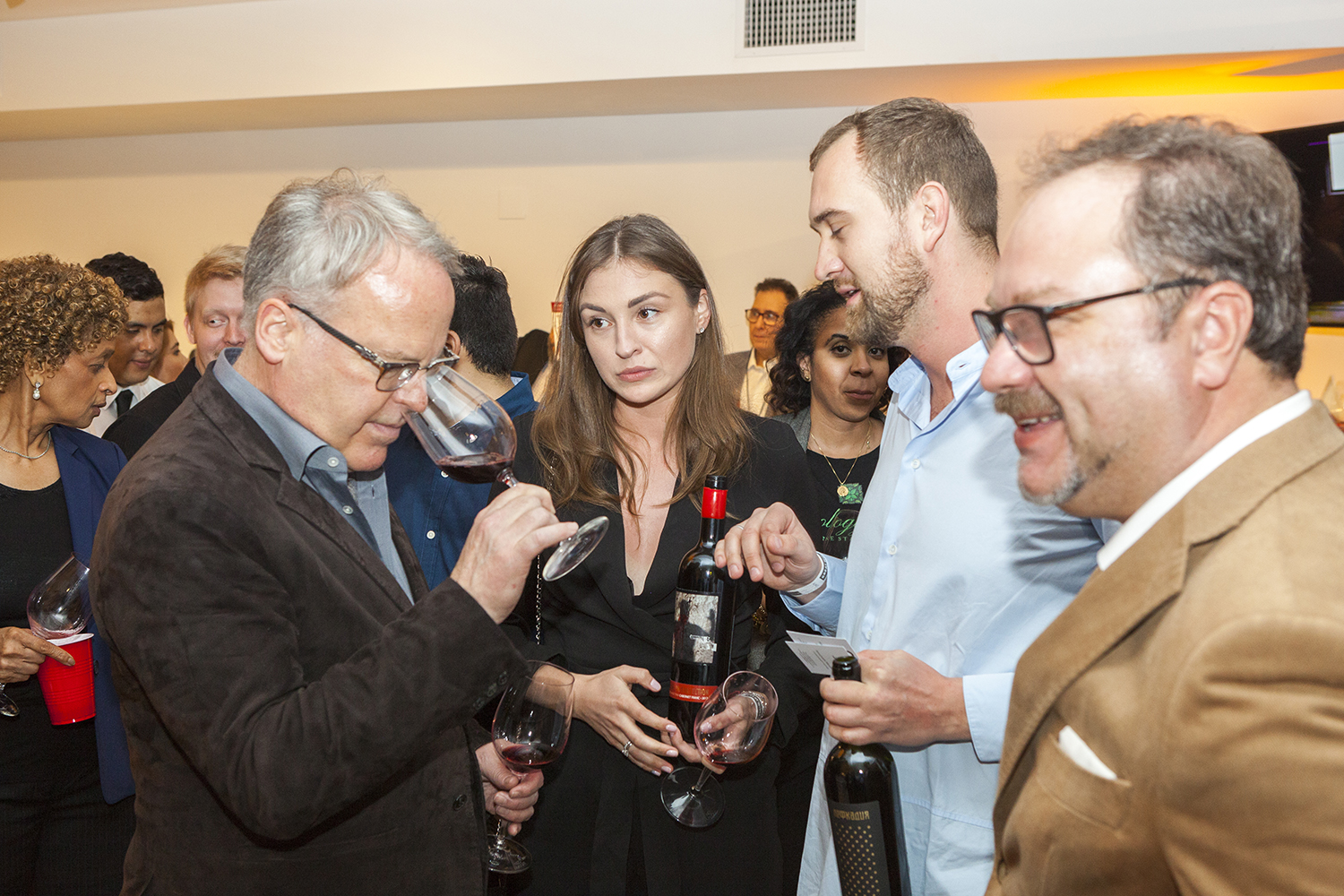 Wine guru James Suckling further fuels the South Florida scene
South Florida has become internationally known for its art scene, and now its prominence in wine is being spotlighted by an industry evangelist.
Internationally renown wine expert James Suckling kicked off his Great Wines of the Worlds USA 2020 tour in Miami with two events and announced his Wine of the Decade, Winemaker of the Decade and Winery of the Decade.
Suckling came to prominence at the European editor of Wine Spectator and Cigar Aficionado, but for the past 10 years he has created his own business empire. He operates jamessuckling.com, which offers some free content and a $145 yearly subscription. He and his team taste 25,000 wines a year and conduct 25 events globally, drawing about 30,000 attendees. He also has a wine appreciation master class on master.com and 170,000 followers on Instagram.
Suckling is also the wine curator for the Holland America cruise line and has a partnership with Lalique for a 100 Points stemware collection. He uses its $140 universal wine glass consistently in his wine tasting.
Suckling's Great Wines of the World USA 2020 included a sold-out wine dinner on Jan. 23 at the Moore Building in Miami's Design District and followed up with a grand tasting on the historic building's three floors the evening after. SFBW heard a presentation by Suckling, imbibed in the tasting and conducted an interview during a media wine and food pairing lunch at the Mandarin Oriental on Brickell Key.
"We've done this event in Asia for four years—in Beijing, Hong Kong, Seoul, this year in Hanoi, and also Taipei—and I said, 'You know what, I'm American, I should be doing this event in America," said Suckling, who was born in Los Angeles. "Miami is a wine market that a lot of people don't realize is that dynamic."
There's a perception that the wine scene in Miami is inhabited by the wealthy and retirees, but Suckling also sees a younger dynamic. One example was evident at his Miami events since Total Wine sent 50 salespeople, largely in their 20s and 30s, he said.
He offered a discounted ticket to those 28 and under. "I just want wine to include everyone. I don't want wine to be just for wealthy individuals or whatever. I really want to open it to the market here in South Florida and it's working. People are energized after going to our events," he says.
Suckling said he became interested in South Florida in his role with Cigar Aficionado. He would visit cigar makers, Little Havana and stop when he was going to Cuba, where he was the magazine's top specialist. "And then my good friend, Matt Dillon, did [the movie] There's Something About Mary here, and I stayed a few weeks, so I fell in love with South Florida," he said. The two bonded over their love of wine and cigars.
Suckling noted that Florida is the No. 2 wine market in the United States and has a strong connection to Latin America. "I'm considered the No. 1 wine critic for Chilean and Argentine wines," he said, noting 11 percent of his followers are from Argentina and Brazil.
Moreover, Argentine and Chilean wines have become universally popular.
The wine scene has improved dramatically in South Florida, he says, as far as restaurants and wine programs, but he would like to see more retailers.
Suckling says there is a parallel between Miami as the crossroad of the Americas and Hong Kong as the crossroads of Asia. When he left Wine Spectator, he perceived the lack of a top wine critic in Asia, so he moved to Hong Kong and opened the Wine Central wine bar. (Suckling now has a couple of homes in Europe.) He contemplates whether Miami might be a good location for another Wine Central and has moved his two-person office for the U.S. here from Las Vegas. ♦
The Winners
Suckling unveiled three major awards at Great Wines of the World USA 2020 in Miami:
• Wine of the Decade: Almaviva Puente Alto 2017 from Chile, which earned 100 points and helped build the reputation of Chilean wines.
• Winery of the Decade: Masseto, which produces a famous merlot from Tuscany.
James Suckling presents the award for Winemaker of the Decade to Philippe Dhalluin of Château Mouton Rothschild, Opus and Almaviva.
• Winemaker of the Decade: Philippe Dhalluin, managing director of Baron Philippe de Rothschild, S.A. The Frenchman makes such prestigious wines as Mouton Rothschild, Opus and Almaviva.
Great Wines Italy USA 2020
Suckling will be back in Miami on March 6 with Great Wines Italy USA 2020 at the Moore Building. It will bring wines from over 250 of Italy's top wineries, including 2019 Wine of the Year Siro Pacenti Brunello di Montalcino Vecchie Vigne 2015, rated 100 points, and four other perfect (100 point) wines. For tickets, go to jamessuckling.com/events/
Tips on Wine Investing
Some investors look at fine wines as part of an alternative investment portfolio, but Suckling jokes that first purchase should be a corkscrew because investors often dip into their collections.
He suggests sticking to classics, such as bordeaux, burgundies, some of the top Italian lines, top Chilean wines and blue-chip Napa Valley cabernets.
One source of leads are the 100-point wines listed in the free downloadable guidebook for the Wines of the World Tour: jamessuckling.com/wine-tasting-reports/great-wines-world-usa-2020-official-guidebook/