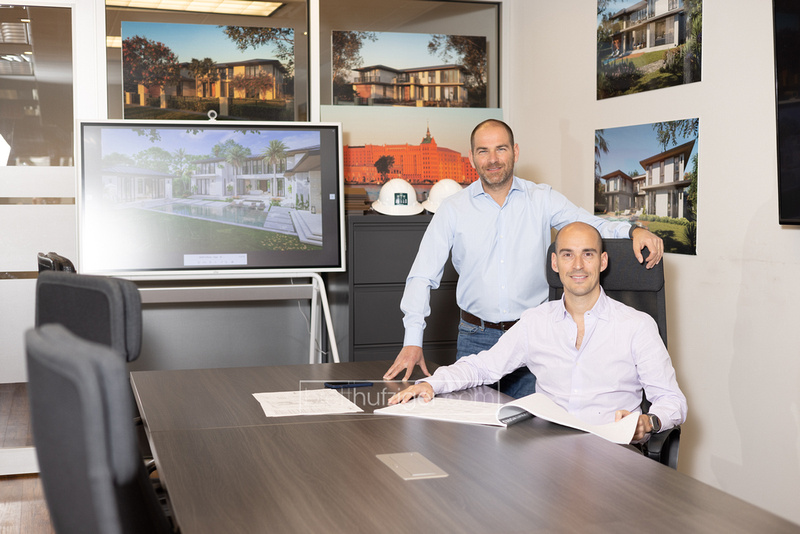 With Cento Homes, Brothers Gaetano and Ignazio Caltagirone Are Partnering With Sensi Casa To Create Turnkey Properties for South Florida's Most Discerning Buyers
The Coral Gables-based Calta Group has been setting the standard for luxury single-family spec homes
It's 2023, and the bar for luxury homes in South Florida has never been higher. Buyers who might have been satisfied with a spacious, well-appointed house a decade ago now expect sophisticated finishes
and thoughtful details that transcend coastal contemporary to embody a more worldly aesthetic. And they're willing to pay up for them—sometimes finalizing the sale before a shovel even goes into the ground.
Leading the pack of developers creating these homes are brothers Gaetano and Ignazio Caltagirone, whose Coral Gables-based Calta Group has been setting the standard for luxury single-family spec
homes since its founding in 2010.
"We pride ourselves on not cutting corners," says Gaetano Caltagirone, who serves as president while Ignazio is CEO of the vertically integrated business that includes acquisition, development, design and
construction. "We're always trying to improve the product and get better at what we do."
They've come a long way. The two hail from an influential dynasty of real estate developers in Italy, and before they made their move to Florida, they learned the family business from the inside. Marquee projects such as the Hilton Molino Stucky, now Venice's largest hotel, as well as the biggest private marina in the Mediterranean, taught them how to meet the lofty standards of Europe's most elite and exacting clients.
The lessons they learned have proved valuable on this side of the ocean during a period of major growth, a trend the Calta Group has taken full advantage of. When the company began building homes in Coconut Grove, Coral Gables, Pinecrest and South Miami 13 years ago, Caltagirone says, they sold at an average price of $2.5 million. Today, prices range from $5 million to $18 million.
"The markets have changed, and the demographic of the buyer has changed," he explains. "Now, instead of delivering a family room that is white and has a nice floor, you have to deliver something more, which may be an accent wall, some woodwork, little things that really make a difference."
That difference can make or break a sale, which is why, in late 2022, the Calta Group partnered with Sensi Casa to create Cento Homes. The joint venture with the Miami-based staging and interior design firm—which boasts Italian roots of its own—aims to differentiate its homes with a mix of old-world craftsmanship and cutting-edge fixtures. Available furnishings make the homes completely turnkey.
"We partnered with Sensi Casa to help us improve the interior product," he says, "to give a different feel from other homes on the market."
The relationship began when Sensi Casa founder Chiara Sensi-Contugi purchased a six-bedroom, 7,166-square-foot Calta home in South Miami, then had her firm design the interiors. It sold as the first Cento
Home for $5.2 million. "We saw what they were doing on some of the homes they had bought and sold, and the value they had given to them," Caltagirone says.
Added value can be found in everything from smart storage ideas to elevated lighting. "They add things we don't think about, like the master closet being divided a certain way, or the bathrooms being set up
differently than we usually do," he explains. "They place importance in elements like stonework on the inside of the entrance, lighting where the buyer will put art, a window to accentuate the staircase."
That differentiation is crucial, he explains, because on the upper end of the market, buyers look beyond price per square foot.
"People buy homes because they fall in love with them, so you have to get them to fall in love with the product you're showing them," he says. "Then, if your home is 300 square feet smaller than the home
next door, that's not going to change anything."
A recent example of the collaboration is taking shape in a highly desirable location.
"One of the homes we're currently building with them is a house on Erwin Road in an area called Ponce-Davis, which is where homes sell at the highest price per square foot that is not on the water,"
Caltagirone says. "It's very close to great schools and one of the greatest public elementary schools in Florida, so just being in that neighborhood has enormous value."
While Caltagirone believes the partnership will add a premium to the prices of these homes, he sees the greatest benefit in cutting the time they spend waiting for a buyer.
"It gives us an edge on any other house on the market because we will be sold first," he explains. "Time is money, and it's about how fast you can sell it and how happy the customer will be because they know
they're buying something special."
The Cento Homes joint venture reflects more than $30 million in single-family projects so far, with plans for further expansion over the next two years. As for the other big collaboration, that between brothers
Gaetano and Ignazio Caltagirone, the former describes the relationship as highly complementary.
"We have a great relationship because he is the construction guy on the site as a day-to-day manager and I'm more of the dealmaker," Caltagirone says. "I manage investor relationships and relationships with the banks, and I'm the one who goes to look for more properties."
"We do separate things, so we get along great," he adds. "We rarely have an argument."
Photos by Brett Hufziger