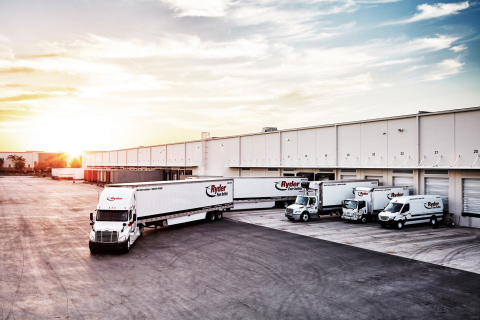 Amid a rising share price, Ryder announces new maintenance plans
Ryder, the Fortune 500 logistics giant based in Miami, is offering what it terms novel new maintenance options for fleet managers.
The news comes as Ryder (NYSE: R) has been one of the major stock market success stories in a turbulent year. It's shares have risen from under $50 at the start of the year to trade at $68.16 on May 24. The company provides commercial fleet management, dedicated transportation, and supply chain solutions company and is part of the Dow Jones Transportation Index and the Standard & Poor's 500.
Ryder has long bundled maintenance in with its lease programs, but now is adding a pay as you go maintenance program and another that covers just preventive maintenance.
"Our full service lease customers recognize the value that comes from our fully comprehensive leasing and maintenance offering," Ryder Chairman and CEO Robert Sanchez said in a statement. "However, recent market research and conversations with private fleet owners and other prospects that are new to outsourcing have shown that there is strong interest in having options."
Ryder ChoiceLease Full Service is the company's traditional plan with all maintenance included. The new Ryder ChoiceLease Preventive allows customers to enjoy the financial benefits of a Ryder lease with preventive maintenance on new and used vehicles, enabling them to choose how and where to handle their other repairs or maintenance outside of preventive checks. Ryder ChoiceLease On-Demand provides customers with the financial benefits of leasing, combined with access to Ryder's national maintenance network on a pay-as-you-go basis.
The offering is only available on new and used trailers, as well as used power equipment.
Ryder has details about the plan on its home page and outlined bullet points on how it is providing more flexibility in general to its customers:
The most flexible maintenance choices – Full Service, Preventive, or On-Demand
The most flexible equipment options – the widest selection of new or used tractors, trailers and trucks from a variety of manufacturers
The most flexible terms – short-, medium-, or long-term
The most flexible financing – choose from a number of Ryder financing options that help businesses take advantage of tax benefits
The most variety of value added services – from fuel and insurance, to safety services