[vc_row css_animation="" row_type="row" use_row_as_full_screen_section="no" type="full_width" angled_section="no" text_align="left" background_image_as_pattern="without_pattern"][vc_column width="2/3″][vc_column_text]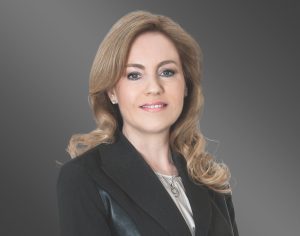 By Rebecca G. DiStefano
With some of the world's largest companies investigating whether blockchain technology is relevant to their business, understanding how it works is becoming more important.
This 10-year-old technology is gaining momentum worldwide to securely store and transfer data and record transactions, and new surveys show nearly half of technology leaders plan to adopt blockchain for business.
Blockchain was born in 2008, with the introduction of bitcoin, when a document titled "Bitcoin: A Peer-to-Peer Electronic Cash System" emerged under the name Satoshi Nakamoto.
It introduced a decentralized electronic cash transfer system—one that does not rely on any central authority for issuance, settlement of transactions, or validation of transactions. This was the beginning of a new field of data set storage and transmission.
Blockchain is a digital recording of transactions and a transfer of data sets across a network of computers or nodes. The chain or ledger is a growing list of records, called blocks, that are linked using cryptography, or computer code. Each block contains a cryptographic hash of the previous block, a timestamp and transaction data. Each participant in the chain maintains a "replica" of the prior transactions, which are digitally signed, and believed by many technology experts to be a permanent record resistant to tampering.
There are public and private blockchains. The distinction between the two is who is allowed to participate in the network, make decisions, and have access to the shared data ledger. The bitcoin blockchain might be the largest publicly accessible. A private blockchain network allows participants to join by invitation only and is sometimes called a "permissioned network."
Business applications for blockchain are believed to be limitless. Currently, blockchain applications are envisioned and developing across an array of industries, both financial and nonfinancial, although business uses for blockchain technology have matured in the crypto-asset mining and trading arenas. Other business applications using a distributed ledger include:
• Real estate.
• Trading or investing in virtual currencies.
• Smart contracts.
• Safekeeping and digital wallets for smart assets.
• Cloud storage.
• Digital identity.
• Digital voting.
• Decentralized notary services.
Virtually any business seeking improved business efficiencies, as well as enhanced privacy and security of online information, might be a good candidate for blockchain use.
Financial institutions are in the nascent stages of creating custodial solutions—ways to hold cryptocurrencies on behalf of customers—while supply-chain businesses are looking to blockchain to help them move products more efficiently.
With the increased use of blockchain, there are several pitfalls. There is a short supply of experienced coders and programmers to develop the technology, delaying innovation. There are also questions of funding and demand, as well as significant regulatory hurdles to using blockchain for business.  Agencies, such the Securities and Exchange Commission and the Commodity Futures Trading Commission, as well as state regulatory agencies, have provided limited guidance.
Worldwide acceptance of blockchain business uses probably will not occur until there is consensus among non-U.S. and U.S. federal and state regulators. There also are concerns related to public blockchain-mining companies, including the significant amount of energy required in the "proof-of-work" consensus mechanism to secure its blockchain.
Businesses and entrepreneurs might avoid being caught in some of the potential pitfalls through involvement in enterprise collaboration involved in building blockchain networks and partnerships to develop business and human solutions in close coordination with regulatory agencies. They should work in advance with legal counsel to understand the current and rapidly changing legal, regulatory and legislative landscape for blockchain. In addition, understand how humans and businesses currently prefer to transact business, buy goods, and interact with one another using this technology.
Pitfalls associated with distributed ledger technology innovation and the transformation of industries cannot be avoided. However, in light of the enterprise companies venturing into the space with a risk-reward mindset, it seems likely a proof of concept development of blockchain technology will lead to mainstream adoption, having eventual positive effects on mankind.
Rebecca G. DiStefano is a shareholder at the Greenberg Traurig law firm and concentrates her practice in the areas of securities regulation, corporate structuring, corporate finance, and mergers and acquisitions law, and serves on the firm's blockchain task force. Rebecca counsels public and private companies in corporate governance and capital formation, including private placements, registrations and crowdfunding. She is a capital markets contributing author for Lexis Practice Advisor Journal and has been selected for inclusion in The Best Lawyers in America, for Corporate Law, since 2016.
[/vc_column_text][/vc_column][vc_column width="1/3″][/vc_column][/vc_row]