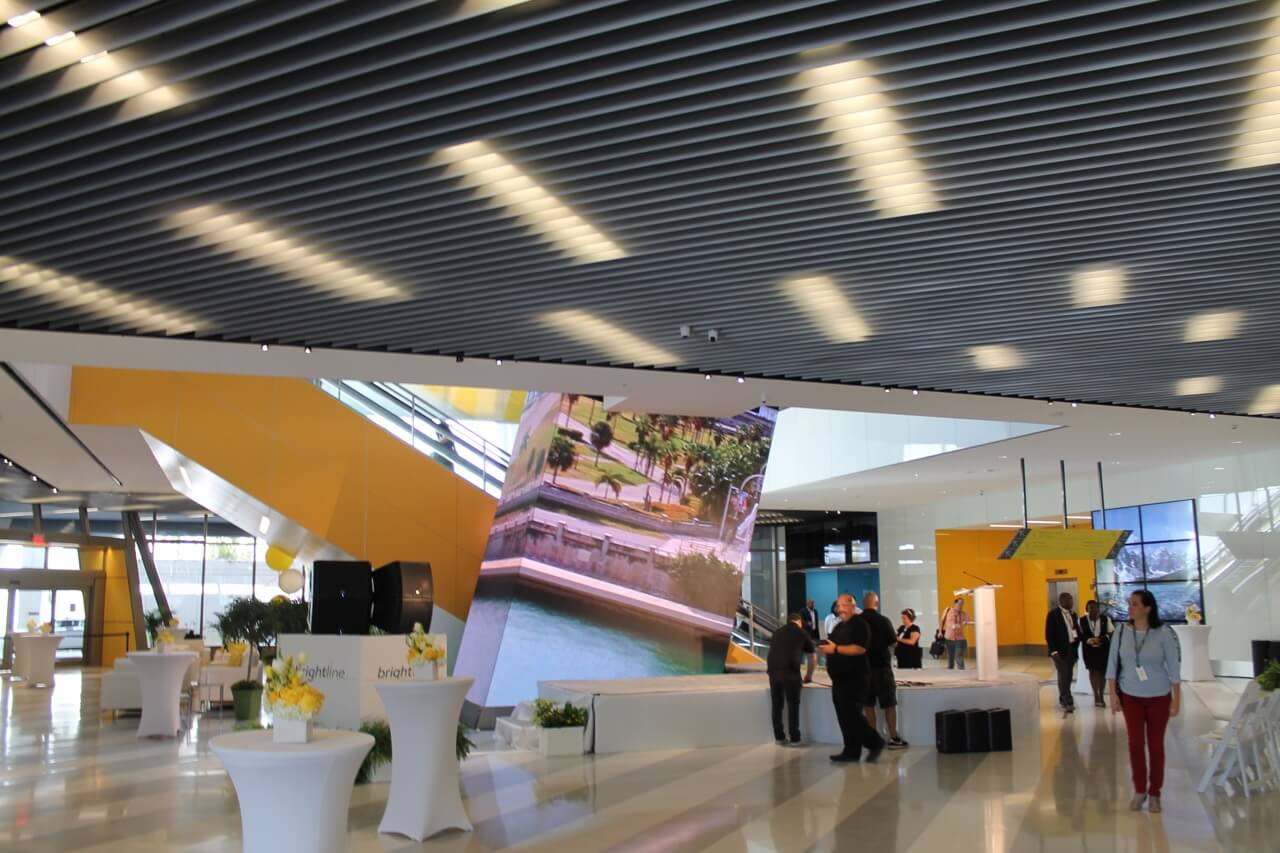 Brightline's Miami service begins May 19
The media got a sneak preview of Brightline's Miami station on Friday. We were told that more Brightline routes may be planned.
Brightline also announced that service from Fort Lauderdale and West Palm Beach to Miami will begin the weekend of May 19, extending the current Fort Lauderdale-West Palm Beach service. The Miami service will kick off with celebratory fares of $3 and $5, along with a party featuring appearances by Heat player Udonis Haslem and DJ Irie. The party at the MiamiCentral station, 600 NW First Ave., will occur from 9:15 a.m. to 8 p.m Saturday, May 19; and 9:15 a.m. to 6 p.m. on Sunday, May 20.
Tickets for the new Miami service can be booked at gobrightline.com.
There was plenty of enthusiasm from an array of local, state and federal officials who spoke at the media event on Friday. Much of it had to do with Brightline fostering job growth and future development.
"This is transformative for Miami and Florida," Franklin Sirmans, director of the Pérez Art Museum Miami. He noted how Brightline is the only privately financed high-speed rail venture in the nation.
He expects Brightline will help broaden the audience for visitors to the museum. Indeed, those arriving in Miami will be able to take the free Metromover to Bayfront museums and across the Miami River to the Brickell area. Metrorail also will provide connections to Kendall, Miami International Airport and other locations.
Wesley R. Edens, co-founder, principal and co-CEO of Brightline parent Fortress Investment Group, said he was confident Brightline would build elsewhere. He noted that Atlanta to Charlotte (244 miles) and Dallas to Houston (293 miles) share similar characteristics to Brightline's route (233 miles), which will connects two major population centers in Florida.
U.S. Rep. Bill Shuster, chairman of the House Transportation and Infrastructure Committee, said that this was his fourth visit to look at Brightline. He likes that it is led by private investment and thinks it could be duplicated in other areas.
Miami-Dade Mayor Carlos Gimenez said he's talking with the Florida East Coast Railway about using the Brightline right-of-way to add commuter service from downtown to Aventura. He pushed earlier to ensure there were extra tracks at Brightline's Miami Central to add commuter service.
A near-term plan is that TriRail will soon run trains from West Palm Beach to downtown Miami as well as the existing service to Miami International Airport.
Miami Mayor Francis Suarez said Brightline sends a strong signal about Miami's future amid talk about rising sea levels. He expects it will be the catalyst to many more projects.
Miami-Dade County Commission Chairman Esteban Bovo said, "Soon, our entire downtown will be alive and thriving, not just Biscayne Boulevard."
The station's platform provided a panoramic view of the construction cranes on the north side of downtown, including work at the neighboring Miami Worldcenter, a $2.7 billion project. Developer Moishe Mana also has amassed enough property in Miami's historic downtown area to curate its rebirth into a trendy area.
Brightline itself is having a major impact on development. MiamiCentral will sprawl across six blocks and include retail, a food hall, 800+ rentals in two towers and three office towers, including one that's 196,000 square feet.
While the station itself and one office building are open, workers are still working on finishing the rest of the first phase of the project.