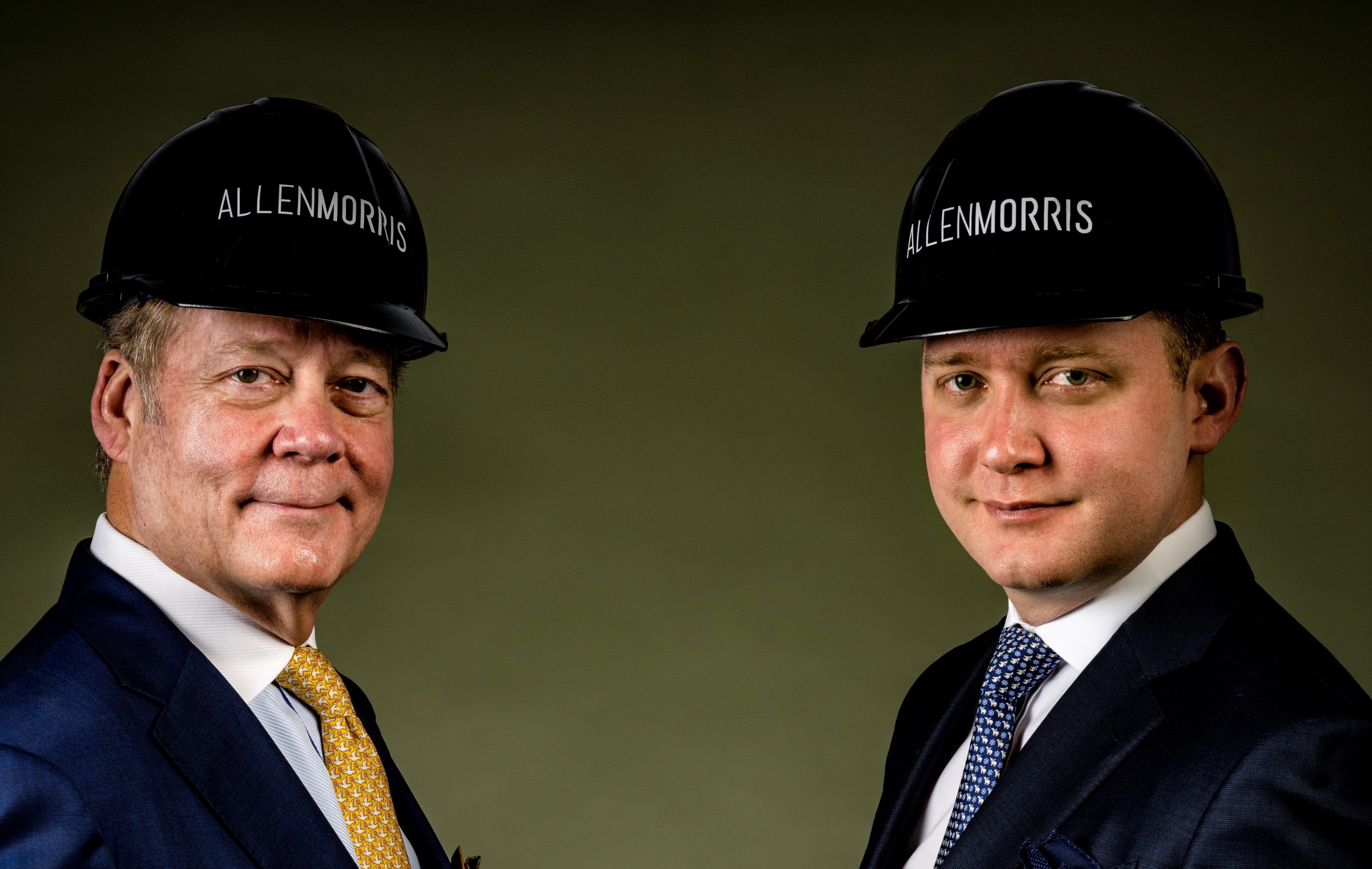 Buildings and Bloodlines at the Allen Morris Company
The father-and-son developers W. A. Morris and Spencer Morris—and the values that animate their bond
In a city full of father-and-son developers, the partnership of W. Allen Morris and W. A. Spencer Morris—those initials have a way of sticking through the generations—stands apart. As the principals of the Allen Morris Co. (W. Allen, who goes by WAM, serves as chairman and CEO; Spencer is president), the two men have taken on the mission of cultivating the history of the family business, memorializing its milestones and its risky turns away from convention, and its leaps into the future of commercial development. Father and son provide contrasting styles: WAM enjoys his drawl, dry and reflective, while Spencer is a fast talker, his words racing nearly as fast as his thoughts.
Company of Firsts
"The firm," Spencer explains, "is a company of firsts. WAM will tell the story much better than I could about the history of the company, but it was started in 1958. We're the first company to build out a regional shopping center in the state of Florida. We're the first company to build an office on Brickell Avenue. There are a series of those type of things throughout our history that I think permeate who we are as a company today."
Spencer insists that Allen Morris Co. doesn't operate like a standard 64-year-old firm. "We're a 64-year-old firm on the far end of the scale of entrepreneurial. We are building best-in-class product, trophy-quality buildings that three or four years ago people were telling us we're completely crazy to do. That's part of our identity as a company—the willingness to take risks and do things beyond what the market would support at the time and looking long-term at what the market can become."
WAM fills out the legacy, reaching back to the achievements of his own father, L. Allen Morris, the company founder. "One of [his bets] was a residential neighborhood near downtown, called Brickell Avenue," WAM says wryly. "You may have heard of it. Back in the 1960s, my father thought it would be a good idea to build a multitenant office building on Brickell Avenue because no one had done that before. And his friends in the Miami Club were teasing him about what in the world he was doing—planning to build an office building on the wrong side of the Miami River."
He was visionary. Given time, there would be no wrong side of the Miami River, no wrong side of Miami.
"That was where the Brickell mansions were, and these little hotels," WAM continues. "1000 Brickell was built in 1968, without any anchor tenants and we almost instantly filled it up. But it was a radical idea at the time. Now, Brickell is the headquarters of all the international banks and financial institutions of Miami."
Northside Shopping Centre at 7900 NW 27th Ave. seemed like another risky bet. "It was just cattle farms, and no one had ever heard of a regional shopping center in Florida," WAM recalls. "Everyone went downtown to shop. But with the advent of the Interstate highway system created by the Eisenhower administration, there was the potential to create shopping destinations." Northside was developed between in 1960 on what was once the site of a dairy farm. The concept quickly caught on.
Fathers and Sons
Just as WAM recounts the maverick style of L. Allen Morris, Spencer tips his hat to his own father's reinventions and canny moves. "For the first 50 years of company history, up until 2002, we built a lot of traditional class-A office buildings throughout Florida and Georgia—that was our DNA," Spencer says. "With the development of the building that we're headquartered in today, Alhambra Towers in Coral Gables, the thesis changed."
With that iconic yellow edifice, WAM developed the first trophy office building that had ever existed in Miami-Dade, achieving the highest rents. And architectural differentiation was instantly absorbed into the company's value system, and at the moment, is arguably most apparent in its development successes in Atlanta.
The Morris family was originally from Atlanta, with a branch decamping to Miami in 1947. Both WAM and his father graduated from Georgia Tech. (WAM spent 11 years at Harvard University's Young Presidents Organization.) For his part, Spencer ventured to the northeast, to Boston University, for his liberal arts degree, but he always knew he was destinated for the business world. Spencer considered law school, but he dropped the idea in favor of a different type of training. "We were talking with Related about the SLS Lux site, which is a property that the family purchased in 1981 or 1982," Spencer recalls, "as a gas station, for like $100,000."
Throughout the '60s, '70s and '80s, the family acquired, assembled and sold about 15 acres in Brickell, "which have since become different venues, including Allen Morris Brickell Park and Mary Brickell Village." SLS Lux was emerging as a 58-story residential building and hotel (on the edge of the nascent Brickell City Centre), with the project co-developed with Related.
The illustrious Related name was a draw for young grad, and, after all, the two development companies were already in business together. "I decided to go and work for Related as a project manager and associate, working on that project and others," Spencer says. He notes that today, South Miami Avenue, the epicenter of City Centre which back then was a pioneering destination, to say the least, "is the most energetic corner in the Brickell area, one of the most active areas in all of Miami." That heady development experience qualified as Spencer's continuing education, apt preparation for the Allen Morris Co. He left Related in 2016.
Green Roots
The company's Atlanta roots remain strong. (The Allen Morris Co. of Georgia has been around since 1970.) Spencer: "Atlanta's been on tear lately, so we've been heavily invested there." The so-called capital of the New South has proven an excellent standard-bearer for the company. What's happening in Atlanta today will appear on the Miami skyline soon, especially the incidence of biophilic design—that 1 Hotel look, but pushed even further. Greener, lighter.
"It's not just a coincidence," Spencer says. "We have eight new developments that are starting construction this year, more than a billion dollars this year, alone" from Sarasota to Utah (South Florida projects are teed up for 2023). "And one of the consistent themes is the biophilic aspect—blending contemporary architectural design with naturalistic elements is one of the most interesting forms that resonate with people." He cites the company's Star Metal Offices in Atlanta, with its 25,000 square feet of green roofs. "When it's all said and done, Star Metals is going to be a $1.5 billion district, six or seven buildings, including Star Metals Hotel and Residences—a city within a city, the equivalent of the Design District in Miami."
WAM enthusiastically adds: "A curated garden on every floor."
Spencer says the look is so "different from anything else that exists that people are really drawn to it. That's not the way things have been done. Things are changing."
Love of Creation
What doesn't change is WAM's and Spencer's mutual devotion to quality. Spencer says even company titles don't reveal the whole story. He explains that although WAM is chairman and CEO, "his internal title is chief creative officer." Spencer says that the internal title reflects his father's creative integrity. "It's so easy in the development game, especially in a market like we're in now, with rising costs and inflation, to go through the value engineering process and remove architectural details from the building because of costs, things like that. And WAM is the anti-VE officer."
WAM laughs heartily at this.
Spencer continues: "He keeps the core mission intact, which is to build extraordinary buildings—that's what we do. We do what we love to do; money is a secondary consideration. I think what he brings to the table is that aspect: creative design and programming, curation, ideas that make projects really special and outperform."
And to WAM, what does Spencer bring to the table? "He is a brilliant financial mind, and also has a passion for quality. It's such an unusual combination to see somebody who understands the intricacies of the financial structure of the deal and also creates things that are artistically beautiful. That's a rare combination of qualities, and he does this with a penchant for multitasking, so can oversee and direct 20 different projects at different stages at one time, and it's a marvel to see."
Rediscovering Inspiration
The vision-to-execution road was not always without bumps. WAM recalls being burned out at 47—20 years ago, in the middle of 78 projects. "The joy had gone out of what we were doing," he remembers. "I felt that if I had to build another box I would just die. I just couldn't do it. I was at a crossroads in my life, so I decided what I needed to do was take a sabbatical, and rethink everything that I was doing in my business, family, personal life. And I experienced an extraordinary amount of healing and clarity in my life." A break that was supposed to last for three months unfurled over three years—three years of counseling, flying airplanes, attending weekend retreats. It was an intense journey of self-exploration, and when WAM came out the other side, he rediscovered that joy, passion, freedom and creativity.
WAM approached his company as if it didn't already exist, that it could take any form. Gone was the verbose mission statement, to be replaced by three words: inspire, impress and improve.
"We really want to improve people's lives, and that got my juices going," WAM says. "I didn't want to develop anything that didn't inspire me. Somebody would bring me a new project," and it would have to face the inspire-impress-improve level of criteria. "If we couldn't see any way that it was going to improve people's lives, and inspire people, no matter how profitable it was, we would just pass, because that would be taking our time and capital away from projects that would inspire people and improve people's lives." It was a hard-won lesson—and one that Spencer understands implicitly—and executes on.
Photo by Nick Garcia