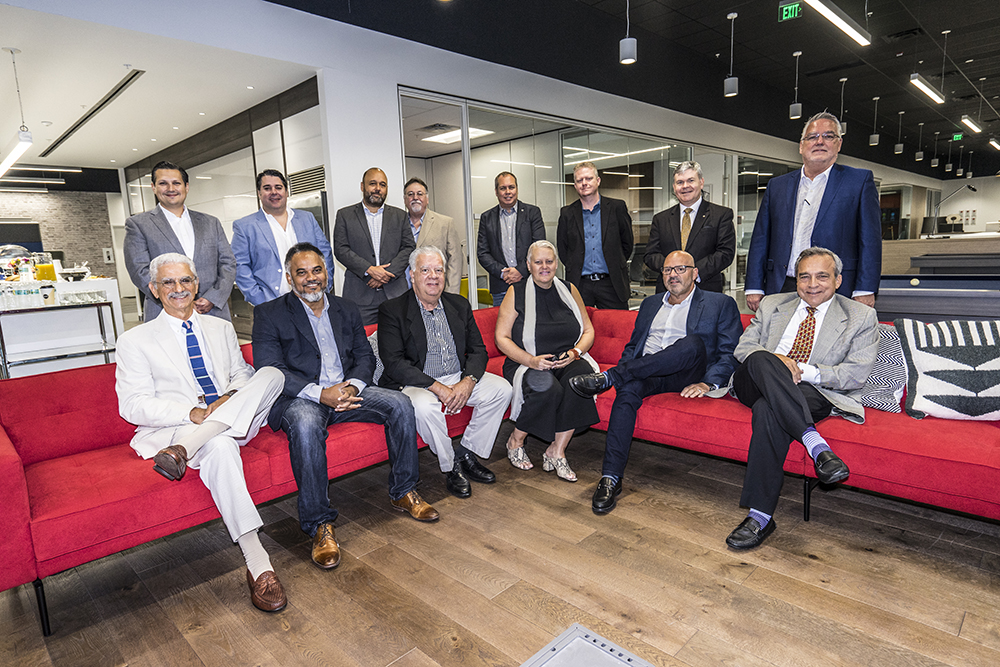 Design trends, tariffs, & sea level rise
By Andrea Richard
Accompanying this month's architecture firms list, SFBW hosted a roundtable with some of the region's most notable architects. Editor-in-Chief Kevin Gale moderated the discussion at the Miramar headquarters of JC White, a specialist in architectural interior products.
The architects:
• Diana Farmer-Gonzalez, principal and managing director at Gensler.
• Craig Aquart, principal at MC Harry & Associates.
• Ignacio Reyes, vice president and corporate director of development at Leo A Daly.
• Jon Cardello, vice president at Stantec Architecture.
• Sergio Saenz, principal at HKS Architects.
• Bruce Retzsch, president and managing partner for RLC Architects.
• Bill Gallo, CEO of Gallo Herbert Architects.
• Adolfo Cotilla, president and CEO of ACAI Associates.
• Robert Draper, senior architect for BEA Architects.
• James Bowers, partner for Bermello Ajamil & Partners.
• Jorge Garcia, CEO at Garcia Stromberg | GS4studios.
The following transcript has been edited for brevity and clarity.
What are some of the projects you are working on now?
Cardello: Working on a variety of things in Miami and around the country. The Wharf which is going to be Miami's new fish market is an exciting project.
Retzsch: A couple months ago, we finished the Telemundo center in west Miami-Dade. And we are wrapping up the Burger King headquarters in Blue Lagoon.
Draper: Currently, we are working on a couple of cruise terminals in Barcelona and in Turkey. We also are working on cargo terminals in Port Everglades.
Aquart: We are working on a salmon farm project in Homestead, a first for South Florida.
Garcia: We are working with Sergio's firm on Pier 66 in Fort Lauderdale. It's a massive project with three or four architectural firms. We are doing electronic yacht storage, with a yacht club situated atop, and a residential tower in Brooklyn, New York, south of the Williamsburg Bridge. In addition to these big deals, we've always enjoyed a niche market in Central and South America, social interest housing.
Gallo: Our work has taken a very interesting turn. Since the mid-70s, I've been involved in senior living housing. Our biggest project going on right now is that we are repurposing and planning for the entire John Knox Village campus, a 70-acre, $300 million project in Pompano Beach. We are looking at a whole new paradigm to senior living.
Cotilla: I like to refer to us as community architects. We do education, health care and transportation. We just finished the south tower of Broward General and we do a lot of Broward schools.

What are the design trends you're seeing?
Gallo: Minimalism is the design trend that runs through most of the work that we see in hotel, residential and office. The younger generation is into sharing space. In mixed-use projects, adaptability is a very important where the building can accommodate different uses. And the only way you can do that is with minimalism architecture.
Cotilla: One of the things that we started exploring and has really taken off is creating the space through furniture and that saves a lot on construction and it opens up the space. We do a lot of work for WeWork, using a lot of glass so you can see.
Farmer-Gonzalez: Around work place design, two things that we see is that culture and experience are the biggest drivers for our clients because talent attraction and retention are one of the biggest challenges and also the biggest reward that they face. Space needs to perform operationally. Another big driver we see is the third space concept. We worked with Starbucks a lot over the years. WeWork has been a disrupter in the real estate market for how people work. And that has to do with the workforce being more consultant based versus large corporation based.
Reyes: The idea of gradient privacy is a critical trend in the sense of what you see in hotels, what you see in offices. People might want to be seen but not connected or they might want to be visually connected and have a sense of private workspace. In library design, there's areas where people can isolate themselves. We are seeing this in hotel and mixed-use design.
Garcia: We are not very big subscribers to trends. But from the standpoint of experimentation, we are seeing more manufacturing of buildings.
Saenz: Prefabrication. We've been seeing that for awhile. We are working with a company that you're going to get your building module shipped to you like Ikea, in flat boxes. Also, we've talked about sustainability in terms of LEED for years, but that's about the building. Now we are seeing sustainability about the person. Called WELL certification, it is about designing for the person's well-being.
From the residential standpoint, I think we have a challenge with the amount of inventory available so you are seeing places trying to standout that are more resort like. Those are trends right now, but I don't know if those are future trends. If we are designing for the trends of today, we are probably too late.
Are tariffs on commodities affecting your projects and are you seeing any impacts on future projects?
Cardello: Absolutely. We have seen an increase in costs on projects, especially recently. We are seeing prices being affected on aluminum, glass and steel.
Draper: Jon said it. Six months ago, it was a non-issue. Now, it is impactful.
Reyes: The uncertainty is scaring everybody.
Gallo: I agree. I think it's a bump in the road in our profession. From our perspective, we haven't seen any projects that have not moved forward. The market is so robust that is it is absorbing whatever that cost is and passing it along. I think we will work our way out of it, and it's not going to be anything like the last economic downturn.
Cotilla: This isn't the first time. Back in 1929, tariffs were an issue during the Great Depression.
Retzsch: We have a multi-family residential project that is $13 million over budget and the developer doesn't know what the heavens to do. There's certainly a lot of price pressure.
Gallo: Not only are tariffs a concern, but the last 11 years have been a talent drain for us. When the recession hit, so many people left our industry, not just architects but on the construction labor side too.
Garcia: We are a victim of our own creation. I hear that all the time.

Are some of your projects incorporating resilience to rising sea levels?
Farmer-Gonzalez: Yes. We are doing a project on Miami Beach. We are trying to get credits to raise columns—it's called freeboard and it raises a building's height to five feet. It's part of a 10-year plan. As professionals, we have a responsibility to be forward-thinking in how we design for sea level rise. It's a critical issue.
Cotilla: The City of Miami Beach is ahead of the whole pack. They are already adding barriers. They got a number of pumps in place that are being designed and installed. So as water comes in, it can be pumped out. It's like a modern Venice, that works. We are doing more than 200 pumps now. Sea level rise is a very complicated issue and we really need to get involved. The buildings are going to be high and dry, but the roads will be underwater. Unless we take care of things, we are going to need canoes to go from building to building.
Reyes: With the AIA (American Institute of Architects), one thing we did last year was we met with every single legislator in the state of Florida and we talked about the five forms of flooding whether it's from the ocean, weather, etc. We went to Tallahassee and every person we met with on both sides of the aisle were onboard. At some point they have to do something on how flood waters impact all parts of the state.
Cardello: Miami Beach's value will decrease and people will start migrating. That's a big component. We need to really look ahead.
Aquart: We do mostly public sector type of work. Usually we are called in when there's a problem. I think for the most part our government is not behind this idea of sea level rise. They think it's a fluke and we can pass by it. ♦