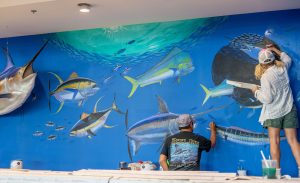 Bruce Caprara spent over four decades operating in virtually every capacity the restaurant industry offers and helped manage the opening of six successful establishments over his career. Still, nothing could've prepared him for the challenges he currently faces. As COVID continues to adversely impact the industry, restaurants must now deal with supply chain shortages, a labor deficit and increases in food and rent prices, which makes operating, let alone opening a restaurant, immensely perilous.
"I've been doing this for over 40 years and this is the worst time to open a restaurant in my life and I wouldn't have said that two years ago," he says. "We're getting hit from all sides."
As the managing partner of Seminole Reef Grill, a new fresh seafood and sushi restaurant scheduled to open in January/February 2022 in Palm Beach Gardens, Caprara has seen the eatery's original opening date of Dec. 15, 2021 pushed back more times than he prefers to count. Whether it's finding matching silverware, proper equipment for the kitchen or hiring close to 100 qualified employees, Caprara confronts issues he's never had to encounter before on a daily basis.
"Everyone is overloaded and short-staffed," he says. "When I order anything, they say it'll be four to six weeks out. And then six weeks go by and they say it's going to be another two months and it's happening over and over and over. Everything is just taking way longer and the cost in every direction is going up."
Regardless of the pricing and labor challenges, Caprara and his partners are determined to push forward with Seminole Reef Grill to provide customers with an experience that makes fine dining a comfortable and affordable endeavor for every consumer. He describes Seminole Reef Grill as the ultimate seafood experience where Key West casual meets Palm Beach elegance. While fresh, locally caught seafood including crab, oysters and sushi will be among the highlights, the extensive menu will cater to an eclectic taste with prime steaks and short ribs also available.
"We don't want to be a super high-end restaurant; we want to provide quality but still be affordable, so everybody comes in; it's a balancing act," he says. "Fortunately, we have a lot of good people and a lot of seasoned people that know what they're doing. We think we could single-handedly be one of the best restaurants, if not the top restaurant out there, but this is what you still have to deal with."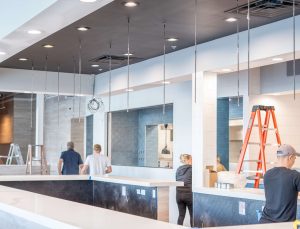 Once Caprara and his team move past the issues impacting the opening, he says Seminole Reef Grill will provide patrons with eight to 10 different types of fresh fish daily. He obtained a license that enables him to purchase fish directly from commercial fishermen that will help cut some prices and provide the kind of daily freshness customers expect when it comes to high-end seafood.
"As far as quality of food, we want to be the place where people say, well, you are the best seafood restaurant," Caprara says. "You can taste the difference and you give great service. We're not going to substitute quality because quality is everything to us and I think we're going to have a dynamite menu. We have everything that you would possibly want, so you could come here every day of the month and get something different."
Facing a once-in-a-lifetime pandemic certainly presents unforeseen issues with any new restaurant looking to establish itself. As Caprara and his staff work to find solutions to overcome the unprecedented obstacles, he remains confident in the business model Seminole Reef Grill intends to pursue. By providing the type of sophisticated dining experience South Floridians have come to enjoy, along with locally sourced fish prepared by an experienced and talented kitchen staff, Caprara's vast culinary expertise gives him the determination to weather the COVID storm.
"We can overcome all this, but it's going to be a lot of tough treading in the near future, just because of all these high costs, but at the end of the day, we know we're filling a void and we're going to be a massive success," he says.