Legacy
Where: Six locations in South Florida, including Doral (3470 NW 82nd Ave.), Coral Gables (22 Merrick Way), Pembroke Pines (10720 Pines Blvd.) and Fort Lauderdale (500 S. Andrews Ave.)
What: Founder Manning Sumner has one of the fastest-growing fitness concepts in the region. Legacy employs its proprietary Partner Interval Training system for circuit-style workouts that combine HIIT and resistance training to activate opposing muscle groups, and increase speed, power and endurance. The intensity of the workout also burns fat at an accelerated rate—in fact, calories are still being burned nearly 24 hours after training. The brand's motto—"No Days Off"—speaks to more than a weekly exercise schedule. "[It's] about never taking a day off on YOU," Sumner says. "It's a commitment to becoming the best version of yourself that you can be."
Website: legacyfit.com
Stretch Zone
Where: South Florida locations include Boca Raton (2621 N. Federal Highway), Lighthouse Point (3650 N. Federal Highway) and Fort Lauderdale (1916 E. Sunrise Blvd.).
What: Just as advertised in the name, the goal here is to improve flexibility with a method that gradually increases range of motion. The Stretch Zone experts use patented and proprietary equipment to do the job, ensuring stabilization and proper positioning to manipulate the muscles. The loss of flexibility does nothing to stave off aging; the opposite can improve your posture and circulation, as well as your range of motion. Benefits also include better athletic performance, and decreased daily stiffness and soreness. Helen Martin, who owns 22 Stretch Zone franchises, also credits the culture. "The majority of our studios are small, coming in at around 1,200 square feet," she says. "So, we want our clients to feel like they're coming in on the red carpet and really getting the VIP treatment."
Website: stretchzone.com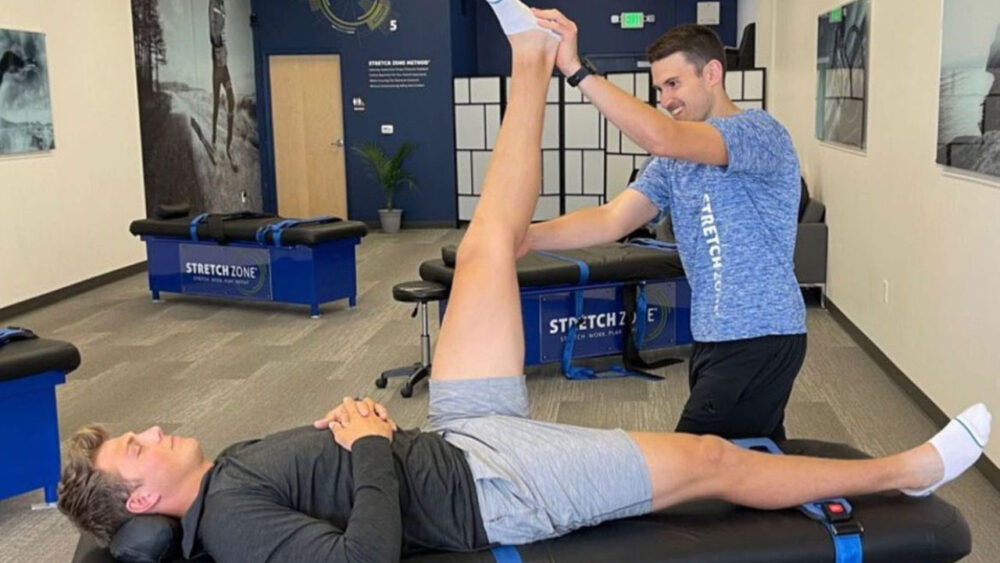 Fitness At Your Door
What: Not fond of the pump-you-up, Venice Beach vibe at some of the brick-and-mortar gyms? Looking for a more convenient option that brings the workout to you? Fitness At Your Door does just that with trainers who've undergone background checks, and are licensed and insured. The concept was launched by former Canadian Football League player Kashawn Fraser, who played high school ball at Monarch in Coconut Creek. Those interested simply sign up on the website and search for a trainer based on specialty or distance from your location. A search of experts serving Fort Lauderdale revealed 25 different certified personal trainers.
Website: fitnessatyourdoor.com
Galt Ocean Pilates
Where: DFit Training Studio, 3712 N. Ocean Blvd., Fort Lauderdale
What: Diane Epstein is the driving force behind this private Pilates offering inside DFit Training Studio, on Zoom, or at your home. In 2019, the longtime Pilates enthusiast turned her passion into a vocation built around the mind-body discipline that combines breathing, concentration and gentle exercises that stretch and lengthen the muscles. Benefits include improved strength, balance and range of motion. Epstein customizes the experience based on the person's body type, health history and fitness level.
Website: galtoceanpilates.com
Core 954
Where: 3320 NE 32nd St., Fort Lauderdale
What: Fitness guru and celebrity trainer Sebastien Lagree created this workout with a kitchen-sink recipe that combines strength, endurance, cardio, core, balance and flexibility—in each exercise. Slow, controlled movements are the key to a regimen that uses resistance, angles, pace and duration to maximize muscle stimulation. At Core954, Lagree-certified and master Pilates instructor Erica Leonard makes use of the latest Megaformer machine—with more exercise options than ever—in a 45-minute class (with virtually no rest) that burns upward of 700 calories per class.
Website: core954.com
Midtown Athletic Club
Where: 2300 Royal Palm Blvd., Weston
What: Few fitness-centric facilities offer more to members than Midtown, arguably the most all-encompassing facility in South Florida. The studio exercise classes alone—more than 100 every week, from Zumba, spin and boot camps to sessions for the core and aqua cardio—are worth the price of admission. But that's just for starters. Courts are in session all day and into the evening thanks to 25 outdoor tennis (including French Open-like red clay surfaces) and four pickleball courts. In addition, there are two outdoor pools, offering competitive swim programs; a full-service spa and salon; two hours of complementary child care with select memberships; two floors of strength training and cardio equipment—and much more.
Website: midtown.com/locations/weston