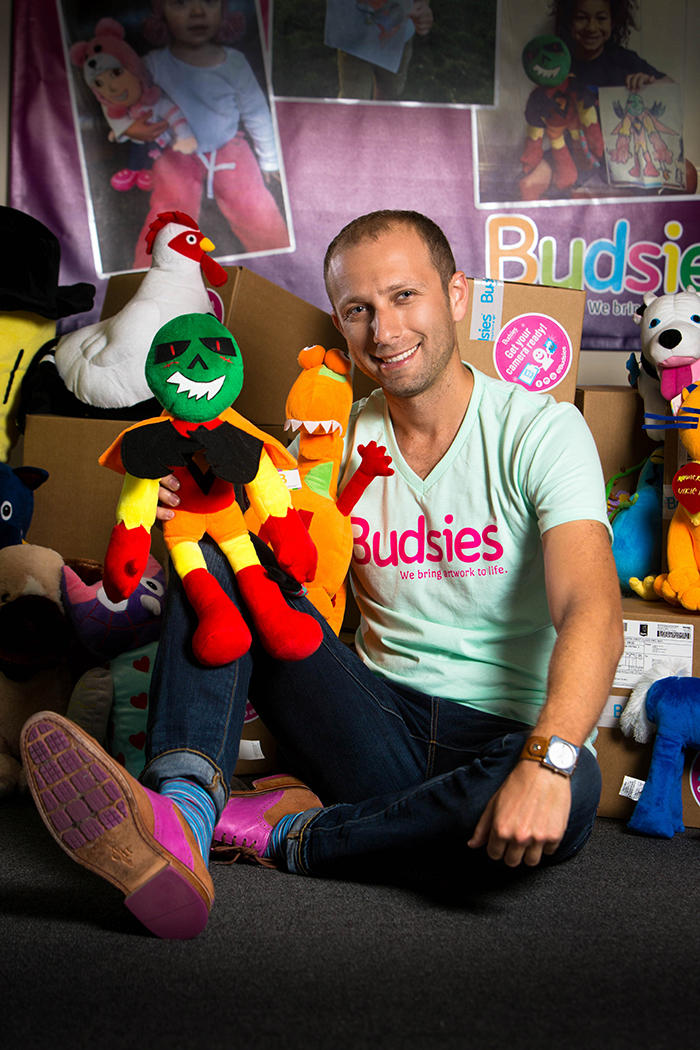 Entrepreneur talks about life after "Shark Tank"
It all started with a little girl and her stuffed animals. Her imagination and creativity sparked an idea that would turn itself into a successful business and a man's passion.
In fall 2014, Alex Furmansky of Palm Beach was featured on an episode of the reality television show "Shark Tank," which allowed him to promote his business, Budsies, to the world. Budsies takes pictures that kids draw and turns them into real-life stuffed animals.
"I had the pleasure of watching my little sister grow up, and she loved her stuffed animals," Furmansky says. "One day, I asked myself, "How can I combine her creativity with her love of stuffed animals?""
Furmansky went into the tank asking the sharks for a $100,000 investment for a 5 percent equity in his company. Kevin O'Leary and Daymond John took the bait, offering him $100,000 for a 50 percent and 40 percent stake, respectively. After hearing the offers that were placed in front of him, Furmansky felt he had a simple choice: to walk away. "Their offers weren't even close," he says. "They were grossly undervalued, and I know our company is worth so much more."
Both O'Leary and John wanted to raise the price of a Budsie from $69 (current retail price, according to Budsies.com) to $249 – a ridiculous sum in Furmansky's mind. "To me, there is a lot more to the business side of things. Some people just don't understand how connected people are with their stuffed animals," Furmansky says.
When the "Shark Tank" episode aired, Furmansky had only sold about 2,000 Budsies. But recently, that number has increased to more than 10,000. The company has also launched "Selfies," which turn any human photo into a plush doll, and is getting ready to launch "Petsies" to do the same thing for pets.
Although Furmansky decided not to make a deal with either O'Leary or John, he feels as though he got the "best of both worlds." The funding and publicity that Budsies received after the show aired has helped him increase his output and lower his turn-around time from four weeks to two weeks.
Being on "Shark Tank" is no easy process. Furmansky says that it took him 18 months to even be considered for the show, from his first application to the actual taping of the episode. There is no guarantee that after you've taped an episode that it will actually air, but Furmansky came up with some tips to help future entrepreneurs have their tank time.
Perhaps the hardest thing about getting on the show, he says, is having a consumer-based product in which the sharks will want to invest. Then, the entrepreneur is tasked with making his or her company or product stand out from all the other thousands of applicants. "They intentionally make it difficult to get on the show," Furmansky says. "That way, they can see who is willing to put in the effort for their company."
Furmansky believes that a good way for entrepreneurs to practice their pitches for "Shark Tank" is to actually go and pitch their ideas to investors. Many cities across the country hold "pitch nights," where entrepreneurs share their ideas with a panel of judges who give immediate feedback about whether or not they would invest in the company or product.
Two years have passed since Furmansky began his journey to "Shark Tank," and he couldn't be happier with the results. "Everything is difficult about going into business for yourself," he says. "But this? This was fun." ?
Alex Furmansky
Current Roles
Budsies: Founder of company that brings children's artwork to life through custom-made stuffed animals
Sparkology: President and founder of invitation-only community for young professional singles
AutoPin: Founder of app that's like About.me, but for cars
Highlights
OpenPeak: Director of Business Development, 2009-2011
Evercore Partners: Analyst, 2007-2009
Education
Bachelor's from the Wharton School of the University of Pennsylvania