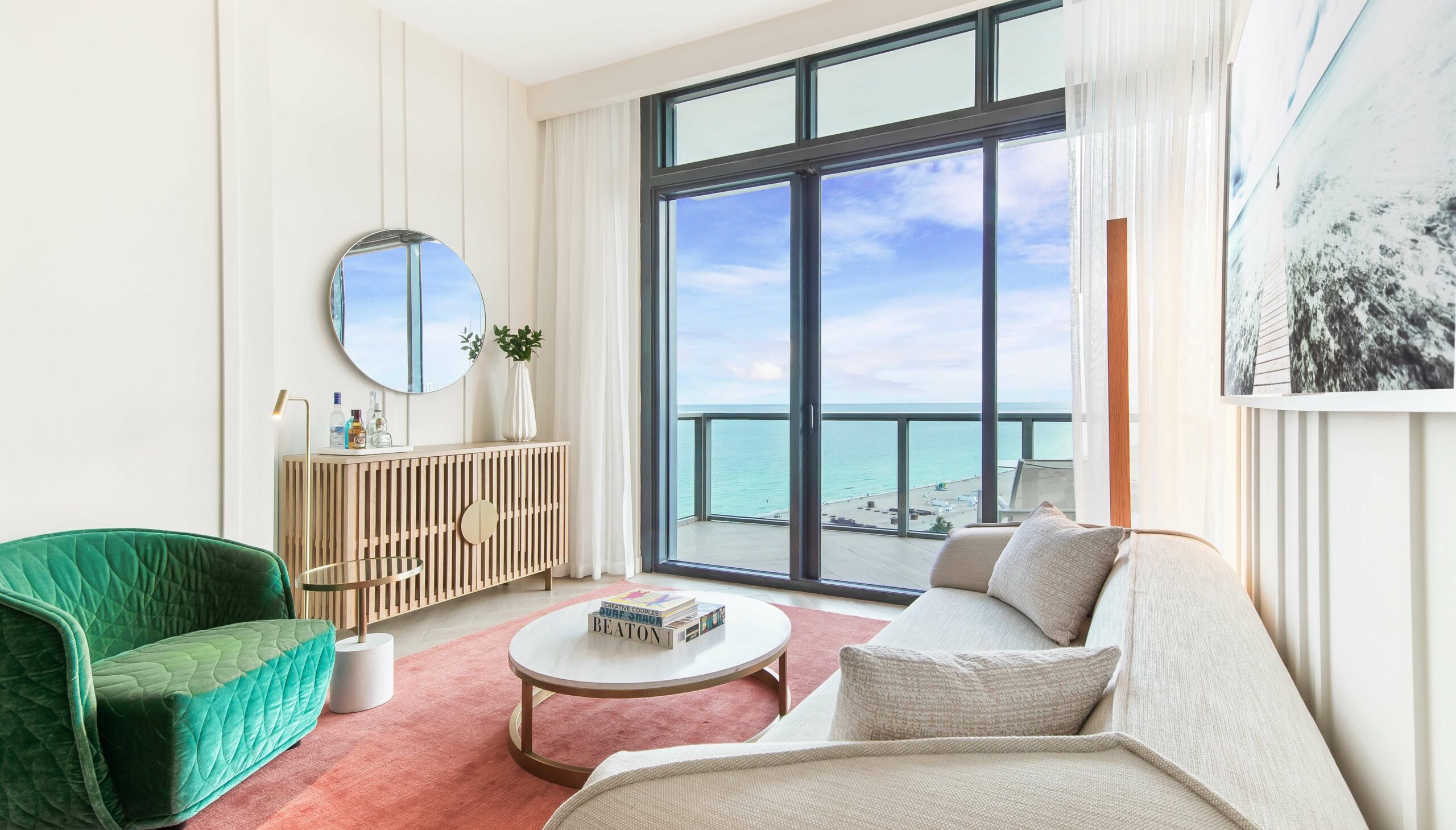 High-Style Cozy
Always ready for its close-up, the newly redone W South Beach focuses on comfort
It's inevitable that with every major hotel renovation, impressive numbers are going to be brandished, and the W South Beach, a longtime favorite of the smart set and celebrities, is no exception.
There's the $30 million price tag. And the 357 fully redesigned oceanfront suites, plush and inviting, with thoughtful sensory touches such as three preset mood modes (bright, entertain and relax) and 24-hour music playlists. But on my visit, some other numbers bring me up short: the refreshed, museum-quality art collection is valued at $100 million; curated by Aby Rosen to go with the hotel's new look, it features 21 original works by Andy Warhol, three of which are collaborations between Warhol and Jean-Michel Basquiat.
When the young guest services director, Diego Dantas, charmingly tours me around the lobby—sorry, the living room, in W parlance—to admire the art, he reminds me of my excitement when I first learned about Warhol's ambiguous celebration of everyday consumerism.
But then, all the service was stellar throughout my stay. South Beach has had its challenges in this area, but you'd never know it from the W. After I parked myself inside a massive cabana and swam my laps, someone from the wait staff showed up, on cue, to deliver a bountiful fruit salad. "I saw that you were working out, and thought you'd like this," she said. All the cabanas, by the way, have been refreshed as part of the hotel's facelift. (The 9,000-square-foot Away spa, it must be said, is the redo's jewel in the crown, and was created by Urban Robot, the boutique design firm on Lincoln Road that excels at condominiums such as downtown Miami's Natiivo and hospitality projects like the Shelborne on South Beach and the Kimpton Hotel Fort Lauderdale.)
When the W South Beach opened its doors in 2009, it boasted the largest guest rooms in South Beach, each one with balconies and expansive ocean views. The vistas still wow, but now the rooms are fresh and tactile, with velvety fabrics on the chaises and arm-chairs, and design-forward room dividers composed of vertical wooden slats. The aesthetic is a sleepy, dreamy vision of beach house-style: millwork, natural oaks, airy and plush neutral textures and a beige-color palette with accents of soft corals and shaded teals.
"The hotel had a cosmopolitan aesthetic incorporating darker tones which worked well when it was introduced. However, throughout the years, Miami Beach has changed a lot. The new design is an expression of where Miami is headed, enriched with refined art and culture," explains Justine Velez, partner at Urban Robot. "We preserved some of the original vibe and edge while introducing a beautiful fresh blend of natural light, warm wood tones and various shades of colors from the sea to the spacious guest suites, triplex bungalows and spa."
In short, the accommodations look they don't have anything to prove, delivering comfort, softness and hues that don't push. That could be said of the whole hotel. It's hosted the A-list guests like Justin Bieber, Leonardo DiCaprio, Steven Tyler, Bono, Lizzo, Pharrell, Mark Wahlhberg and Tom Cruise. It's where LeBron James celebrated after announcing that he was taking his "talents to South Beach," and where Drake has played on New Year's Eve. It's where Sports Illustrated forever changed the rules of the catwalk when model Mara Martin strutted on the runway while breastfeeding during Swim Week.
The W South Beach made its name on the strength of that global glamour, and will no doubt revive that milieu when Art Basel returns to the beach next December. But for me, I soaked up the other side of the W—a comfy neighborhood oasis that features perhaps the loveliest garden dining on the beach (Tuscan-inspired cuisine overseen by chef Vincenzo Scarmiglia) and wears its Warhols easily.