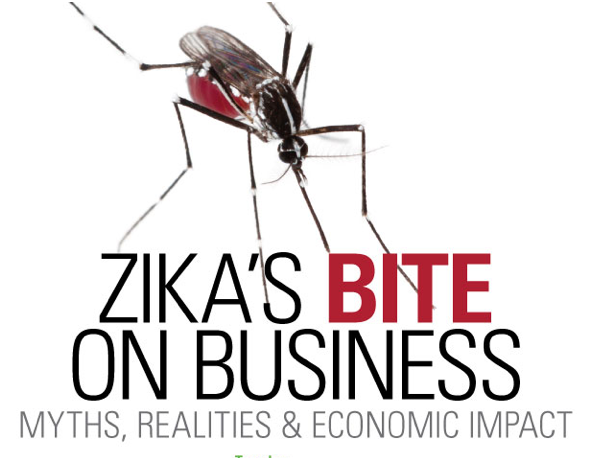 How the zika virus will spread – or won't
Confirmation of five case of zika in Miami Beach is adding to worries about the economic impact and just how widespread transmissions could get.
Gov. Rick Scott held a press conference Friday and confirmed the zika cases. The area of concern is between 8th and 28th streets, which includes hotels on the northern part of Ocean Drive,the Miami Beach Convention Center and the Lincoln Road Mall.
A New York Times article on Thursday said state and federal officials are considering a warning about preventing pregnant women traveling to Miami Beach and perhaps all of Miami-Dade County. Most people have few if any symptoms from zika, but it has been linked to deformities in developing fetuses.
The Greater Miami Chamber of Commerce announced Friday it is having a seminar on Aug. 30, entitled "Zika's Bite on Business; Myths, Realities and Economic Impact." The panel will include the chief clinical officer of Plaza Health Network, the chairman of the Wynwood Business Improvement District, a doctor and the administrator of the Florida Department of Health in Miami-Dade County. (Click here to register.)
An article on the Slate website argues that zika is containable. The reasoning is that it's carried by the Aedes aegypti mosquito and there have been numerous successful battles to contain it to prevent dengue and yellow fever.
A prime weapon to combat Aedes aegypti is naled, the chemical being sprayed in the Wynwood area. It is sprayed on about 16 million U.S. acres a year, the article says
In contrast to the Slate article, a British study in the journal Science, as reported by the Washington Post, argues that efforts to prevent the spread of zika in Latin America by eliminating the mosquitoes has been largely futile because the methods haven't eliminated dengue fever.
Neil Ferguson, the lead author and a professor at Imperial College's School of Public Health, says the virus will fade away when so many people have antibodies to the virus that it runs out of new people to infect.
It's safe to assume that Ferguson's thoughts offer little comfort to South Floridans worried about getting zika, which can cause fevers, rashes, joint pain, red eyes, muscle pain and headaches.
One question is whether there is willingness to allow widespread spraying of naled. While the Environmental Protection Agency and Centers for Disease Control and Prevention approved spraying 10 square miles in the Wynwood area, the spraying in Puerto Rico was stopped after protests and the governor calling the spraying environmental terrorism.
One of the downsides of naled, is it can harm bees and butterflies. There's widespread concern already about the collapse or bee populations in the United States and both butterflies and bees are important to pollinate crops. Florida is a top agricultural state. There are also concerns about whether naled has neuro toxicity in humans, although state officials say the amount used in mosquito spraying presents no dangers. Aerial spraying of naled has been used for years in South Florida, as show by this 2012 article in the Sun Sentinel.
The spread of zika ultimately is a personal question for each of us. What to do? The best advice is eliminate stagnant water where mosquitos breed, wear long clothing outdoors and use mosquito repellent.