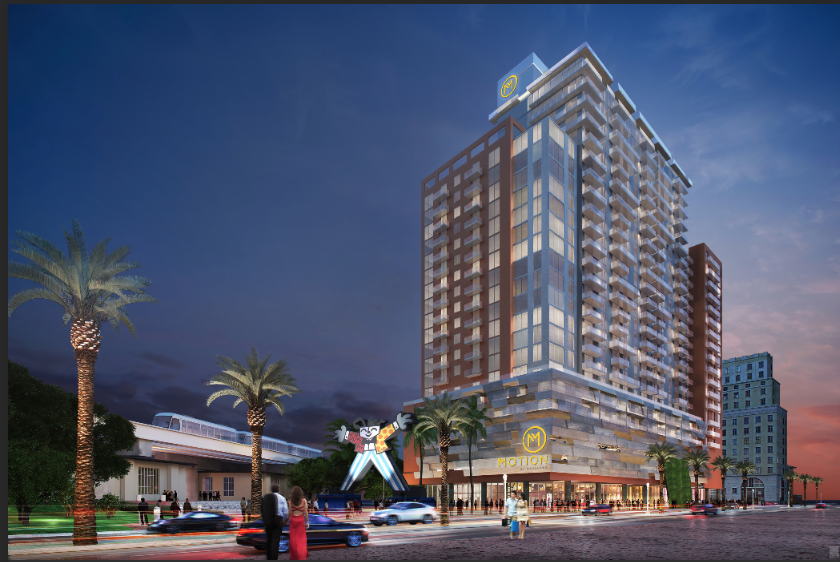 Luxury apartments near Dadeland North get $50 million construction loan
The trend towards transit-oriented development in South Florida is taking another big step forward with the closing of a $50 million construction loan for Motion at Dadeland, a 294-unit, 25-story luxury rental community next to the Dadeland North Metrorail Station.
Developers 13th Floor Investments and Adler Group announced the loan, which was secured by and syndicated by TD Bank and Banco Santander. The development partners have also closed on the project's equity financing, negotiated by Newmark's ARA, and debt, which was secured by CBRE. Completion is expected by late summer 2018.
"Motion at Dadeland is the perfect solution for renters who want the convenience of urban living and the accessibility of public transit, without necessarily being confined to the urban core or tethered to a car," said Michael M. Adler, CEO of Adler Group. "Renters will be connected to all of Miami and have the ability to access greater downtown, the health district, and the airport in 20 minutes or less."
The Class-A multifamily development at 6900 S.W. 84th Street will feature condo-quality unit finishes with views of Biscayne Bay and Downtown Miami, a press release said. Amenities includes ground floor retail, a fitness center, an expansive pool deck, poolside cabanas, communal sun loungers, covered seating, a party lounge, and a co-working center for residents.
"This construction loan is not just a testament to our strong bank relationships but also to the growing appeal of the Dadeland neighborhood of Miami-Dade County as a viable submarket for residential living," said 13th Floor Investments Managing Principal, Arnaud Karsenti. "We are fortunate to work with high-quality lending partners such as TD Bank and Banco Santander and look forward to collaborating with them on this outstanding project."
13th Floor and Adler also received approval recently from Miami-Dade County for Link at Douglas, which will transform the Douglas Road Metrorail station into a large-scale, mixed use community.
South Florida is poised for a surge in transit-oriented projects, which were highlighted in a January 2016 SFBW article.
13th Floor was profiled in a 2014 SFBW article.