The Greater Fort Lauderdale Alliance at its mid-year meeting announced specifics on some of the 1,038 new jobs the economic development partnership has helped foster during the first half of its fiscal year.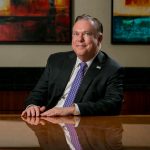 Alliance President/CEO Bob Swindell and Chairman Nelson Fernandez, executive vice president and principal of ANF Group, reported more than $216 million in capital investment by companies assisted by the Alliance since Oct. 1. In addition to the 1,038 new jobs, the Alliance told attendees at Pier Sixty-Six Hotel and Marina that 409 jobs had been retained.
The Alliance had a major score in its ongoing efforts to recruit corporate headquarters.
Techtronic Industries, a group of companies that includes Milwaukee, Ryobi, Hoover and Dirt Devil, relocated its U.S. headquarters from Baltimore to Fort Lauderdale, adding 75 new jobs.
Techtronic was founded in 1985 and is one of the 50 stocks in the Hang Seng Index on the Hong Kong Stock Exchange. The company, which has an office at 450 E. Las Olas Blvd., says it has 23,000 staff members and $7 billion in sales for 2018.
Among other announcements:
ICON International, a corporate barter company headquartered in Connecticut, has opened a new office in Fort Lauderdale's Cypress Creek area, adding 50 new jobs. ICON is a subsidiary of Omnicom Group (NYSE: OMC), a $15 billion revenue global advertising and marketing communications services company. ICON says clients come to the company because one or more of their assets have lost market value. ICON acquires the assets, often paying substantially more than buyers in the open market. In exchange, ICON's clients buy goods and/or services over time from ICON at the rates they would normally pay.
Decimal Engineering, which specializes in precision sheet metal fabrication for numerous industries including marine, defense and technology, is adding 20 new jobs, retaining 115 and making a capital investment of $9.9 million dollars at its new manufacturing facility in Coral Springs.
DNA Labs International, a company providing forensic DNA analysis, is adding 10 jobs, retaining 33 jobs and making a $7.5 million capital investment in Deerfield Beach.
Wayman Aviation, which provides aviation career preparation and recently celebrated the grand opening of its new flight training facility, is adding 20 new jobs and making a capital investment of $4.5 million in Pembroke Pines. Adding to Broward's aviation cluster has been one of the Alliance's major priorities.
"Companies continue to choose Greater Fort Lauderdale's highly competitive business climate and unbeatable quality of life. The Alliance is proud to share the story of our community as a premier business destination and talent hub while working year-round with a variety of partners on important initiatives that challenge the status quo and help bring prosperity to all," Swindell told attendees.
In a key note address, Florida Gov. Ron DeSantis talked about how Florida's low tax environment, pro-business stance and quality of life continues to attract relocations.
The Alliance also announced a $75,000 grant to its foundation from the SunTrust Foundation, which will fund a pilot program to help nurture and coach entrepreneurs in Broward County. It will have a special focus on entrepreneurs in six economically challenged zip codes in Broward.
SFBW was among the sponsors of the meeting.