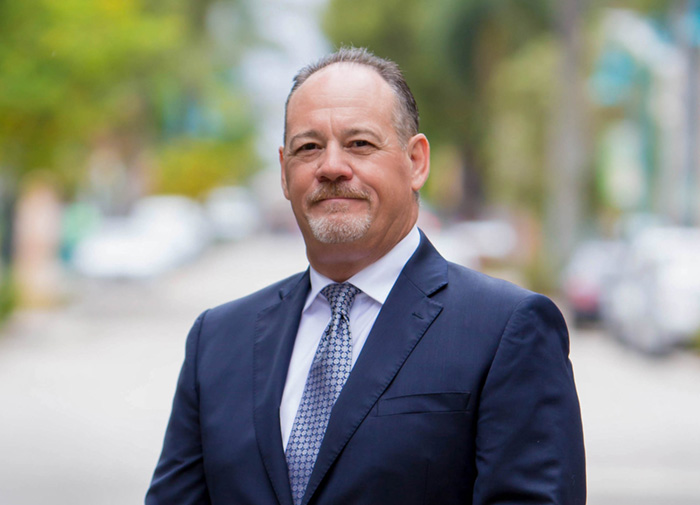 More Than Guest-Work
Kolter's growing collection of hotels keeps its leader going
By Arnie Rosenberg | Photography by Larry Wood
Scott Webb knew all about office buildings. Heading up the commercial division of West Palm Beach-based Kolter Group, he oversaw some 5 million square feet of office space. Yet he didn't know hotels.
So when the company created its hospitality division two years ago and tapped Webb as president, it was a learning experience not just for him, but for everyone involved.
"The challenges were numerous," recounts Webb, despite having 19 years of Kolter experience at the time. "While we were commercial owners and managers of office buildings, hotels were a totally different animal. It's going from owning bricks and sticks and managing the physical plant, to running an operating business."
Kolter had opened the Hyatt Place in downtown West Palm Beach and the Hilton Garden Inn in Palm Beach Gardens in late 2008 and early 2009, respectively, with an eye toward stabilizing them and selling them. But a combination of the poor real estate market and new opportunity helped drive 2014's formal launch of Kolter Hospitality.
Today, the company owns five Westin, Hilton and Hyatt hotels across Florida and has another four under construction or development. By 2018, its portfolio will grow to nearly 1,900 rooms, including a 200-room Hyatt Place in downtown Boca Raton and Fort Lauderdale's tallest tower, a 46-story hotel/condominium project on Las Olas Boulevard.
"We're targeting Florida to start, but real estate is local. To really understand it, you have to live here, you have to work here, you have to play here," Webb says. "You can own 50 hotels and be all over the place, but you really have to understand it properly to maximize your performance, and that's what we do."
Webb visits Kolter's hotels every week, and, in the process, demonstrates not only the company's culture but also his own commitment to the employees who make the operation a success.
"Most employees of a hotel don't make a ton of money," Webb acknowledges. "It's a very tough life, and they deserve all the respect for making a hotel run properly. I'm on a first-name basis with most employees. I don't want them calling me Mr. Webb. Call me Scott. I don't think of myself as the president of the company. I'm just one of the cogs in the wheel that makes this thing work."
Webb's real estate experience – whether in office buildings or hotels – is helping drive Kolter Hospitality, which has begun adding full-service hotels to its portfolio of limited-amenity properties. Earlier this year, Kolter received Hyatt's Strategic Partner award. It recognizes companies for their "commendable culture, performance and operating philosophies," among other qualities, Hyatt says.
"The reality for us, our focus, always is about loyalty – loyalty to our team members, which will translate into loyalty from our guests. If our team members are happy and enjoy what they do and like where they work, that comes across in everything we do," Webb says.
It has been great to watch the hotel operations grow, Webb says. "We've taken it from two little hotels we were going to sell and built a very solid operating company out of it, and it continues to grow. We've worked hard and really have some momentum going. It's incredibly satisfying to watch this come together and watch us grow as a team." ↵
KOLTER HOSPITALITY PORTFOLIO
Open
• Hyatt Place Coconut Point, 108 rooms, 23120 Via Villagio, Estero
• Hilton Garden Inn, 175 rooms, 3505 Kyoto Gardens Drive, Palm Beach Gardens
• Hyatt Place West Palm Beach, 165 rooms, 295 Lakeview Ave.
• Hyatt Place Delray Beach, 134 rooms, 104 NE 2nd Ave.
• Hyatt Place Fort Lauderdale-17th Street Convention Center, 126 rooms, 1851 SE 10th Ave.
Upcoming
• Hyatt Place, 200 rooms, 100 E. Palmetto Park Road, Boca Raton
• To be named, 46-story hotel (238 rooms) and condo (120 units) at 100 E. Las Olas Blvd., Fort Lauderdale
• Westin Sarasota, 255 rooms, One North Tamiami Trail, Sarasota
• Hyatt Place St. Petersburg, 175 rooms, 25 Second Street, St. Petersburg