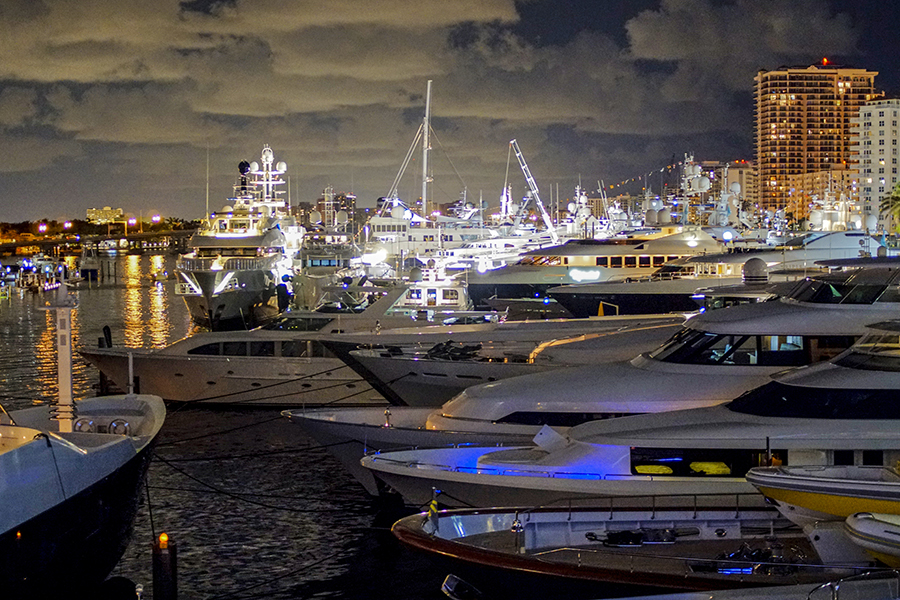 Nautical Super Bowl: Nation will get to see glamorous event
Fort Lauderdale international Boat Show Special Section
For those attending the 59th annual Fort Lauderdale International Boat Show this year, the word to remember is "smile." You might get to see yourself on TV this December, because the NBC Sports Network will be covering the show with plans to televise it by year's end.
In addition to TV cameras rolling, other noteworthy changes are coming to the show, called the largest in-water show in the world.
Phil Purcell, president and CEO of the Marine Industries Association of South Florida, which owns the show, says one major, noticeable change to this year's event will be to its entrance on the north side. He credits Informa Exhibitions, the show's producer, with adding new infrastructure. "This was done to create a better show experience," he says.
Andrew Doole, vice president and general manager of Informa, says the new entrance will provide visitors an enhanced experience when they arrive. "There'll be less lines and less bag checking," Doole says. "There will be new equipment, like [at] the airport. We're really excited about this new experience."
The main entrance has been redesigned and repositioned several hundred yards to the north end of the Bahia Mar Hotel and Marina property, along Seabreeze Boulevard just south of the International Swimming Hall of Fame. Organizers say the new entrance will create a plaza-like configuration, along with improved security and a VIP and exhibitor gate.
Purcell says the biggest thing about this year's show will be the TV coverage. "It will be airing post-show and will showcase the entire region as well," he says. "It'll be a one-hour special that'll be modeled after an auto show. There will be judging of the boats by an impartial group being assembled by NBC Sports."
Townsend Bell, an Indy car racing driver and commentator on NBC Sports Network, says the broadcast is modeling coverage after the Detroit Auto Show. "The biggest in the world," he says. "We want to showcase all the boats. I'm a lifelong avid boater."
Bell will be one of the commentators on the program, which is scheduled to air Dec. 22, he says. Bell, who's been broadcasting for NBC the past seven years, says a group of local boat show officials traveled to Detroit. "They came to Detroit to see how we film and lay out the show."
Bell says the broadcast will not only highlight the boats, but also the area as well. As a race-car driver, Bell is no stranger to South Florida, and he says an impartial panel of judges will present a "best of show" award for the most-innovative, new-model design. The 40-pound trophy is made of polished aluminum trophy created by industrial designer Derek Jenkins," he says. "The trophy itself is a thing of beauty. It's our Vince Lombardi Trophy."
Show organizers and local business leaders expect more than 100,000 people to attend the show with at least an $857 million economic impact to the region.
It "has a huge impact on the community," says Bob Swindell, president and CEO of the Greater Fort Lauderdale Alliance. The latest economic impact study says the 2015 show generated an estimated $531 million in economic impact to South Florida and $857.3 million statewide, according to research by Thomas J. Murray & Associates in conjunction with the University of Florida. By comparison, South Florida officials have estimated a Super Bowl's impact to be in the mid-$300 million to high-$400 million range."
The 2018 show will feature more than $1.6 billion worth of boats, yachts, super yachts, electronics, engines and thousands of accessories from every major marine manufacturer and builder worldwide. The show encompasses more than 3 million square feet of space on land and in water.
"The FLIBS is one of the premiere boat shows in the world," says Chuck Cashman, chief revenue officer of MarineMax Inc. "We have 12 displays with close to 100 boats, and 100 team members working it. For us it's a huge show."
Cashman says the economic impact of the show is huge, for not only MarineMax but for the entire area as well. "We will bring in 50 team members from out of town to handle the 200 customers of ours coming in from around the country," he says, adding one half of the 100,000 visitors to the show are coming from out of town. "You're bringing high net worth people into the market. A lot of the boats they purchase will be staying in South Florida."
Enhanced Food and Beverage
This year's show promises to bring new culinary experiences. The award-winning catering group Proof of the Pudding has announced a premium concessions partnership with Informa. It will offer portable as well as stationary concessions, and are planning "Ports of Call"—themed food stations, including Cabo San Lucas (Mexican), Portofino (Italian), the British Virgin Islands (Caribbean), the Greek Isles (Greek), and the French Riviera (Parisian).
"We're offering better cuisine and better service," Purcell says. "This will be an elevated-palate experience."
For those working up a thirst, beverages include specialty cocktails, premium wines and a full line of craft beers. During the show, Proof of the Pudding mixologist Anthony Schuch will team up with local brewers to add an onsite "guest brewer" to each station.
Proof of the Pudding emphasizes fresh, farm-direct fruits and vegetables, sustainable seafood and natural, organic meats, partnering with purveyors to use localy sourced, organic and sustainable products.
For this year's show, the Windward VIP Experience is located in one large lounge area with one sponsor. Each VIP Experience package offers show entry, access to the Windward VIP Experience and the Water Taxi. "It provides a nice, relaxed atmosphere," Purcell says.
Scope of Event Evolves
Danielle Butler, owner and managing partner of the Luxury Law Group, and past chairwoman of the board of directors of the marine industry association, has attended the show for the past 20 years and has seen it evolve. "The scale was smaller and the variety of vessels has changed," she says. One thing in particular that has changed is the size of the yachts, she says. "Now you get 300-foot-plus yachts," she says.
The scope of the event also has changed. "It was a marine event, for the benefit of people in the marine industry," Butler says. "Now it's a Florida event. It's now recognized for the magnitude and economic impact on the state of Florida."
Butler says the show's economic impact extends to area restaurants, hotels and rental cars.
She also credits Informa for making the show more user-friendly. "I look forward to the improvements they've made with a full one-year involvement," she says. ♦
Know the Financial Process Before You Buy a Vessel
By Martin Lenkowsky
You see a yacht—or any boat, for that matter—at the Fort Lauderdale International Boat Show, and decide you have to buy it. Unless you can write a check for the full amount, your next step is to finance it.
"It's not like getting a car loan. Nothing is instantaneous in getting a boat loan," says Melanie Jolles, a yacht lending specialist with Newcoast Financial Services.
There are two paths to take when trying to secure financing for that vessel of your dreams, which depend upon the amount of the loan.
Smaller boat loans, under $150,000, are relatively easy, she says. Fill out a credit application, and then be qualified based upon earning capacity, credit score and other indebtedness.
Above $150,000, "the banks draw a line in the sand," Jolles says. "They want to see more verification. Are you salaried or self-employed? They'll want more information about you and your company."
Not only does vessel size matter; so does age. Is it new or used? "New boats are under warranty," she says. "With used boats, it's a little more esoteric. We will pull comps [comparable sales]. Banks will lend up to 80 percent of market value."
In order for a boat loan to be secured on a used vessel, it needs to be surveyed by a qualified marine surveyor. "After that, it's smooth sailing, no pun intended," Jolles says. "New boats will have the newest electronics and safety equipment aboard."
Jolles says how long you plan on keeping their boat should be a consideration. Do you plan on keeping that boat for 10 years, or flipping it for a new model after a year or two? That's when depreciation must be considered. "It's never about buying; it's a matter of selling it," she says.
Mega, custom yachts sometimes will appreciate, because they might be one-of-a-kind, she says. "With a yacht, there might be only one on the marketplace," she says. "It'll only go up in value. It appreciates because there are no other ones out there like it. It's all about supply and demand. Something more customized will hold its value better."
Her final words of advice before you finance a yacht: "Deal only with an experienced finance person. We can probably get you a better rate than a dealer would. Buying a boat is not 'one size fits all.' "
SHOW INFORMATION
When: Wednesday, Oct. 31, to Sunday, Nov. 4.
Admission
prices: $51 for Oct. 31 Prime Time Preview. Two-day tickets are $57.
General admission is $33 (adults) and $15 (children, 6-15).
Children under 6 are free.
Locations: Held at the following areas in Fort Lauderdale.
• Bahia Mar Yachting Center, 801 Seabreeze Blvd.
• Broward County Convention Center, 1950 Eisenhower Blvd.
• Fort Lauderdale Hilton Marina, 1881 SE 17th St.
• Hall of Fame Marina, 435 Seabreeze Blvd.
• Las Olas Municipal Marina, 240 Las Olas Circle
• Pier 66 Marina, 2301 SE 17th St.
• The Sails Marina, 2150 SE 17th St.
PARKING AND TRANSPORTATION
Water Taxi: Multiple pickup points and transportation to and from the show (watertaxi.com) One option is to park your car for $10 at the Galleria Mall and catch the Water Taxi ($15 all day long) at the Double Tree Hotel, just east of the mall on the Intercoastal Waterway. Another is to park at the Riverside Hotel Garage ($10) and catch the Water Taxi there.
Valet Parking: At Las Olas Municipal Marina
Bus Transportation
Network: Wednesday, noon-7 p.m.;
Thursday-Saturday, 10 a.m.-7 p.m.;
Sunday, 10 a.m.-6 p.m.
• Purple bus: To/from War Memorial parking ($8) and Las Olas Marina, with stops at Riverside Hotel garage parking.
• Green bus: To/from Bahia Mar Yachting Center, The Sails Marina and the Convention Center.
• Blue bus: To/from Bahia Mar Yachting Center and the Convention Center.
• Yellow bus: To/from War Memorial Auditorium parking and the Convention Center