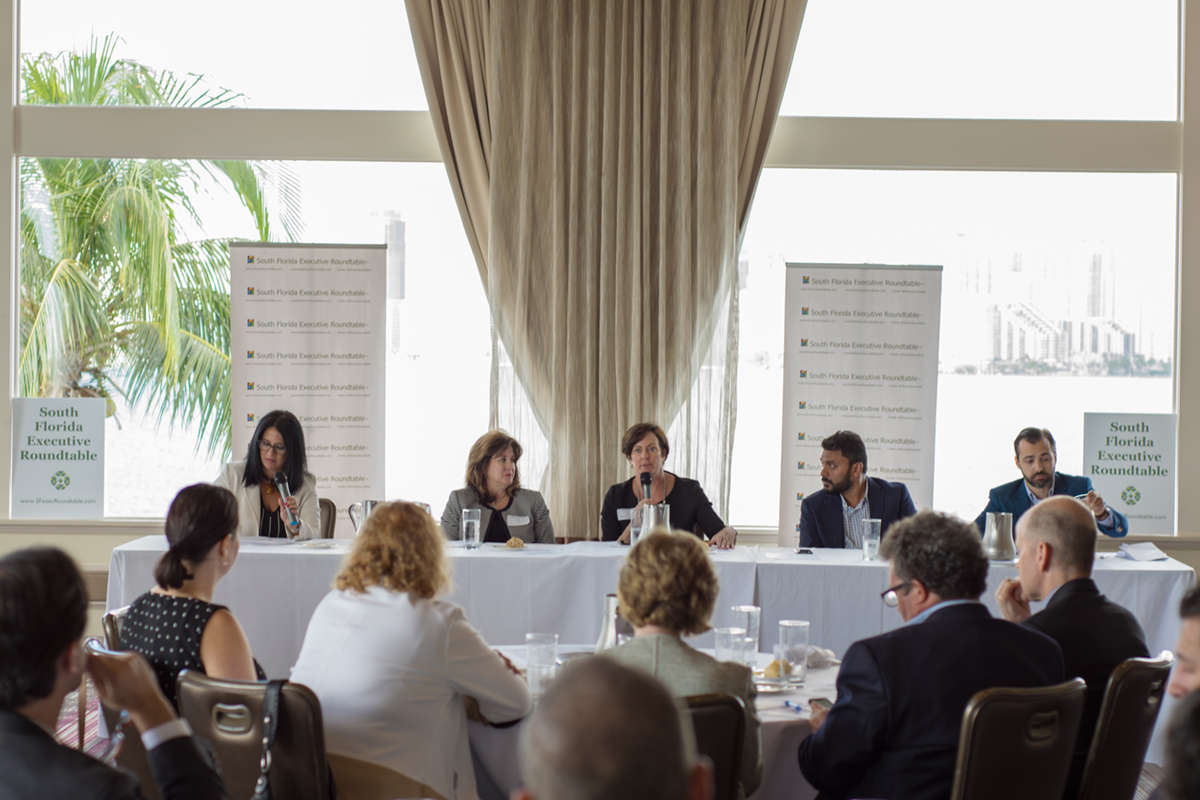 Operation: Innovation
How companies stay ahead of the curve
The panelists
Kim Stone, executive vice president of sales and business development for the Miami Heat and American Airlines Arena.
Irene White, director of operations support for Florida Power & Light Co.
Daniel Masvidal, senior director of legal affairs and business operations for CareCloud, a cloud computing platform for health care.
Mallesh Murugesan, founder and CEO of Abeyon, a technology firm in the artificial intelligence space, and co-founder of chirrp.ai, a multichannel chatbot platform powered by IBM.
The November South Florida Executive Roundtable convened at the Rusty Pelican on Key Biscayne, featuring executives from some of the region's top companies. Teri Fuentes, senior vice president and producing partner of Lockton Companies, a risk management, insurance and employee consulting services company, moderated the panel.
This transcript was edited for brevity and clarity.
How does your company define innovation?
Mallesh: AI is new and not a lot of companies work in this space. Just because we work in cutting-edge technology doesn't mean we are innovative. To me, innovation doesn't have to be earth-shattering. It can be about finding a better process and ways to work more efficiently.
White: We are the No. 1 producer of energy from wind and solar. When we closed out 2017, the No. 2 company was probably 40 percent less. That's the difference that our company has been able to do.
Innovation can be anything such as making your customer service better, reducing costs for them. I'll give you an example of something that happened right here in Miami-Dade: We started the first pilot for a smart meter. It was many years ago. And what this meter allows you to do as a consumer is see how much you were spending. Instead of getting a bill that's a surprise once a month, you were able to view your consumption and make energy changes as needed. So we ended up building on top of an electric grid a communications system. From that system, we were able to check lots of data.
There's a lot of data on the grid, which helps us identify where the weaknesses are on the grid. I think that's an example of innovation: If you're able to get out there and make a repair before it's needed, you're much better off having to do it than in an emergency.
In our business, when electricity isn't good, we look for temperature ratings. We look for issues that might involve trees near lines that customers may have put in too close. I think that's one example of innovation, where you're constantly improving your processes to the benefit of the customer and the company. And you're able to incentivize your employees to always be looking for ways to improve things and make positive impacts.
Stone: We're a more mature industry, being in sports and entertainment. So how can you guys innovate? I'd like to quote Walt Disney: "It's not about doing one thing 1,000 times better; it's about doing 1,000 things 1 percent better." And that is how get to your better customer experience and new technologies. At our organization, we have a vice president in digital strategy and innovation. This is something the NBA has actually gone into, continuously looking for opportunities in esports [competitive videogaming]—that's an emerging area in sports and entertainment. We've gotten big into that. If you have teenage children, you've probably seen them playing Fortnite, an online video game. That is an area we are still working to monetize. Sometimes, you can be on the leading edge, and just a little ahead of everyone else and everyone behind you comes through.
Masdival: We pride ourselves in being innovative, but what I think we struggle with day to day is, how do we drive innovation? Where's that balance? Because in a perfect world, your employees are empowered enough to make decisions on the ground level. I can do it the same way we've done it for five years, or I can do this other thing that may not be approved. It may not be the way we've always done it, but it's going to make my clients lives better. It's going to make my product better. That's what we as a company struggle with: How do you, from a leadership level, instill that confidence in your employees? How do you get them to take risks and drive things in different ways that might make them feel uncomfortable? I can't say that we have a silver bullet, but I really think when we talk about programs that are employee-based around empowerment and really having employees from the top down understand that the company is behind them when they make mistakes, as long as they are doing the right things and can show us their thinking process, they can make innovative leaps.
That's a great segue: How is innovation driven in your organization?
Masdival: From a top-down perspective, a bunch of years ago, the notion of corporate values and mission statements … I didn't believe in them. You put them on the wall and no one reads them. And then, we had a really good transformational experience at the company—and it's something that I really suggest everybody should do—we took a corporate retreat and sliced the company in half. We put them in a room at the University of Miami for the day and we went through an exercise called Mountains and Valleys. It's an amazing when do it in a group. People ended up crying. You end up doing a grid of all the mountains and valleys in your life, reflecting on the deepest lows and highest of highs. And what we got out of that, what we really found from an innovation standpoint, is that everybody in that room, when they thought about how they got out of the valleys and back onto the mountains, it was all about a preferential mindset. Ultimately, when we returned to our corporate values, that was the new mantra that we are going to take forward to drive innovation.
Stone: I mentioned we have a vice president that is doing our digital strategy and innovation, because what we found is that we have some legacy systems and processes. So, we went outside of our normal employee talent pool and we brought somebody in from the tech world. And he had been responsible for revolutionizing our mobile app. We built it ourselves. He came in and brought the Agile approach—which is a very different approach for a company like us, because most of the employees have been there 10-plus years and used systems and processes, having done things the same way. He is just continuously bringing new digital software platforms to us that are helping make us more efficient, more productive, more accountable. And this approach, we'll turn on a dime whenever we see an opportunity. It's really been a new culture for us. It's been very well embraced by our company because we move fast. We only have 44 games in a year and we have concerts. We do a lot and needed the technology to take us there. We have innovation days and monthly calls where we share best practices and ideas. It's been such a wonderful evolution of our company.
Mallesh: We are fairly small. We have 12 employees. For us, innovation is something we strive for every day. We use multiple technologies on our projects, so one of the things we do is, we have this concept of brown-bag lunches. Once a month, we gather everyone, and folks will present what they've been working on over the last month. This helps the company to know what everyone is working on together. We'll talk about the technology that was used on projects and people will share the coding they used. It's really interesting to see. That's how we keep ourselves engaged with each other. ♦
SFBW is the exclusive media partner of the South Florida Executive Roundtable. For more information on SFER, visit SFexecRoundtable.com.