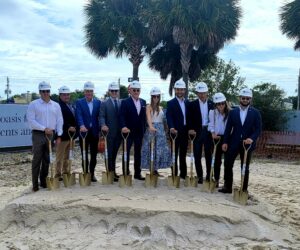 Construction is underway to establish a new hospice care facility in South Florida. OpusCare of Florida, a hospice and palliative care company, hopes to finish building the area's first newly constructed, freestanding hospice facility by the first quarter of 2022.
The 13-bed center at 9730 E. Fern Street in Palmetto Bay is being built to meet the growing demand for hospice care in Miami, according to OpusCare of Florida. It will provide supportive care and privacy to its patients and feature a specialized nursing staff, meditation garden, chapel, and area for counseling and bereavement.
"As the fastest growing hospice and palliative care organization in South Florida, this new facility allows us to continue to expand our footprint across our community," says Nicolas Roque, administrator and chief compliance officer for OpusCare.
Candela and Partner are the architects of the state-of-the-art facility, with CamCon serving as the general contractor.
OpusCare of Florida has been providing services to the Miami-Dade area since 1991 and now has three other locations in Texas.
For more information, visit Opuscare.org/south-florida/