After hosting virtual shows for over a year, PARAISO Miami Beach is back with a full slate of in-person events to highlight the swimwear industry. Four days of live events will begin July 8 and last through July 11, with over 30 swimwear brands hosting in-person runway shows, social events and brand activations.
"Since its inception, the focus of PARAISO Miami Beach has been the growth of the swimwear, beachwear and resort wear industry," says Natalija Dedic Stojanovic, co-founder of PARAISO Miami Beach. "Bringing the in-person platform back to life is critical to rebuilding the fashion economy after the pandemic."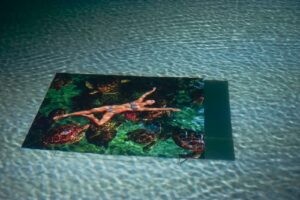 Touting itself as the first global fashion organization to return to full attendance of live fashion shows, PARAISO Miami Beach will feature many name brands in the swimwear industry, including Boohoo & Pretty Little Things, Jonathan Simkhai & Maaji, as well as emerging brands like Nalu Swim and Honey Birdette. Designers featured will include Segunda Mano, Bfyne x Models of Color Matter, Simonett, Oh Polly, Leimakani, Life by Style Swimwear Collective: Megan Mae Swimwear and Rosewater Swimwear, Luli Fama and Sports Illustrated, to name a few.
PARAISO Miami Beach's main runway shows and events will be held under its tent at Collins Park in Miami Beach and The Ritz-Carlton South Beach, with satellite events at Plymouth Miami Beach, MILA, Joia Beach Club and Mondrian South Beach.
With the pandemic changing everyday life, including how consumers shop, the events will also delve into how the direct-to-consumer model works, new business strategies to implement, and building a solid e-commerce platform that can enhance a brand's growth.
A runway show featuring the 2021 issue of Sport Illustrated is open to the public at 9:30 p.m. on Saturday, July 10 at the Baia Beach Club, 1100 West Ave. in Miami Beach. To RSVP, email BaiabeachclubRSVP@purplepr.com and for waterfront bungalow reservations, email poolreservations@baiabeachclubmiami.com.
While many events are closed to the public, all PARAISO Miami Beach runway shows will also be live-streamed on its website. For more information, visit Paraisomiamibeach.com.