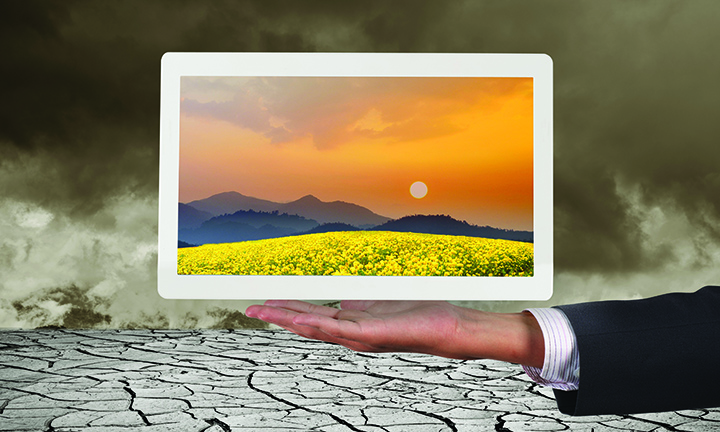 Past Success & Big Ideas Now
If you think South Florida isn't cutting edge when it comes to technology, think again. IBM invented the first widely adopted personal computer in Boca Raton 30 years ago and other globally pioneering efforts were recently spotlighted at a South Florida Technology Alliance event entitled,
"The Web Just Turned 20, Learn From the Internet Pioneers."
Newcomers to the area and non-technology enthusiasts may not realize the accomplishments of the panel's entrepreneurs:
" Pioneering the world of online fantasy sports
"
Creating the world's largest web hosting company
"
Building the world's most modern network access point (NAP)
"
Launching three public companies that pioneered webhosting and Internet service providing
"They built new services and built services that didn't exist before. They did things that were groundbreaking," said the event moderator, SFTA board member Chris Fleck, who is also vice president of mobility and alliances for Citrix Mobility as well as a SFBW columnist.
Fleck said the panel discussion was happening as the region was getting growing national recognition, such as a May story in Fortune that was headlined, "The next big tech hub is in … Miami?" Dan Kane, who was an audience member, is getting attention for his company, Modernizing Medicine, which puts medical records into the cloud and in September was listed by Forbes as No. 2 of the 10 companies by Forbes that's revolutionizing entrepreneurship. The No. 1 spot was Tesla.
Fleck said the region suffers more from a PR problem than anything else and he's promoting the use of the hashtag #worknplayinfla and @soflatech on Twitter.
Medina's homework lesson
Panelist Manny Medina incorporated the real estate company Terremark in 1980, long before it morphed into an information technology services company. He says he first became fascinated with the Internet in the mid-1990s when he was helping his kids with homework. He thought, "I don't need to track through Encyclopedia Britannica?"
The veteran commercial developer didn't have a technology background, but says, "I started doing what I knew how to do: building buildings for the Internet."
Medina gave some insight into the birth of the Network Access Point (NAP) of the Americas, the block-sized building topped by radar domes in downtown Miami. The telecom industry decided it needed an exchange point and he thought the opportunity to build a hub was the modern equivalent of building Miami International Airport.
Getting the deal wasn't an easy slam dunk since 20 plus companies showed interest along with economic leaders in Georgia and Texas. Medina's team went beyond the idea of just providing a place for cables to be tied together by offering servers, routers and services. The NAP has gone from 35 telecom carriers to 180 and handles about 95 percent of the traffic Europe, Latin America and North America. Terremark went public in April 2000, not too long before the stock market bubble burst.
Medina looked at panelist Mike Levy, who had an earlier stock offering and said, "He road the crest, I road the precipice."
However, Levy's Sportsline actually became a big selling point, Medina says. Customers would say, "Why should I put my infrastructure in Miami? You have hurricanes and refugees." Medina's response was, "You heard of fantasy football. What happens at 4:05 on Sundays? You know where that traffic is coming from? It's the NAP of the Americas. That's as mission critical as it gets."
Levy joked, "I should have gotten stock options."
After selling Terremark to Verizon, Medina came back into the spotlight by announcing eMerge Americas, a multi-day conference that is designed to make South Florida the technology capital of the Americas. Medina said it was founded out of his frustration of finding employees in South Florida when he had the NAP here. Terremark had more employees in Brazil and Texas.
Medina's team studied the technology ecosystem in not only places like Silicon Valley, but Austin, London and Santiago. eMerge is modeled somewhat on South by Southwest, which has enhanced Austin's reputation as a tech capital.
The major pillars needed in the region are education, incubators and accelerators, funding and an employment base. Medina said the region's reputation is slowly changing, but he still hears complaints about employers" ability to find software developers in the region.
One possible solution is reversing decades of brain drain that has seen graduates of local universities leave elsewhere to climb the tech ladder. He's seeing promising signs as he tours the country, saying, "It's amazing the number of people with high positions that want to come back."
Levy capitalizes on
the Internet craze
Panelist Mike Levy got into technology early in his career with an electrical engineering degree from Georgia Tech. He worked for Racal Datacom, which once had a sprawling plant in Sunrise. Levy left Racal to found Lexicon, which did the first hand-held language terminals and then credit card authorization terminals. He sold Lexicon in 1993 and then was inspired when he saw AOL go public. That was also the era of Prodigy and CompuServe.
He saw the millions of subscribers and thought he could do a vertical. In January 1995, he talked with Jim Barksdale at Netscape who thought there could be room for a second company behind ESPN, which was doing a sports service. Netscape played a key role in developing the technology infrastructure behind Sportsline.
Levy got a meeting with Kleiner Perkins Caufield & Byers, the famed Silicon Valley VC firm, but was disappointed when Kleiner member Kevin Compton, who was on the board with Citrix, wasn't there.
"The only guy there was a biotech guy, but he turned out to be a huge sports fan who now owns the Golden State Warriors," Levy said, referring to majority owner Joseph Lacob.
Kleiner Perkins gave Sportsline an initial $5 million in 1995. Then it participated in an $11 million equity round in May 1996 that also included Reuters NewMedia, TCI, New York Life and Alliance Technology, according to a history of the company at CBSSports.com. Sportsline enlisted Joe Namath, Mike Schmidt and Bob Costas to help introduce the company.
Sportsline raised $32 million in a 1997 IPO and $150 million in a secondary offering a year later. Levy said an investment bank pointed to bond deals done by Amazon and C-Net and said it would only take a couple of days to do the paperwork and raise another $150 million, which turned out to be a convertible bond offering.
"Those were crazy days back then," Levy said.
In 1997, news accounts indicated that CBS signed a five-year deal with Sportsline in exchange for 22 percent of its equity. In 2004, Viacom, the parent of CBS, bought the last of Sportsline that it didn't already own. After Sportsline, Levy went on to found Open Sports, but it didn't fare as well in the increasingly competitive online sports field and shut down in 2011.
Levy current leads MaxxPoint.com, which advises early state companies on business development, marketing, sales and capital structure. MaxxPoint's website shows three clients:
" VueMix.com, a Santa Clara, California, company that has figured out how to combine up to 16 video streams such as multiple camera angles for sporting events. Comcast will be testing it.
" GR8 Group (gr8-group.com), a Miami company that provides VIP experiences at major sporting and cultural events, such as The Masters and the Sundance Film Festival.
" WebDevelop.com, a Boca Raton company that helps businesses build their online presence.
Hiway to wealth
Panelist Scott Adams's father worked for IBM and gave him a PC Jr. because of his interest in software. In 1985 he transferred to FAU and initially said his tech career didn't look too promising.
"My Fortran programs barely worked," he said.
He eventually became a partner in an accounting software firm, but struggled earning enough to support his growing family. His partners bought him out for $4,000. Then in 1995, Adams and William Nesbitt got into the web hosting business when they decided a restaurant company needed a website. They installed an ISDN line to host it.
The website looked like crap, Adams said, and they realized they should be in the web hosting business instead. Nesbitt was a technical whiz that figured out how to overcome server limitations. They undercut the competition by charging $25 to host a website instead of $50. A year or two later, they were the largest web hosting company in the world and then merged with the second largest.
"At first I didn't have the vision to be big. I just wanted to make a thousand a month," Adams said.
Hiway Technologies started the IPO process
in 1998, but instead it was sold to Verio for $351 million.
Adams subsequently started a business accelerator, but he shut it down after the concept didn't
take off.
Then an entrepreneur came to him with a GPS device that could track objects. The question was what? Adams was an investor in another company that had an electrical engineer as a president and they thought it would make sense to develop a personal emergency response system, a field made famous by Life Alert's "I've fallen and I can't get up campaign."
MobileHelp utilizes the cellular network, so it's not just limited to being in a home environment. MobileHelp has 120 employees in the FAU Research Park and ranked 111th in the Inc 500, eighth in Florida. Adams is currently chairman, but said his last working day was Jan. 1.
He is now CEO of a newer venture, Groupcare Technologies, which is looking at tracking for those with Alzheimer's and autism plus a rapid response system when they run off or get lost, he said. In August, Adams moved into the Tech Runway space, which is the subject of the cover story in this edition of SFBW.
Dot.com boom and bust
Panelist Colin Campbell graduated from the University of Toronto in 1992 and worked on the family farm for four months before launching a bulletin board service, sort of a dial-up service that people used to connect before the Internet. Campbell said it became the second largest in Canada in a year, but he and his brother shut it down after seeing the Mosaic browser that launched public use of the web. The move was prophetic since the Internet was a death knell for bulletin boards.
The duo then became the largest Internet service provider in Canada and also had a company that had a large collection of downloadable Winsock software. (Winsock is a tech spec that defines how Windows network software should access network services.)
Campbell said they lived the high life in their 20s, but nearly became penniless during the dot.com bust when the stock market tanked. Campbell said his brother and he looked at Hiway Technologies" web hosting system, which he called the best in the world. They used that as a model for launching Hostopia, which offered wholesale hosting that was resold by telecoms.
He brought its operations to Miami after being turned
down by MAE East and MAE West, two major Internet exchange points.
"Let's try NAP of the Americas, there's lots of space here," Campbell reasoned at the time.
That prompted Medina to quip to the audience, "We would let anybody in – even a Canadian."
Hostopia was sold to Deluxe Corp. in 2008 for $128 million. Campbell is currently an investor in an array of businesses, including the Little Flower Montessori School in Wilton Manors, EastFortLauderdaleRentals.com for luxury homes, the Sharkfins taxi-advertising network in Toronto, and GeeksForLess, which has operations in the Ukraine and the Philippines.
He recently launched Fort Lauderdale-based .CLUB, taking advantage of the broader array of Internet domain name extensions these days, he says. His strategy also coincides with a cultural shift that makes groups online an attractive proposition. .CLUB has already sold 10,000 names to customers including sports teams, performing artists and businesses with memberships or loyalty programs among the customers. The website recently had a splash display with rapper 50 Cent having a launch party in New York and sayings he's part of "dah .CLUB." Campbell says he has traveled to more than 30 countries as part of the launch program.
Campbell also has launched EntrepreneurWiki.com, a collaborative space where entrepreneurs can share experiences and ideas. Campbell expects one of the next big changes will be fiber optic service in every home as part of broadband services. Netflix is just the beginning of what we'll see in serving up content.
His forecast: "Everything shakes up all over again."