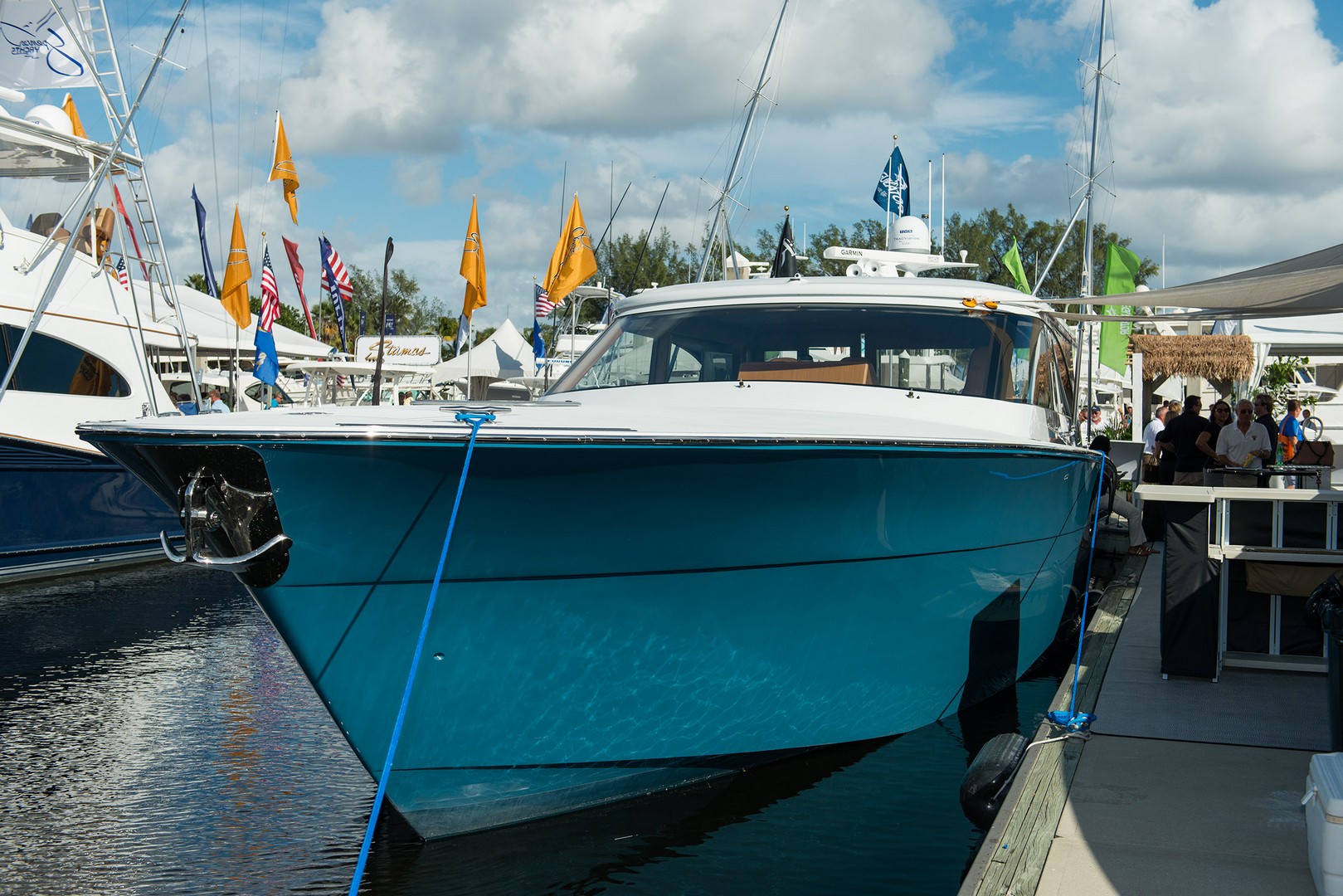 Roscioli Donzi debuts Sports Cruiser
Roscioli Donzi Yachts new R-58 Sport Cruiser made its debut at the 2016 Fort Lauderdale International Boat Show.
The latest edition to the Fort Lauderdale company's Roscioli Donzi line, the Sport Cruiser is positioned as a top performer with contemporary finishes and first-class amenities. The cruiser on display was sold earlier this year to a local longtime fisherman, who has constructed several boats throughout the last four decades, the company says.
The cruiser is equipped with twin 1,925 horsepower Caterpillar diesel engines, which are the largest in the R-58 line to date with projected speeds of 45 knots.
The Sport Cruiser's interior has 6-foot-7-inch headroom throughout the salon, three staterooms and the heads. The master head's bead board panel makes it a stylish and waterproof finish. The open layout features a Whisper Walls headliner, teak flooring, LED strip lighting and rafia with gold accent wall covering.
The cabinetry was custom made by Roscioli, which include quartz countertops and veneered galley cabinets. The Helm control station houses leather air ride seating for three people. A custom station located on the lanai, is designed to satisfy the appetite of the savviest of fishermen.
Among the unique features on this custom R58 is the motorized aft salon window and complete wraparound windshield, one of the largest produced in the country, the company says. These features combined create an airy atmosphere with an optimal panoramic view.
The deck features pop-up cleats, custom rod holders, hydraulic mechanized outriggers and a custom stainless steel handcrafted anchoring system.
"We are excited to showcase our newest Roscioli Donzi R58. We are a dedicated team of professionals who pride ourselves with the knowledge, expertise and great ability to deliver custom vessels with unmatched versatility and satisfaction," said CEO Bob Roscioli of Roscioli Donzi Yachts.
The Sport Cruiser is located at C dock, slip 317, during the Fort Lauderdale International Boat Show. For more information, visit RoscioliDonzi.com or call 954-581-9200.