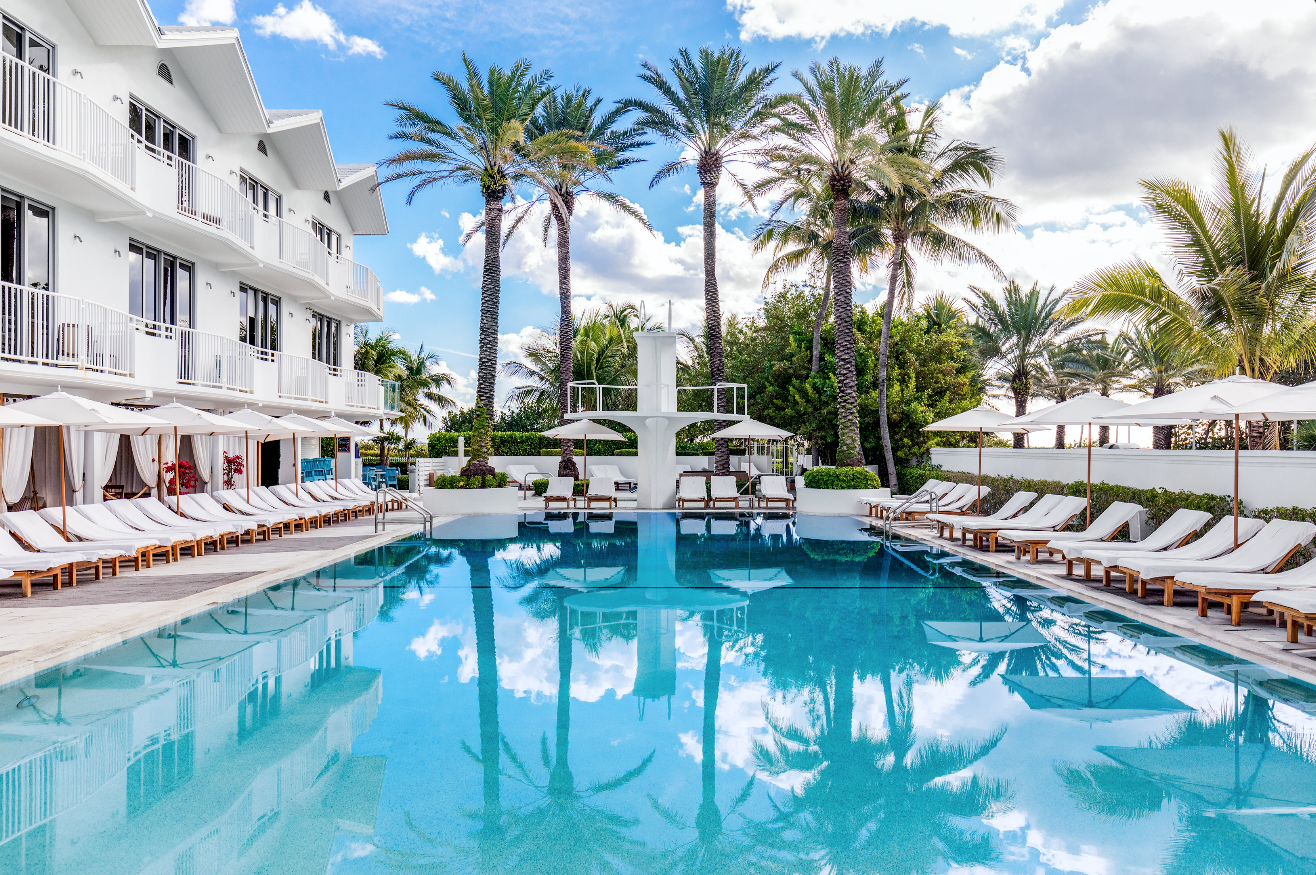 Shelborne Staycation
If you don't feel comfortable flying out, then change the scene locally at Shelborne South Beach
I've always had a thing about the art deco logo of the Shelborne South Beach hotel: that elongated S with the slightest of curves, bracketing the rest of the word; the indulgently low crossbars of the letters H and the E; the early midcentury graphic typography.
The 221-room tower has been going through changes in both design and ownership, but as the logo (and even its name) suggests, the property endures as one of those rehabbed time-capsule hotels that lord over the north end of South Beach (18th and Collins): not big and not small, stylish but not pretentious, with a perfect pool connecting the building to the beach. (At one end of the pool stands a waterfall that was once a diving tower, from the days when such things could be found at hotel pools.)
It was just a year ago when Menin Hospitality, a leading collection of upscale lodging, lifestyle restaurants and nightlife venues (Gale South Beach, Gale Fort Lauderdale, Mondrian South Beach, Pizza Bar), announced that the Shelborne South Beach had been sold to Westdale Properties and Cedar Capital. Menin Hospitality continues to manage and operate the property. "In an effort to grow and evolve with our loyal and discerning clientele, we embarked on a gorgeous interior refresh to match our top tier level of service," says Jared Galbut, managing principal of Menin Hospitality. "The newly updated spaces seek to revive the Shelborne's vintage-chic legacy of luxury, Ielegance and impeccable service."
This is what he means by vintage-chic: To walk through the lobby lounge and past the cozy drawing room is to fill your eyes with deep rich colors, layers of texture, and sinuous curves—a round velvet banquette hugging a banded pillar here; a serpentine leather sofa there; a pair of bucket seats swathed in zebra prints over by the window. My earth-toned corner guest room held lots of delicate patterns, a king-sized bed with a wraparound headboard, and a bathroom featuring Kohler fixtures. The glassed-in shower, transparent from the rest of the room, didn't make sense until I realized it boasted an ocean view. It almost kept me from wandering the vast wraparound terrace (yes, it was big enough to actually wander).
Just 15 blocks away from home, that was my experience of the Menin magic: no fuss sophistication for the pandemic-weary.