To Mayi de la Vega, the Cuban flight story informs a lot—"It's a story of hardship and that nothing is really permanent in life," she says, philosophically. "Material things come and go, my parents lost everything in Cuba when they came to build a life in the United States. A lot of the drive and a lot of my desire to succeed and to establish myself in this community came early on, seeing the struggles that my parents went through. That's how I came into the One Sotheby's International—feeling very grateful and really appreciative that I was able to purchase it."
And she called upon the expertise of her son, Daniel, to enlist him in what anyone might have guessed would result in certain catastrophe. The opposite happened. In time.
TIMING IS EVERYTHING
This was September 2008, right in the middle of the financial crisis. Mayi was in negotiations to acquire the rights to the leading luxury brokerage along Florida's East Coast.
And everything seemed to be falling apart. Real estate prices plunged. But if everyone else saw the world in freefall, Mayi knew that it this was a moment to seize. She knew the value of the company, with its global recognition and market, was built to last. As far as Mayi is concerned, One Sotheby's is the only global luxury real estate brand: "There are affiliations that other competitors may have, but we are the only company that carries the same business cards, the same colors, the same logo throughout the entire world."
Mayi loves being able to connect with 23,000 Sotheby's agents—from Italy to Spain to Germany to Croatia to the Maldives. And she loved the connection to Sotheby's famed auction house, which she works closely with. And what she loved best of all: "I was able to run the show." Thirteen years later, success tastes good.
When she acquired the brand from corporate, she concedes she had more passion than experience. "The people who were making the determination of who to give this to probably wondered if I had the operational expertise," Mayi says. "They probably looked at me at said, 'How is she going to pull this off?' "
After all, at the time, she was running a small 30-agent Coral Gables real estate company. "But we figured it out," Mayi says.
Except for Sotheby's chief marketing officer, Mayi was the only woman in the room where it happened. Happily, given Mayi's affinity for marketing, the two connected. She won over the men as well. Based in Coconut Grove, she now oversees more than 1,200 agents with offices along Florida's East Coast from Miami to Melbourne.
Advice that Mayi follows and imparts: "Don't be afraid to surround yourself with people smarter than you; and be relentless." She allows that it's tricky to be a woman in business; she says that while many women are especially intuitive, that sensitivity can have a downside—for example, she's noticed that women shy away from the self-promotional aspect of marketing, for fear of seeming too vain. Few men seem to have this hesitation.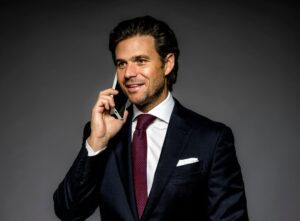 A KEY DECISION
Which comes to Mayi's assertive son, Daniel. Born in Miami (his father, Armando de la Vega, is a respected international tax specialist and certified public accountant), and married to a lawyer, a public defender, Daniel is used to accomplished people. Armed with a bachelor's degree from Florida International University and an MBA from the University of Miami, he worked in the construction field for Delant before pivoting to real estate while still in his early 20s. "It was a robust market, a hot market," he recalls. "I primarily sold commercial and residential real estate"—and he dipped his toe into development as well.
Daniel clearly relishes the story of joining his mother in business. "It was 2008," he says, "and Mayi controlled the luxury market in Coral Gables and Coconut Grove. She went to the first meeting with Sotheby's and I went to the second meeting." But during this period of consideration, Daniel arranged a meeting that was just as important: He invited his father and grandfather to lunch at a "hole in the wall" Cuban restaurant to seek their advice.
"My grandfather spent every day of this life there having lunch," he says, "and I would go meet with him and we would have a lot of conversations about life and about business. I had gotten my broker's license in between all of that, and I said to them, 'My mom'—I didn't call her Mayi at the time—'is doing this thing with Sotheby's, and she's invited me in to invest with her. I'm a broker, I would immediately become the broker of the company and this is an incredible opportunity to start this together.' "
He implored his mentors. "I saw what she saw," he says now. Their response was unflinching. "They said to me, 'Don't do it, don't do it, don't do it.' " They counseled the young upstart to keep doing what he was doing, to stay the course. "They basically said she was crazy," Daniel remembers. In an uncharacteristic move, Daniel didn't heed their advice, even as he says, nine times out of 10, he normally would have followed their recommendation. "But I knew that she was onto something," he says, "and I thought I could add incredible value for her. And that, from a professional standpoint, was the most important decision that I've ever made in my life."
Within no time—in September 2008—Mayi was speaking in front a breakfast crowd to announce the launch of the business, with a 26-year-old Daniel heavily involved behind the scenes. But the attendees had something else on their minds that morning: Lehman Brothers was crashing and bringing the stock market down all around it.
FRUITS OF SUCCESS
By Daniel's own admission, for the next five years, he and Mayi were trying to hold onto their company. "I invested everything I had in the business," he says. "I remember reading P&L statements and balance sheets and saying, 'How the hell are we going to get through this?' We had accountants, we had consultants, we had a CFO who told us we were crazy and were going to go broke."
Daniel recalls Mayi's equanimous response: "Don't worry," she said. "This is all going to be fine."
By 2013, they were turning a profit and had opened their development division with the W South Beach as their crown jewel. Bellini at Williams Island followed, another coup. Today, they have nearly $5 billion of new developments, including the prestigious St. Regis Residences that just launched in Brickell. One project that Daniel can talk about is rather well-known: "I think One Thousand Museum is an incredible success story," he says. "We were the exclusive sales and marketing team. We started selling One Thousand Museum for about $800 per square foot." It was a tall order—the building next door was just emerging from bankruptcy and was selling at only $600 per square foot." But, of course, their tower had something special.
"It was 2015, and we were coming out of the financial crisis, but we were one of the first branded luxury developments in Miami-Dade County—branded because of the late architect Zaha Hadid," Daniel says, putting a fine point on it. He remembers having dinner at Mandolin in the Design District with the Pritzker Prize-winning architect. "She was a huge diva," Daniel says, as Mayi laughs. "They warned me prior to the dinner that if she doesn't talk to you all night long, don't worry about it—it doesn't mean she doesn't like you. But halfway through the dinner, she'd warmed up to me and we were having conversations." Daniel calls Hadid "a remarkable woman and a remarkable visionary."
Mayi received a similar warning about Hadid's reserve when a lunch was arranged with the architect at Soho Beach House on Miami Beach, but the two quickly connected, with the architect inviting Mayi to shop with her at Bal Harbour and to come back to Hadid's apartment at the W. "She was a woman who looked tough on the outside," Mayi says, remembering that even her mannerisms telegraphed strength, yet Mayi saw a compassionate side to her as well. Soon, Mayi won a coveted invitation to have dinner at Hadid's London studio for the top 30 clients of Sotheby's auction house.
A soaring edifice with a futuristic exoskeleton, instantly recognizable when either approaching or leaving the city, is no small thing. "She would have been extremely proud to see the final product of this building," Mayi says of Hadid. "It's really a great thing for the city of Miami to have a building like Zaha Hadid's One Thousand Museum." The project goes beyond the tangible to the existential: It represents no less than the local emergence from the financial crisis, the rise of downtown Miami as a viable luxury destination to reside in, and the city securing its rightful place on the global architectural map.
And that's the saga of One Thousand Museum, one of the world's most famous residential towers. For Mayi and Daniel and One Sotheby's International Realty, it was everything: "So, here we are now," Daniel says, "with the most expensive new development for sale, with only three units left in downtown Miami. We've been the biggest success story in Miami-Dade County because nobody thought we could do it. We did it, and not only did we do it—but we did at $1,400 per square foot."
So, how do you top that? "You can't," says the younger de la Vega. "That hits the nail on the head."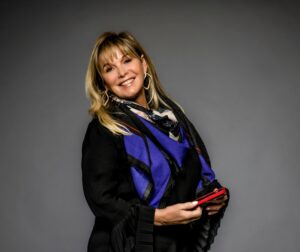 FRAUGHT MOMENT
Mayi and Daniel well understand that the country, the economy and the real estate market are at an unprecedented moment, with a mix of positive and negative indicators and South Florida at the epicenter of it all. The COVID-19 pandemic is following its inexplicable course, and inflation is climbing; there's an infusion of federal infrastructure dollars on the way, yet there's a housing, labor and materials shortage. Plus, there's the very real energy of the technology and wealth migration from Silicon Valley and New York—a peculiar mix of factors, to be sure.
How do these two experts read the tea leaves? "I think the boom will continue in 2022," Mayi says. "Our boom in 2021 was about a migration from the Northeast and the Midwest to South Florida, but now that the international market is open, we're going to continue to see high demand from overseas."
Daniel says, "What's going to be compounding over the next two years is that you're going to see an influx of international buyers. That's a fact. We know business class is full, the planes are full. We know there's an incredible amount of pent-up demand from a lot of countries—people who have always come here, and people from those countries who haven't, because they want to see what this new Miami, this new South Florida, is all about. I think that's why I'm so bullish. But I will tell you, all good things do come to an end, and at some point, the real estate market's going to turn, but I don't think anybody believes it's going to be in the short term."
Photos by Nick Garcia