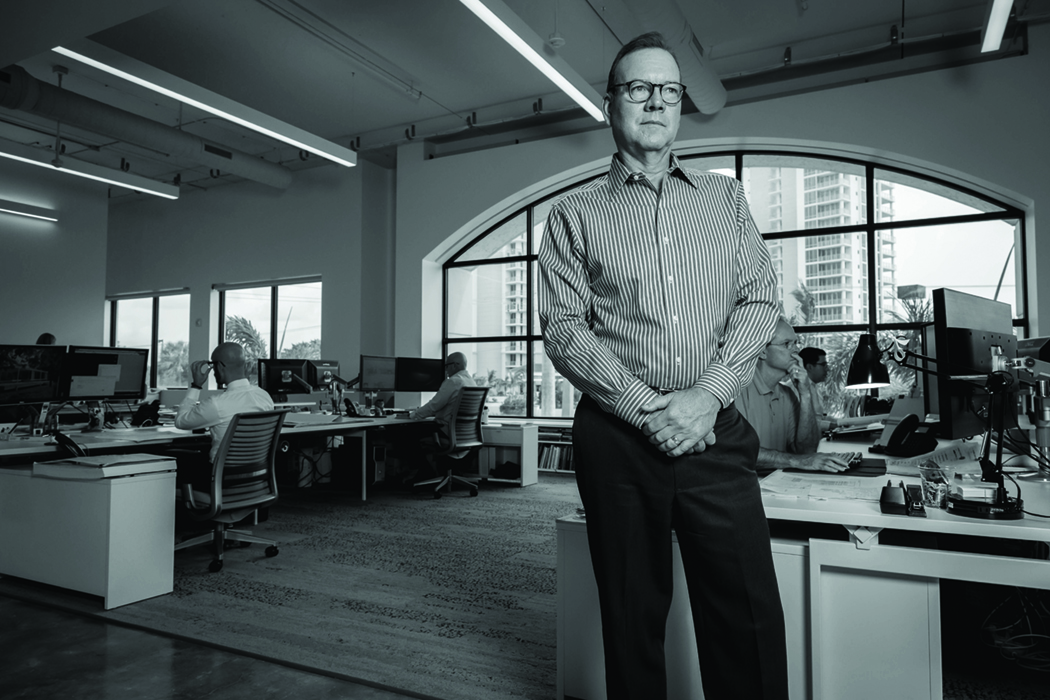 The Clubhouse Whisperer
Peacock & Lewis helps golf clubs stay on the cutting edge
By Kevin Gale | photos by Larry Wood
Service businesses often like to have clients in a lot of different industries, but that's not the way Brian Idle swings.
The principal at Peacock & Lewis Architects and Planners says 95 percent of his business is with golf clubs – many of the most exclusive clubs in South Florida. Idle's expertise has made him a popular lecturer on amenity design and renovation for the Club Managers Association of America and the Club Spa Fitness Association. He has written about club design for trade publications and industry associations.
His partner initially resisted such a strong concentration, Idle says. "I said, 'That's where all the money is.' Why wouldn't I? If the clubs go out of business, we don't have to worry about everything else."
While some South Florida golf courses are struggling to stay open, the top-end clubs Idle works with are constantly reinventing themselves to stay relevant. The old days of simply emphasizing golf are long gone. Members and their families expect cutting-edge cuisine, bars, fitness centers and spas.
Idle grew up playing golf, but it was in the corn country of Decatur, Illinois. He gained his bachelor's and master's degrees in architecture from the University of Illinois.
He worked for a couple of architectural firms in the West Palm Beach area for six years, but was planning a move back to Illinois in 1987 when he saw an ad for Peacock & Lewis.
The firm, founded in 1961 by Carroll Peacock and Hap Lewis, liked Idle because of his background in designing schools. About six weeks after Idle joined, Peacock became medically disabled. He was the partner that oversaw clubs and high-end residential work.
Idle laughs at how forward he was with the president of the firm, telling him, "If you don't mind, I'll try to fill Mr. Peacock's shoes."
The departure of Peacock, who was a rainmaker, and the recession of the late 1980s created problems for the firm, which went from 65 people to 16, Idle says. Nobody was building new golf club communities. The tax laws changed and developers couldn't write off their losses.
Opportunity emerged when Peacock & Lewis got to bid on a turnstand – the small restroom and snack building between the ninth and 10th holes – at Old Marsh Golf Club in Palm Beach Gardens.
"We poured our heart and soul into that and then later went to the Loxahatchee Club and were selected to do a renovation," Idle says. From there, he became involved in the national club managers organization.
Building new facilities at clubs is a challenge because members usually are wealthy and not afraid to voice opinions, he says. "Everyone believes that they have the best idea."
Members and managers also play at their friends' courses, which means there is a lot of pressure on new projects. "Every time you go out, it has to be the best," he says.
The amenities package must be customized to meet the needs of the membership, too.
Rick Bayliss of the Lost Tree Club, where Peacock & Lewis designed the clubhouse, spa and beach club, says the golf industry surged as Tiger Woods attracted interest to the game, but things are different now.
There is an issue of aging participants and time pressures that make it difficult for people to play 18 holes. That has forced clubs to become sensitive to members' other needs, such as spas and fitness centers, to attract a broader base, he says.
"It's good for businesses like Brian's because they are always looking for new things," Bayliss says. Keeping the clubs healthy is important to the region's economy because there are nearly 200 of them in South Florida, which is believed to have the highest concentration in the nation and the wealthiest members.
Demographics can be a challenge, but there's a new wave of golfers emerging, Bayliss and Idle say. Athletes and entertainers enjoy golf because they can play during the day and perform at night. Many of the best younger players come from the world of extreme sports.
"The game is a challenge. You can never win at golf – you get a little better and a little worse," Idle says. "Every time you play, it's a different experience. You are on a different position on the fairway. The wind is blowing different and the angle of the sun is different."
As members age, they often want to play fewer holes, which is why some clubs are considering short courses. Many members also enjoy croquet, which creates less back strain than golf.
These days, someone flying in from out of town with their family might take their kids to the short game area or go to a golf academy to work on their swing. Often, they won't play 18 holes, Idle says.
When Idle helped with $45 million in improvements at Lost Tree, there was plenty of discussion among members about what to do, but they agreed on the need for investment and felt confident about the club's future.
Bayliss remembers one member saying, "If Lost Tree goes down the tubes, Armageddon is tomorrow."
Starting in 2008, Lost Tree and Idle created a $6.5 million beach house, a $21 million clubhouse and a $5 million fitness center and spa.
The clubhouse was raised six feet to provide sweeping views from the dining room and outdoor seating area. The Grille Room provides an array of flexible seating and a wood-burning pizza oven.
"It's a challenge at some clubs to get leadership to understand that it may not be them and their buddies, 100 percent. We really have to think bout the future of the club," Idle says.
Idle deals with many different architectural styles, which often reflect the residential development's theme. While Lost Tree harks to the understated elegance of the British colonial architecture found in the Bahamas, Idle used Jack and Barbara Nicklaus' love of Tuscan architecture at The Bear's Club in North Palm Beach. The 35,000-square-foot stone clubhouse is topped by a barrel tile roof whose different hues make it look like it has been repaired many times over the centuries. Inside, there are mementos of Nicklaus' victories and a golden polar bear given to him by a fan. The balcony of the club overlooks a lake with a stunning 18th hole.
Idle isn't stinting on design when it comes to his own firm, either. It recently put the finishing touches on a modern, loft-like space at 1295 U.S. Highway 1 North in North Palm Beach, which is an epicenter for golf clubs.
Idle expects continued interest in clubs seeking to stay modernized.
"The clubs that are always constantly investing in the center of town and aren't allowing the windows to be boarded up, get the best bump in real estate values, desirability and real estate foot traffic," Idle says. "So you always have to keep the palace on the hill polished." ↵
Some of Peacock & Lewis' clients
• The Club at Admirals Cove in Jupiter
• Albany in Nassau, Bahamas
• Alpine Country Club in Demarest, New Jersey
• BallenIsles Country Club in Palm Beach Gardens
• Bay Colony Golf Club in Naples
• The Bear's Club clubhouse in Jupiter
• Bear Lakes Country Club in West Palm Beach
• Bonita Bay Club in Bonita Springs
• The Breakers' beach club and golf club in Palm Beach
• Broken Sound Country Club's bistro, club and spa in Boca Raton
• Delray Dunes Golf and Country Club in Boynton Beach
• Jupiter Hills Club in Tequesta
• Loblolly in Hobe Sound
• Lost Tree Club's beach club, clubhouse and spa in North Palm Beach
• Ocean Reef Spa in Key Largo
• Woodfield Country Club in Boca Raton