When Chad Moss, co-founder of the construction management company Moss & Associates, announced the launch of a new business venture, the Fort Lauderdale-based Moss Family Office Worldwide, the move reflected his healthy entrepreneurial appetite. The leap from contracting expertise to a family asset acquisitions management company with a wide-ranging portfolio didn't feel like much of a shift at all: "I'm still a recovering project manager," Moss explains, "but at my very core, I'm an entrepreneur."
Educated at Florida International University's College of Engineering, Moss immediately made a splash with his first job out of school—at the Atlantis Resort in the Bahamas. With his father and brother, started up the family construction business in 2004. "We had moderate aspirations, and blew those away," he recalls. Signature projects included Miami Marlins Park and various towers on Brickell Avenue, from Flatiron to Brickell Heights to SLS Lux. "After about 12 or 15 years of operating," he says, "I realized that we were doing all these ancillary activities outside of the construction company that either help the construction company or help the family." So, a new name and a new entity to refer to that business was required.
With Moss as CEO, MFO is already benefiting from the experience of seasoned financial strategist David Greer, the company's vice president and chief investment officer. The family's professional ties to Greer go back years. Moss calls him "an excellent communicator who is able to take something very complicated to committee and break it down in less than 10 minutes."
MFO currently is composed of several entities, including the NXS Crypto Fund, Triva Construction System, Targa 1 LLC, Aviation Management, Alternative Investments and Solar Logistics. Meanwhile, the company's philanthropic arm, the Moss Foundation, focuses mainly on education and at-risk children, with additional commitments in the areas of higher education and first responders.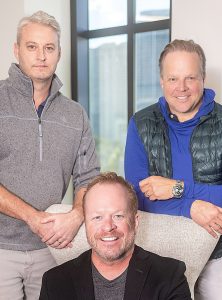 One of the first projects the company took on was Targa, a real estate investment management firm, founded in 2021, that provides equity in workforce housing development projects, specifically focusing on growing markets in Florida and Texas. With the dearth of workforce housing in South Florida regularly making headlines, MFO's focus in this area could hardly be more relevant. The housing, outfitted with pools, gyms and shared workspaces, is geared toward new graduates beginning their careers.
"Targa was created with a focus on investing LP equity in workforce housing in Texas, Florida, and Hawaii for projects that Moss constructs," Greer says. "Moss believes in giving back to communities, so participating with developers and owners in projects to create housing that helps teachers, firefighters, paramedics and others in our communities seemed like a natural fit."
"Working with the cities, we're offering a class-A type of product, something that we'd all be proud to live in," Moss adds, citing the Mid in Lake Worth as a representative project. "These are safe neighborhoods, emerging neighborhoods. Inside of eight months, we have 1,205 units under construction, management or investment, three of them in Palm Beach County."
Triva, like Targa, seems like a natural outgrowth of Moss's construction background. Moss describes it as "the first construction Field Intelligence Platform that seamlessly delivers real-time information and historical worksite insights." It's about eliminating waste and making connections, as Triva's goal is to become the world's richest database of construction labor intelligence—a database conceived to remove industry inefficiencies and greatly improve the lives of construction workers.
Not every business MFO is involved in is related to construction, as the company's wide-ranging interests are all about diversification of assets. For example, NXS Crypto Fund is a $25 million-dollar digital asset investing and management firm for accredited investors seeking exposure in the fast-moving cryptocurrency market. For this initiative, MFO has built a relationship with Brent Campbell, NXS's managing director and cryptocurrency navigator. The team launched the NXS Crypto Fund on November 1, 2021.
"It all started with a conversation with Chad and David about how blockchain and smart contract technologies have unlocked new consumer and business use-cases, like peer-to-peer decentralized finance and NFTs," Campbell remembers. "Paired with the mass adoption that is embracing crypto, we thought it was a no-brainer to create NXS and help clients gain exposure to this early-stage growth asset."
He and Moss bonded over their evangelism for what South Florida could be—a trailblazer in the crypto space. "Chad is a strong leader who is passionate about helping the community," Campbell says. "He takes bold risks and envisions Fort Lauderdale being a leader in crypto over the next decade, attracting talent, venture capital and companies like FTX, Crypto.com and Circle, which are investing billions. As city and state leaders become more crypto-friendly, it is a big opportunity to attract investment and talent to their jurisdictions."
What Chad brings to the table, Campbell says, is heart to go along with his acumen and ambition. "Chad is a quiet leader and believes in putting the best people in the right position for any particular business opportunity," he says. "He is able to eliminate obstacles to help bring the vision to reality—and his belief in giving back to the community is second to none. He follows the motto of Show me how much you care before you show we how much you know."
Photo by Brett Hufziger