It hardly needs to be said that South Florida is the cruise capital of the world. PortMiami is the busiest passenger ship terminal in existence, the home port for 12 cruise lines and a port of call for 11 more. Part of the draw of sunbathing in South Pointe Park or sipping a sundowner at Smith & Wollensky is to admire the ships setting sail along the southernmost point in South Beach. (In the numbers game, Fort Lauderdale's Port Everglades isn't far behind PortMiami.)
But the topline statistics and rankings, impressive as they are, can sometimes obscure the fact that "the cruise industry" is the opposite of monolithic. There is no one-size-fits-all. There are vast vessels with seemingly endless onboard entertainment options—and narrow cruise ships that feel barely larger than a private Italian yacht. I've worked for—and with—the cruise industry for years, and I thought I'd seen it all. But then I sailed on a Seabourn cruise in the Mediterranean that featured the smallest ship I'd ever embarked upon—the Ovation—and committed to an atypical itinerary.
Initially, a completely different itinerary—one that hugged the Côte d'Azur and the Italian Riviera—had caught my eye, but it booked up fast because its ports were so renowned. So, I enlisted a willing friend (no arm-twisting there) and we booked a weeklong trip that launched in Istanbul and zigzagged along the Turkish coast and eastern Greek islands before heading to more westerly Aegean islands, terminating in Athens.
Within days, I realized that chance had smiled on us. While I know coastal France and Italy like the back of my hand—and who doesn't want to return to Cannes or Portofino?—the itinerary I ended up choosing was almost completely composed of places I'd never been. From Turkish Riviera touchstones like Bodrum and Cesme, to the obscure Greek islands of Lemnos and Spetses, this was uncharted territory for me. Okay, perhaps Spetses wasn't exactly unknown to me, since I'd watched The Lost Daughter, which was filmed on the island, so obsessively and repeatedly that I knew Olivia Colman's acerbic lines almost by heart.
We'll get to the destinations. I promise. It was a close contest, to be sure, but the Ovation held even more surprises than the ports. First of all, the restrained elegance of the ship's design is a major differentiator in the market: there's nothing extraneous, no kitsch. Inside and out, the ship's Italian lines were exquisite. And I'd never sailed on a cruise ship with so few people—in the very low hundreds—and with so much discretion and elbow room.
One day, when I was on a tender, heading to one of the ports (there was lots of space, and conversations between guests were easy and unforced), I met a husband and wife from North Carolina. They said that the entire experience, from the style and luxury of the ship to the personalized service, had been previously unimaginable to them. (We were also bowled over by the service. Everyone we came in contact with made us happy to see them, and I have to namecheck a few superstars in food and beverage: Mustafa and Juan at the poolside restaurant, Courtney in the sushi bar—yes, the Ovation offers unlimited sushi!—and the utterly charming Corne.) The North Carolina folks insisted they were not typically "cruise people," and were shocked by how much they were enjoying themselves.
ONBOARD: THE ELITE MEET
Of course, that's precisely what Seabourn does peerlessly well: It's the ultimate cruise line for people who think they don't like cruises.
And then the woman on the tender had a thought, which she uttered almost apologetically: "Sometimes I wish there were a few more announcements about the onboard activities." Her husband was silent, his face content and unmoving, as if his wife's stated desire hadn't crossed his mind.
I couldn't wait to blurt it out: "That's the thing I like best! You never feel interrupted." Had I had the presence of mind, I might have said, "You get to just be. It's spontaneous. It's more like actual traveling. The only one who plans your day is you."
And it was true. After checking into the stateroom, there was no mandatory safety drill, no deck to search for. I watched the safety video on the stateroom TV. The only structure I adhered to (other than dinner onboard each night) was hitting the gym, first thing in the morning, because the facility was so well-equipped. (Having a great gym just steps away is one of the things I love most about cruising, and that's true of every cruise line I've experienced.) After the gym, sometimes I had a big breakfast, sometimes just a mini-smoothie (the flavors changed every day), and sometimes no breakfast at all. There would always be a fine bakery in port, always a wonderful lunch to indulge in. Any nascent anxieties about getting off the ship as early as possible, fears about queues and crowded tenders, quickly evaporated. We disembarked at our leisure, and always had plenty of time in port.
When I got back onboard after each day on land, I tended to meander. No rushing to the stateroom to decompress from the stimulation of Turkey or Greece. The diminutive ship—I could see water everywhere—was balm enough. I always found a mostly empty pool or Jacuzzi—perfectly positioned to capture the view—to dunk into. And I happened onto a few hidden Jacuzzis, one at the Retreat, a sanctuary with lavish cabanas; the other at the end of a deserted deck. I learned about the latter when I met a fellow South Floridian, Paul Leone, who happens to be the CEO of the Breakers. Paul told me about the secret Jacuzzi.
A moment here to note that these kinds of interactions are not at all unusual on a Seabourn ship—the cruise line draws an unpretentious but rarefied demographic. It's a type of set that appreciates the fact that Seabourn partnered with Thomas Keller, one of the planet's most exalted chefs, to open The Grill by Thomas Keller, an onboard specialty restaurant. Keller currently holds eight Michelin stars, including a trio for both French Laundry (Napa Valley) and Per Se (New York), one for Bouchon (also Napa) and a final star honoring a more local venue: the Surf Restaurant at the Four Seasons in Surfside.
One night we had the delectable lobster Thermidor and the Dover sole meuniere, but a few dinners later we returned after another guest—a woman so loyal to Seabourn that the staff presented her with an actual award during the cruise—implored us to order the roasted free-range chicken and thyme jus. Yes, chicken. Not what you would usually eat when you're doing haute cuisine. But she was right. It was arguably the finest dish on the ship, with a flavor and tenderness that stunned us. Award earned. And our smiling server Fernando always made sure we had enough caviar.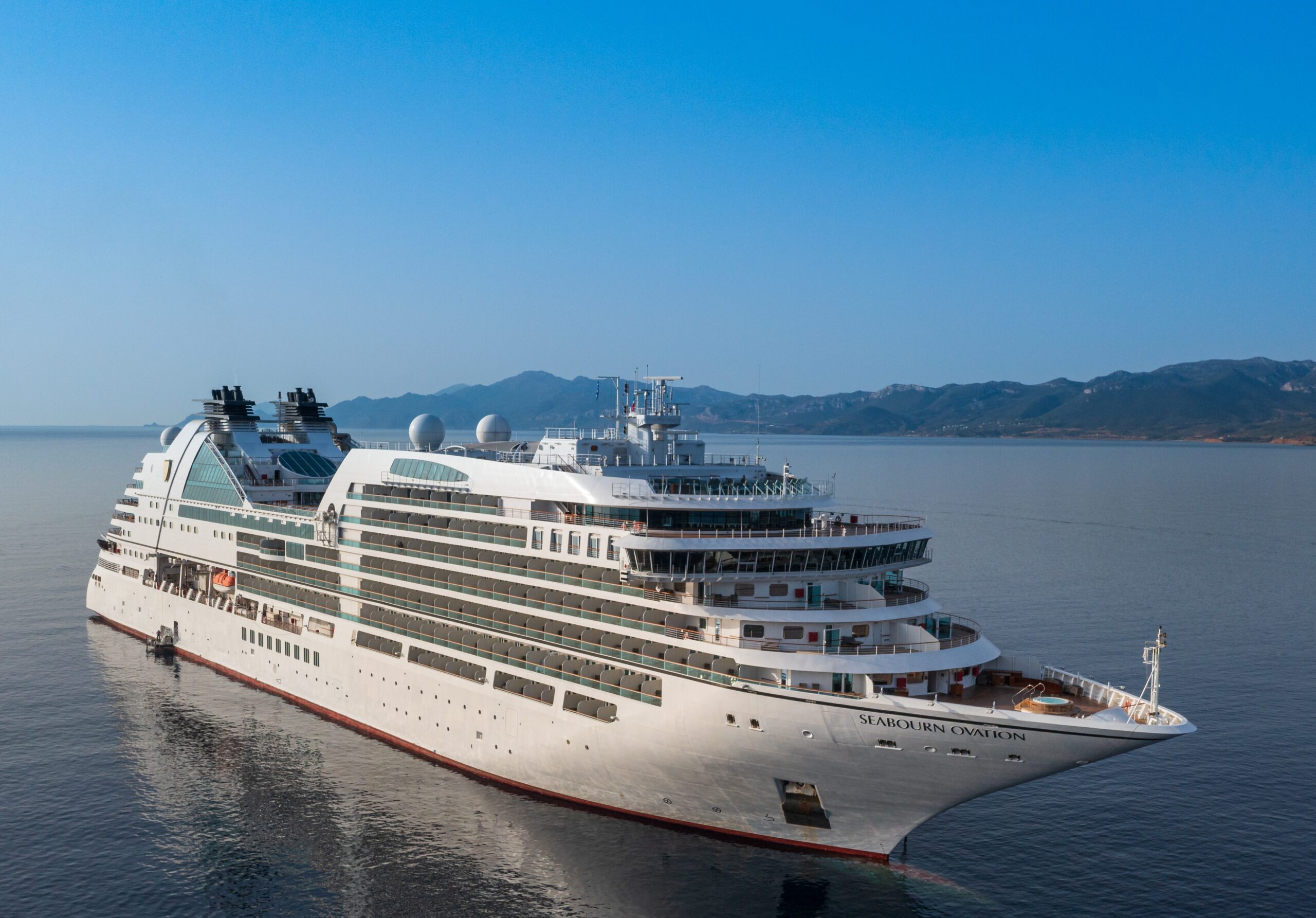 LEMNOS: HIDDEN ISLAND
Ask your well-traveled friends. None of them has been to Lemnos. If you suppose that only Mykonos and Santorini capture the legendary charm of the Greek islands, think again. Greece has more than 200 inhabited islands, so you can return again and again to this singularly enchanting country and only scratch the surface. I've been far afield of the Cyclades—even reaching the Ionian island of Zakynthos—but I never would have walked the lovely streets of Myrina, Lemnos's main town, if the Ovation hadn't brought me there.
Almost immediately I apprehended that this was the kind of low-key island you choose to escape modern life and hide out in its beauty and among its welcoming people. (Greek hospitality and warmth is second to none.) I browsed a crafts shop and asked the proprietress about the summer crowds. "People only really come in August," she told me, reassuringly. This was early July, and the island was lightly, pleasantly populated, if not sleepy. An athlete did somersaults in a silent park. Traditional blue shutters adorned immaculate stone houses. A row of umbrellas, poking out of golden sands, stood sentry over the flawless town beach, Romeikos Yialos. I dove into the Aegean's glorious calmness, with its remarkable clarity.
Nearby, the alfresco Kosmos Taverna was serving up tzatziki, dolmas (stuffed grape leaves) and zucchini fritters against a panoramic sea view. Tzatziki is truly one of my favorite things to eat and I order it religiously when I'm in Mediterranean restaurants in the States. But there is nothing, nothing, like having Greek yoghurt spiked with garlic and dill in Greece. It was as if I didn't realize I had returned to Greece until Kosmos provided me with this moment of brilliant savory authenticity. And the fried puffs of zucchini were so tasty that I was glad that I'd gone easy at breakfast.
I was impressed with the confidence of the Seabourn brand, and I mean that in a specific way. The line offers such a superior means of seeing the world that it conveys no fear of competition from hotels. So, in some ports, for the guests who just wanted to chill, the Ovation team freely suggested local hotels that offer day passes. For example, Cesme was pretty and colorful, and I enjoyed walking its streets, grabbing pastries and lemonade, and picking out a new shirt I could sport at dinner.
But as midday neared, it was getting toasty, so we took the advice of ship's staffers—and the helpful orientation video in our stateroom—and hopped in a taxi to the Radisson Blu. From a previous trip to Split, Croatia, I knew that this chain offers an excellent product, and the Cesme location didn't disappoint: Give me a massive pool just steps from the beach and I'm happy. There's no need to deny it: This was a major gastronomic trip, and I was eating a lot. So, my morning workouts, coupled with lap swimming in every port, helped counteract at least some of those calories. And I was getting one heck of a tan.
SANTORINI: TWO WAYS
Santorini was ripe for a similar strategy. I've been to this incomparable island many times, but my friend was a first-time visitor. We were scheduled for around 12 hours in port, which was quite a luxury, but that amount of time required a balance between R&R and the sightseeing on the famed caldera towns that was essential for my friend (of course, I wanted to revisit that scenery as well). This was one port where I felt we couldn't wing it.
Once we stepped off the tender and were served refreshments from the Ovation's butlers (there was a designated welcome tent), we boarded the funicular that brought us up, up, up—to the main town of Fira. We hopped in a taxi and headed straight to Oia, which is the island's most famous and iconic village; it's also the northernmost and most remote caldera town and the farthest one from the ship. I figured we'd beat the heat and crowds for some unhurried morning exploration.
Nothing on Earth prepares you for Oia's pulchritude. The whitewashed town tumbles partway down the cliff like vanilla frosting; around 1,000 feet below, the shallow turquoise water of Amoudi Bay sparkles. Oia's crisp villas and hotels are stacked atop one another, with stairways and walkways snaking around here and there, and little grotto-like pools emerging from engineered caves to find their way into the sun. Blue domes, repainted every season to evoke the same hue as the deep sea, are ubiquitous, having launched a million calendars and postcards.
Without rushing or becoming too annoyed at the number of selfie sticks that was growing by the hour, we reached the edge of town and found a driver to bring us to Perivolos Beach in the island's south. One common refrain about Santorini is that its beaches are subpar because they are composed of volcanic black sand, which is ludicrous because the pebbly sands under the Aegean sun give the water a deep aqua color that delivers its own kind of beauty.
We holed up for the a few hours at the Istoria, a member of Design Hotels. The dashing hotel manager, Greg Psillakis, showed us around and then set us up with lounge chairs on the beach under a thatched umbrella. The sea, with its fresh temperature and gentle waves, was perfection. Watermelon smoothies, grilled octopus and fruit trays followed my swim. After a few hours, we moved to the hotel pool, a showstopper clad in the kind of jade-colored tiles you see at pools in Thailand and Bali—this was an Aman-level swimming pool.
And when we finally made it back to Fira, there was still time to admire the breathtaking views framed by its famous doors to nowhere: The ornate clifftop doorframe of a restaurant, bar or hotel functions as both signage and entrance, but because the actual establishment drops below the threshold, you can see only sky and sea through the doorframe. It's one of Santorini's most characteristic architectural features. For me, those doorways are where the visual magic happens in Fira.
RHODES: COMPLETELY UNEXPECTED
Perhaps the trip's biggest surprise was the Greek island of Rhodes, which I'd known little about—only that it was big, popular and just off the Turkish coast. What I didn't knew was that Rhodes town is a walled, pedestrian city, reminiscent of Split. The place is a joy to get lost in (preferably with a gelato), a medieval fantasy where the austerity of the stone walls and buildings is offset by towering Italian cypress trees and pink bougainvillea dripping plentifully from awnings and rooftops.
But Rhodes has a tragic past, as I learned when I visited Kahal Shalom Synagogue, Greece's oldest synagogue (it dates from 1577), and the Rhodes Jewish Museum. For more than 2,000 years, Jews had been a part Rhodes' cultural fabric, at times prospering—such as during the Ottoman period—and at other times persecuted. By the time of Germany's occupation of Greece during World War Two, most of the 1,700 Jews that were left on the island were shipped to concentration camps and killed. Few places I'd seen in Europe represented the genocide of European Jewry so starkly: Rhodes, a paradise lost. In the museum's courtyard, an elderly man, one of the remaining survivors, told his story to visitors. The experience was as unexpected as it was devastating.
The voyage affected me in profound ways, with vivid images returning to me still: the racks of spices sold in the shade of Bodrum's covered bazaar; the unforgettable deeply etched face of the Spetses shopkeeper who recalled the kindness of the visiting actors from The Lost Daughter; the ways that the pristine sky looked like a solid thing between the majestic columns of the Acropolis when we finally made it to Athens. The trip reinforced the ways in which the coveted, sun-splashed Mediterranean life of leisure that we discover on vacation exists side-by-side with the markers of rich and varied cultures, the lives of the people who make sure that bliss is delivered daily throughout the summer season, both onboard and in port, and the histories that twist and turn in ways not unlike the cobblestoned labyrinths that define the ancient towns that welcomed us so earnestly and heartily.