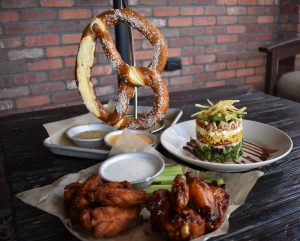 Like virtually every business, World of Beer Bar and Kitchen, with its 40 locations nationwide, was not immune to the hardships that COVID-19 lockdowns placed on countless establishments. As the craft beer and restaurant chain moves away from the confines of restrictions, its recent openings represent more investment in the South Florida, with new locations in Doral and Miramar, and potential sites in Royal Palm Beach and Fort Lauderdale.
That merely hints at the company's ambitions: 12 restaurants per year to reach 75% of company-owned locations nationwide. The newest locations will bring the brand's count to three in South Florida, with the Coconut Creek restaurant having opened in 2010.
"We love the development part of our team and want to further penetrate the market down here," says Paul Avery, president and CEO of the World of Beer Bar & Kitchen and the former president and chief operating officer of Outback Steakhouse. "We already have brand equity here and we feel it's appropriate to leverage that. It's our most highly penetrated state and it is a favorable state for our industry."
The company's expansion and investment in the region coincides with South Florida's recent influx of residents. Additionally, the favorable weather makes it ideal for outdoor patio space, which has increased in demand since COVID restrictions were implemented. "It creates an opportunity for us to develop our concept and to leverage the infrastructure we have within Florida," he says.
With the hospitality industry among the most affected by shutdowns, World of Beer Bar & Kitchen had to endure its fair share of hardship before conditions became favorable for expansion. When COVID-19 struck, Avery says the company had to furlough 92% of its staff, salary cuts were implemented and 15% of its locations around the nation were forced to close.
"The Paycheck Protection Program was very instrumental in getting through, so we're most appreciative for that," Avery says. "We took an aggressive, very transparent approach with our lenders, with our landlords, with our supplier network—just telling them where we were, what our plans were and asking for a collaborative approach."
As the company moves forward with its expansion, another obstacle has appeared that could affect its plans to enhance its presence around South Florida. "We are being impacted by the supply chain, so a good amount of progress is being challenged with the incremental costs associated with that," he concedes.
After powering through the challenges of the pandemic and now facing supply chain issues to properly stock venues featuring over 300 local and international beers and 40 rotating taps, Avery remains confident that the loyalty that World of Beer Bar & Kitchen has built with its customer base will carry on with a flexible business model capable of meeting the needs of today's consumer.
While its craft beer offerings paired with high-quality comfort food—street tacos, parmesan truffle fries, Gochujang marinated steak—have proved to be a hit among customers, the company knows it must continue adapting to set itself apart. The proposed location in Royal Palm Beach is expected to feature "swing suites": 50-square-foot pods that enable patrons to relax in a comfortable lounge and play various sports virtually while enjoying food and beverage service. "It creates a really nice environment for groups to go out and reserve it for an hour or two," Avery says.
Being a popular destination for happy hour, lunch, dinner, brunch and a neighborly place to catch live sports makes World of Beer Bar and Kitchen a popular location that caters to a bevy of tastes. That all-encompassing aspect of good-quality beer, food, service and entertainment is what Avery hopes attracts consumers to the new venues.
Here's how he describes the brand's sweet spot: "It's great for people who want to get together as a group or couples and have an environment that's not upscale or downscale," he says. "It's a polished, comfortable, inviting space and we think our food and customer experience exceeds expectations. We've got a concept with really unique positioning that is just spot-on with where the consumers are today. You know, with COVID, we're all looking for normalization and socialization, and we're creating a perfect environment for that."