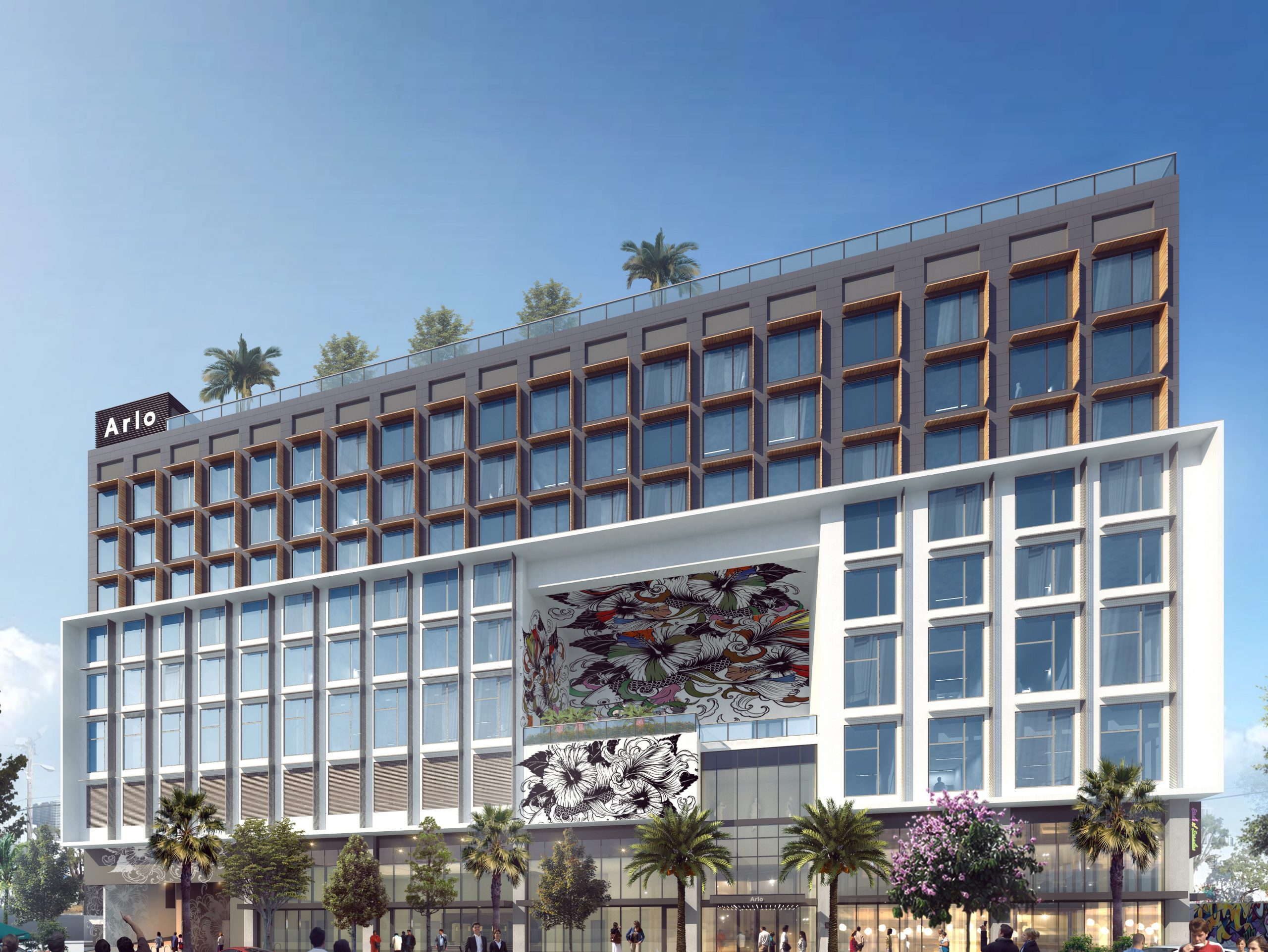 Wynwood Prepares for Opening of First Hotel in October
Lifestyle brand Arlo Hotels is developing the project
Arlo Wynwood will become the first hotel to open in Wynwood when it debuts in October. The 217-room, nine-story hotel will serve as the cultural hub for residents and visitors while offering guests prime access to the region's best creative culture. Arlo Hotels, an independent, experience-driven hotel brand with locations in Miami Beach and New York City's Midtown, NoMad and SoHo neighborhoods, is developing the property, which will feature guest rooms starting at $239 per night.
"Wynwood is one of the most vibrant districts in Miami," Oleg Pavlov says, CEO of Quadrum Global and founder of Arlo Hotels. "We've been eager to develop a hotel in the neighborhood and with an increasing number of tech-forward businesses moving their headquarters to Wynwood, we feel this is a great time. The year-over-year hotel occupancy in the broader downtown market has grown nearly 30%. We're thrilled to debut Arlo Wynwood as the premier hotel in the neighborhood. The property will embody Wynwood's renowned artistic flair and offer first-rate restaurants, bars, wellness programming and entertainment for guests and locals alike."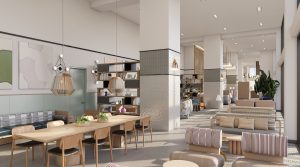 The new hotel was designed by Meyer Davis, an award-winning firm specializing in global, upscale commercial design. Arlo Wynwood will feature an expansive living room and lounge areas throughout the property to encourage creative connections and friendly interactions between guests, staff and the local community. Modern guest rooms feature white-oak furnishings and in-room amenities include tech-friendly features, such as bedside wireless charging stations, Bluetooth radios, 5" LED TVs featuring staycast capabilities, complimentary WiFi, mini-fridges, Nespresso coffee machines and Pharmacopia bath products.
A highlight of Arlo Wynwood is a rooftop complete with a pool, private cabanas, a bar and café and a yoga deck. Other property features include a 2,666-square-foot destination restaurant with indoor and outdoor seating, plus three bars, a bodega and a pool table. Guests will also access a state-of-the-art fitness center and complimentary bikes to explore the neighborhood conveniently.
The property will offer a steady beat of programming, including daily yoga classes led by local favorite YO BK and weekly meditation sessions open to hotel guests and locals. It will also feature a weekly lineup of local guest DJs and live music activations.
"Offering our guests authentic, destination-specific experiences is at the heart of the Arlo brand and this property serves as a conduit to the Wynwood lifestyle," Jennifer Hiblum says, General Manager of Arlo Wynwood. "Capturing this community's unique spirit throughout our spaces is of utmost importance to us, so we're collaborating with local artists and musicians who represent the best of this region."
Arlo Wynwood will also reflect its creative neighbor by serving as a living canvas for a curated group of artists displaying more than 250 works of art. On the yoga deck, Florida-based collage artist Ari Robinson is creating a plexiglass mural featuring overlapping organic shapes of varying sizes and hues that will produce unique color combinations, shadows and reflections for a feeling of calm. The property's exterior walls will feature works by Miami-based artist Hoxxoh and MILAGROS Collective, whose co-founders Felici Asteinza and Joey Fillastre will create site-specific work, exploring the history of the community through vast arrangements of color and lines.
"It is hard to believe that despite attracting more than 10 million visitors annually, we are just now getting ready to open the first hotel in Wynwood," Manny Gonzalez says, Executive Director of the Wynwood Business Improvement District. "We are thrilled Arlo Hotels is the first hotel brand opening in the district. We are attracting a new generation of creatives and entrepreneurs who want to live, work, eat, play and learn in our community and Arlo will serve them well as their home away from home or remote workspace where inspiration awaits."
Photo Credit: DWMX