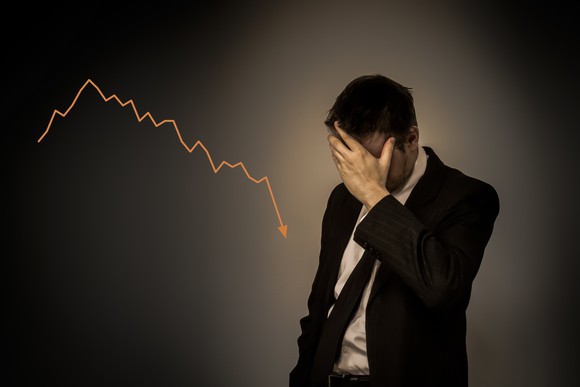 3 Companies That Need to Kick Their CEO to the Curb
Here's why Fitbit, Depomed, and Twitter might benefit from a fresh set of eyes in the C-suite.
Sometimes, changes need to be made at the top of a company's leadership because of deep-rooted organizational problems. Other times, a new leader is necessary to take a company to the next level. Our Motley Fool contributors think it may be time for changes in management at Fitbit (NYSE:FIT), Depomed (NASDAQ:DEPO), and Twitter (NYSE:TWTR). Read on to see why they think these companies might do better under someone else.
Say it isn't so
Tim Brugger (Fitbit): When co-founder and CEO James Park announced preliminary fourth quarter and 2016 annual results on Jan. 30 there was little to like. Fitbit's poor revenue results are expected to be well below analyst estimates, and Fitbit will shave overhead primarily through job cuts impacting "approximately 110 people," equal to 6% of its workforce. And the worst was yet to come.
A business man holds his head in his hands in front of a chart showing a declining share price.
IMAGE SOURCE: GETTY IMAGES.
Despite tepid revenue growth, Fitbit's gross margins will be "materially below its previously issued 46% forecast" due to excess inventory. Fitbit sales are on an uptick, but not close to expectations. But the news that warrants Park being on the wrong end of a kick — if not to the curb, then awfully close — is Fitbit's plan to enter the smartwatch wars.
The move to join the likes of Apple (NASDAQ:AAPL) and its Watch wasn't surprising given Fitbit's recent acquisitions of Pebble and Vector Watch software assets, but Park's decision is still wrong. Apple knows first-hand the smartwatch boom many had expected hasn't materialized.
According to IDC 2016's third calendar quarter was dismal for smartwatch sales, declining 52%. The Apple Watch no longer has the appeal of being new which resulted in a 72% nosedive to 1.1 million units. And Fitbit wants to join the sinking smartwatch ship?
If watches actually become "smart" rather than expensive fitness trackers the market may change. But if it does, how many consumers will opt for Fitbit over Apple or Samsung ? And Fitbit will spend massive resources to develop its device, above the acquisitions already squandered. Park is leading Fitbit into a battle that's already lost.
Investors could lobby for change at the top
Todd Campbell (Depomed): Activist investor Starboard Value L.P. took a nearly 10% stake in drugmaker Depomed last year to lobby for a sale, but so far, little has happened to encourage investors that will happen, and as a result, Depomed's shares have sunk 46% since July 2015.
Initially, Depomed's board of directors clashed with Starboard Value's Jeff Smith. However, the board agreed last fall to allow Smith to pick three people to join Depomed's board of directors. Also, because Smith had been critical of management's rejection of a $33 per share offer from Horizon Pharma (NASDAQ:HZNP) in mid-2015, the board agreed to entertain bids from suitors.
Unfortunately, Depomed's full-throttle rejection of Horizon Pharma's prior bid appears to have soured Horizon Pharma on making another offer. Rumors of interest from Purdue Pharma, the maker of the top selling Oxycontin, appear off-the-mark, and reported interest from investment firm KKR hasn't led to a deal either.
Absent a buyer, I think pressure will mount on Depomed CEO Jim Schoeneck to prove to investors that his course is the right one. Previously, rapid sales growth for Depomed's opioid pain medicine, Nucynta, helped Schoeneck make his case, but opioid prescriptions have slumped on rising concern over abuse, and that's slowing Nucynta's momentum.
While Depomed hasn't reported its fourth-quarter figures yet, anemic results in Q3, including 5% year-over-year top-line growth, prompted Schoeneck to kick-off the company's third quarter earnings conference call admitting that quarterly results "fell well short of our expectations."
Given Depomed's shares are trading at about half the price that Horizon Pharma was once willing to pay, and sales growth is slowing, it wouldn't shock me if Starboard's next move is to lobby for replacing Schoeneck. Whether someone else would do better is anyone's guess, but bruised investors are eager for some positive news out of this company, and that could mean that change is coming.
Hey hey, ho ho, Jack Dorsey has got to go!
Rich Smith (Twitter): Jack Dorsey, ladies and gentleman! Let's give him a hand — and then show him the door!
Jack Dorsey co-founded internet icon Twitter in 2006. For this, he deserves to be congratulated, as Twitter has ultimately grown into perhaps the most important tool for monitoring breaking news on the internet. Where Dorsey has failed, however, is in taking this leading internet platform — one so useful that the President of the United States has adopted it as his go-to medium for communicating with the public — and finding a way to earn a profit from it.
I mean, think about this for a second: Twitter has more than 300 million monthly users. Donald Trump made Twitter an integral part of his winning presidential campaign and continues to tweet from the Oval Office. These days, you can't open up a newspaper without seeing a headline about some bit of breaking news from the White House that first appeared on Twitter. And yet, in the same quarter in which Donald Trump was elected President, Twitter experienced literally zero user growth, achieved only single digit revenue growth — and made no profit whatsoever.
Apologies for speaking so bluntly here, but while Dorsey has the right tool in hand, he clearly doesn't know how to use it. Hand this guy a hammer, and he'd try to open a can of beans with it — and fail.
With Twitter stock now down 73% from its highs of 2013, and down 40% from when Dorsey re-took over the business as CEO in October 2015, enough is enough. Jack Dorsey had his chance to fix Twitter's business, and he failed. It's time to place a want-ad and hire a handyman who can use this tool to finally earn Twitter stock owners some profit.
Trump's potential $1.6 trillion investment
We aren't politicos here at The Motley Fool. But we know a great investing opportunity when we see one.
Our analysts spotted what could be a $1.6 trillion opportunity lurking in Donald Trump's infrastructure plans. And given this team's superb track record (more than tripling the market over the past decade*), you don't want to miss what they found.
They've picked 11 stocks poised to profit from Trump's first 100 days as president. History has shown that getting in early on a good idea can often pay big bucks – so don't miss out on this moment.
Click here to get access to the full list!
*Stock Advisor returns as of February 6, 2017
Rich Smith has no position in any stocks mentioned. Tim Brugger has no position in any stocks mentioned. Todd Campbell owns shares of Apple and Twitter. The Motley Fool owns shares of and recommends Apple, Fitbit, and Twitter. The Motley Fool has the following options: long January 2018 $90 calls on Apple and short January 2018 $95 calls on Apple. The Motley Fool has a disclosure policy.