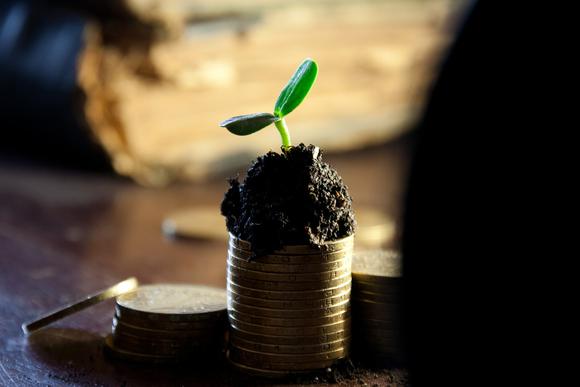 5 Best Dividend Stocks to Buy in April
Our contributors think these five dividend-paying stocks are compelling opportunities right now.
By Brian Feroldi
Buying stocks that pay dividends is a great way to generate income in your portfolio without the need to hit the sell button. However, not all dividend-paying companies are created equally, so investors need to be especially picky about which companies they choose to buy.
To help our readers narrow down the list of dividend paying stocks that should be on their radar, we asked our team of contributors to share a dividend-paying stock they think is a great buy right now. Read below to see which stocks they picked to see if you think any deserve a place in your portfolio.
George Budwell: Pfizer (NYSE:PFE) is always a good name to include in an income-generating portfolio. After all, the drugmaker is entering is 7th straight year of consecutive dividend increases, it offers one of the highest yields among healthcare stocks at 4%, and it's finally starting to overcome the serious challenges presented by the so-called patent cliff with the launch of new growth products like Eliquis, Prevnar 13, and Ibrance.
Having said that, the real reason Pfizer is such a compelling buy right now is because the stock looks woefully undervalued relative to its big pharma peers. According to analysts polled by S&P Global Market Intelligence, for instance, Pfizer's average 12-month price target stands at a noteworthy 30% higher than current levels. The Street's optimism seems to stem from Pfizer's monstrous $5 billion accelerated share repurchase program it initiated earlier this month, combined with an estimated 4.4% rise in its annual revenues and a 4% increase in its EPS in 2016.
While those aren't eye-popping numbers in terms of overall growth, the fact remains that Pfizer is starting to push past the patent cliff. That's why I think this big pharma stock deserves more attention than it's been getting as of late, especially among income-seeking investors looking for high-yield payouts that are sustainable over the long term.
Dan Caplinger: The best opportunities in investing come from stocks few people are looking at, and Dow component and stalwart conglomerate 3M (NYSE:MMM) has quietly worked its way back up to within shouting distance of all-time highs so far in 2016. In late March, the company set ambitious objectives going out to the year 2020, including expectations for earnings-per-share growth of 8% to 11%, organic sales growth of 2% to 5% in local-currency terms, and a 20% return on invested capital. CEO Inge Thulin expressed "confidence in driving efficient growth — that is, strong, sustainable growth and premium returns — well into the future." In an environment in which many industrial giants have faced challenges, 3M's reliability in its long-term prospects has been an important accomplishment that has helped its share price avoid the deep declines some industry peers have suffered.
From a dividend perspective, 3M is a Dividend Aristocrat with 58 years of consecutive annual dividend increases. The stock's 2.7% dividend yield doesn't necessarily stand out among the top-yielding stocks in the market, but it is above the market average, and potential for future dividend growth remains strong, with an earnings payout ratio of less than 60%. For dividend investors who are optimistic about the prospects for the economy both in the U.S. and worldwide, 3M is an attractive stock right now.
Andres Cardenal: Colgate-Palmolive (NYSE:CL) stock pays a dividend yield of around 2.2% at current prices. This is not particularly high in comparison to other alternatives among dividend stocks in the consumer sector, but successful dividend investing is not just about dividend yield. Dividend growth can be even more important than yield, and Colgate-Palmolive is truly outstanding in this crucial area.
The company has an immaculate track record of dividend payments over the long term: Colgate-Palmolive has paid uninterrupted dividends in each and every year since paying its first in 1895, and it has increased those dividends over the last 53 years in a row. The dividend payout ratio is quite safe, around 56% of earnings estimates for the coming year, so Colgate-Palmolive enjoys considerable room to continue increasing payments in the future.
The company does business in areas such as personal care and pet nutrition, but the lion's share of sales and earnings comes from Colgate-Palmolive's leadership position in oral care. Thanks to its brand recognition and huge distribution network, Colgate-Palmolive owns 45% of the global market in toothpaste and 34.5% in manual toothbrushes.
Being a market leader in a stable and mature industry, the business generates consistent cash flows through good and bad economic times, and this is a crucial strength to consider when evaluating the sustainability of Colgate-Palmolive's dividend growth policy.
Brian Feroldi: There has been a slowdown in economic activity in Latin American countries recently, which has put the region's banking system under a lot of pressure. That has caused valuations to nosedive over the past few months, which I think creates a great long-term opportunity for investors who can stomach a little volatility.
Banco Latinoamericano de Comercio Exterior (NYSE:BLX), or simply "Bladex," is a merchant bank based out of Panama that was set up by central banks in the area to help facilitate trade growth. The company has been growing quickly over the past few years on the back of general economic prosperity, but with emerging markets and currencies in turmoil over the past few months, its operations have been hit hard.
In the most recent quarter, operating revenue dropped by nearly 15%, and the bank's net income fell by 35%. Returns on equity and assets also took a haircut and headed in the wrong direction.
So, if everything is heading in the wrong direction, why do I think Bladex is a compelling buy right now?
First, the company is well capitalized; its Tier 1 capital ratios rose by half a percent, to 16.1%. Second, the company primarily focuses on short-term loans, giving it lots of flexibility to pull out of troubled areas and look to more stable regions to generate growth. Third, despite what looks like a rotten quarter, book value still continues to climb: It stood at $24.94 at the end of 2015, up 6% versus the year-ago period.
With shares hovering around $24 a stub, the bank is trading below its book value, and the company's dividend — which has been marching higher for years — is currently offering investors a yield of 6.5%, close to a five-year high.
Once trade picks up back in the region, the bank is in a great position to return to fast growth mode, and meanwhile, investors will bank a strong dividend payment while they wait.
Bladex is a spicier-than-average dividend stock, but I think the potential upside and strong yield more than compensate investors for the risk.
Tim Green: Shares of Cisco Systems (NASDAQ:CSCO) took a dive at the start of 2016, along with the rest of the stock market, pushing the stock's dividend yield up to about 3.7%. The stock has since fully recovered, which pushed the yield back down, but a big 24% dividend boost announced along with the company's latest quarterly results has lifted the yield right back up to 3.7%. I doubt we'll see dividend increases of that magnitude every year, but I do expect annual dividend increases from the networking giant.
Cisco, which dominates the market for Ethernet switches and routers, is well positioned for a few major trends that should help drive growth going forward. The Internet of Things, which Cisco has been talking about for a long time, is one area the company is focusing on, and former CEO John Chambers has called it "the second generation of the Internet." Cybersecurity is another area, and Cisco has made a variety of acquisitions over the past couple of years in an effort to emerge as one of the leading cybersecurity providers.
Cisco is a big company, generating nearly $50 billion of revenue last year, and investors shouldn't expect anything other than relatively slow growth going forward. But a dividend yield of 3.7%, coupled with the potential for high-single-digit, or even low-double-digit, dividend increases annually, makes Cisco an enticing dividend stock.
The Stupid Simple Way to Score a 22% Dividend
There's nothing better than cold, hard cash. That's why the savviest investors are using 5 simple dividend "tricks" to unlock the mountains of cash stocks are delivering to investors on a silver platter. Just click here to learn how you could score your cut of the profits too!

Andres Cardenal has no position in any stocks mentioned. Brian Feroldi owns shares of Bladex. Dan Caplinger has no position in any stocks mentioned. George Budwell owns shares of Pfizer. Timothy Green owns shares of Cisco Systems. The Motley Fool owns shares of and recommends Bladex. The Motley Fool recommends Cisco Systems. Try any of our Foolish newsletter services free for 30 days. We Fools may not all hold the same opinions, but we all believe that considering a diverse range of insights makes us better investors. The Motley Fool has a disclosure policy.