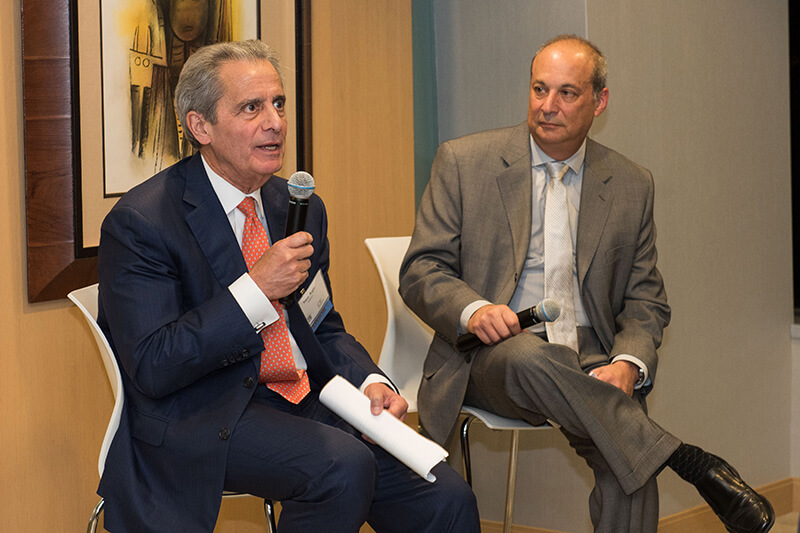 A Talk with Tony Argiz
As chairman and CEO since 1997, Tony Argiz has led the growth of Morrison, Brown, Argiz & Farra into a top 40 U.S. accounting firm. MBAF is a 21-time honoree on Inside Public Accounting's annual list of the nation's 50 best-managed accounting firms.
Argiz has developed in-depth knowledge and expertise involving audits, business planning, economic damages, fraud examinations, valuations and litigation cases. He is a nationally recognized practitioner in litigation consulting services.
He has served on the American Institute of CPAs nominations committee and on the governing body of the AICPA's council. In 1986, Argiz was appointed to Florida's Board of Accountancy and was then elected to chair the board and its probable-cause panel as well.
A Cuban native, he is one of the most prominent leaders among South Florida nonprofit organizations, as chairman of the Adrienne Arsht Center Foundation and Facts About Cuban Exiles. He is past-chairman of the Greater Miami Chamber of Commerce, United Way of Miami-Dade, the Orange Bowl Committee, the Miami Dade College Foundation and the Council of 100 at Florida International.
For this edition of "CEO Connect," Tony Argiz was interviewed by SFBW Chairman and CEO Gary Press at MBAF's Brickell office. The following transcript has been edited for brevity and clarity.
You came to the United States from Cuba as part of Operation Pedro Pan, which involved children arriving without their parents. What was your experience like, and did it help mold you as a person?
When you have an 8- or 9-year-old in your house [and] send them off for five years without his or her parents, that was what the Pedro Pan exodus was all about. There were 14,000 unaccompanied minors. I still remember the day that my mom said that I was leaving the country, and I sort of figured it out because of the schools that closed in May 1961. We already had the Bay of Pigs in '61. I knew my time in Cuba was nearing an end, which is a shame, because growing up in Cuba was a great experience, having my family around all the time.
Havana was such a great city. The buildings, the culture, and the things you could do there, it was almost like a mini New York City. Suddenly, I found myself in Florida. I was a legal guardian of the Catholic Church, and they found the best place for me was a Catholic boarding school in Tampa, where I lived for five years until my parents came over.
Then, it was a horrible experience. But when I look back, it was important to have gone through that period in my life and it really matured me rapidly. I always look at the best in everything. And I probably wouldn't have the hunger that I still have today without that experience. I saw myself in dire needs and the only way out was through an education and having a vision and working hard every day.

When you were 30, compared to who you are today, do you have that same hunger?
I would say so. I try to wake up at 4:50 a.m. and try to go to the gym and work out. Being a Cuban refugee, I wake up every day with that hunger. [President Donald] Trump criticizes the immigrants, but we need the immigrants for our economy. We need to continue to bring people here. I don't know why we don't try to attract the best of the best. If you look around our accounting firm, we are like the United Nations.
As a kid, you were good at baseball, right?
In Cuba, that was the major sport. Major-league players would come to Cuba. My dad would take me to games at the stadium in Havana. I love the sport, and I was pretty good when I was 8 or 9 years old, and I played when I was in high school in Tampa. When I graduated high school, I wanted to continue to play. I qualified for the major-league draft, and I went to Florida International University on a baseball scholarship.
What attracted you to
accounting early on?
Primarily, math skills. When I first came from Cuba, I attended a Grade A elementary school in Tampa, and I passed the third grade, believe it or not, in 33 days without even knowing the English language. As a kid, I loved math. I wondered where I could use those skills, so I looked around.
MBAF is one of the top 40 accounting firms in the country, and you have been chairman and CEO for two decades. What were the keys to managing growth to get to that size?
I took over the firm from Al Morse, and I call him my Jewish father. He gave me a big opportunity. He was my Michael Jordan of accounting. I always looked up to him. It's been a marathon over the past 40 years, but I also think we've been lucky. Playing baseball taught me how to be on a team, knowing how to win and lose and how to come back from those losses and how to become better every day. I use that and always have goals.
To grow, you must take risks. In baseball, a talented player is three [hits] out of 10 [at-bats]. At one point, I said we can't just be a Miami firm and I thought that Broward and Palm Beach counties were going to get bigger. And we knew New York was a great place to have access to all kinds of clients. It's a lot of demanding work. It's all been teamwork, and we've been lucky as the Yankees or even luckier.
What do you think the impact of federal tax changes will be in the world of business and for owners personally?
I think it's going to bump up the economy, and interest rates are going to go up, too, because of the acceleration of the economy.
About CEO Connect
SFBW's CEO Connect series is an exclusive, invitation-only monthly event that brings together South Florida's top business leaders to meet and mingle.
The sponsors are Celebrity Cruises, FXE, Greenspoon Marder, MBAF, Sapoznik, Shorecrest Company and TD Bank.
The evening begins with a cocktail reception for about 100 guests followed by the highlight of the event, a live interview conducted by Gary Press, SFBW Chairman and CEO, and a well-known C-level executive who provides insight into their personal lives, careers and views on issues affecting the business community.
Partnering with SFBW on this exclusive event provides an opportunity to network with the area's business elite, generate new business opportunities, and increase brand awareness. For information about event sponsorship opportunities, email Clayton Idle at cidle@sfbwmag.com.