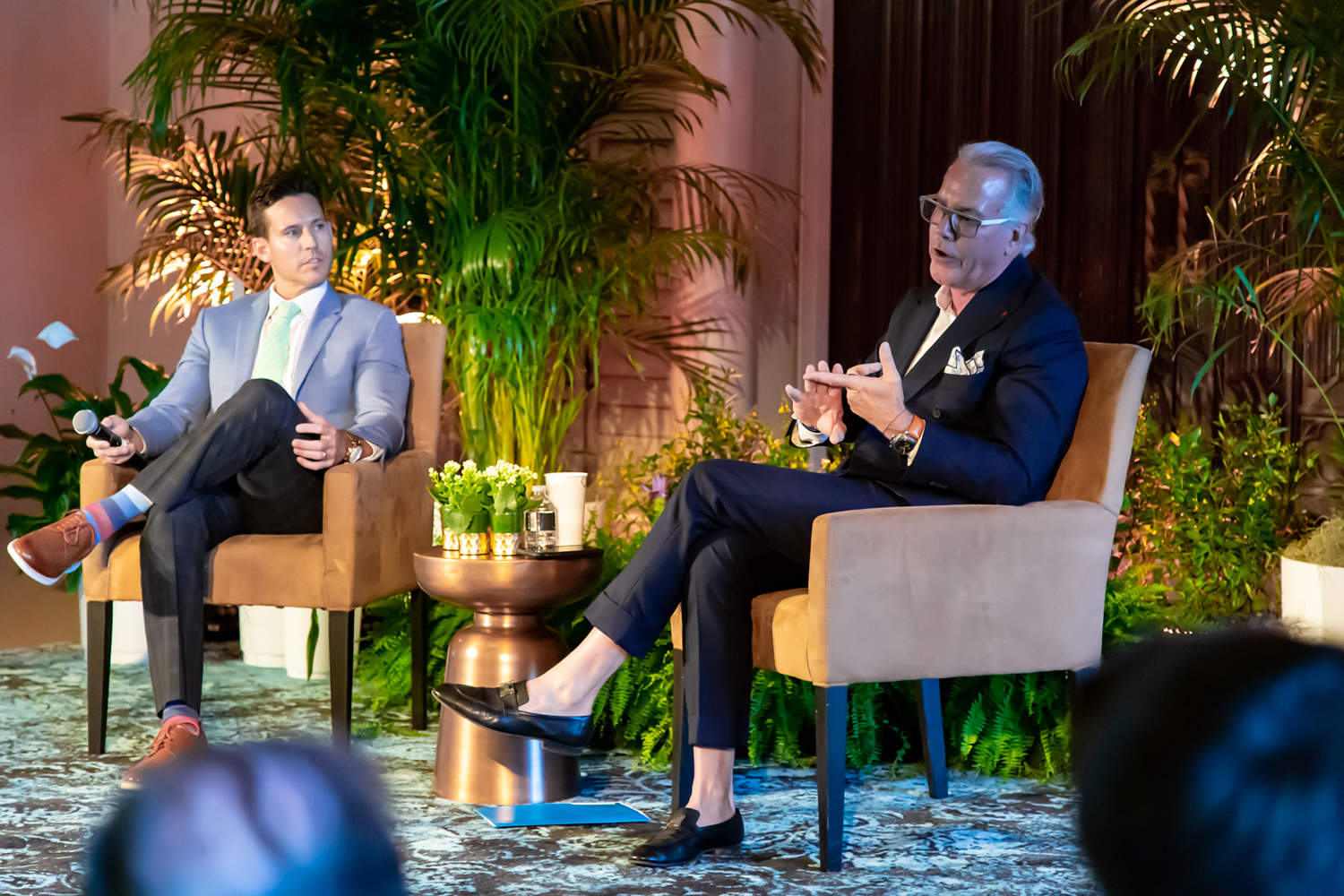 The winning combination at the Boca Raton Resort & Club
Photos by Larry Wood
John C. Tolbert is president and managing director of the Boca Raton Resort & Club and the chairman of Revelation Consultancy, a leading real estate advisory group servicing Fortune 500 clients.
He serves on the boards of the Cultural Council of Palm Beach County, the Tourism Development Council of Palm Beach County, the Boca Raton Historical Society, Cendyn Corp., the American Hotel and Lodging Association, the Boca Raton Bowl and the Boca Raton Chamber of Commerce. He is an adviser to the boards of the Florida Atlantic University business school and the Lynn University and Nova Southeastern hospitality programs.
Tolbert has spoken about topics from business leadership to hospitality excellence at Gary Vaynerchuk's Agent 2121 and other events. He has been featured on CNBC, ESPN, Yahoo Finance and the Netflix series "Stay Here."
Tolbert has been Hilton Worldwide's "Luxury Leader of the Year" and the Greater Boca Raton Chamber of Commerce's "Business Leader of the Year."
Tolbert was interviewed by SFBW Associate Publisher Clayton Idle in the resort's Cathedral Room, an example of the resort's original 1920s architecture. The following transcript has been edited for brevity and clarity.
Tolbert's background
I had the pleasure of coming from a family that has been living in the same farmhouse in Montgomery County, Maryland, since 1750. I grew up on a dairy farm. My father was in the Air Force and then the CIA. My mother was the mayor of a small town for 35 years. I worked on the farm. I worked at the Gaithersburg Marriott at the front desk. Here I am, all these years later, and I haven't left the hospitality business. I've been working from Puerto Rico to Boca Raton to Park City, Utah; Hawaii; Mexico and many other amazing places. It has introduced me to some amazing people.
His first stop at the resort
and views of the city
I had the pleasure of coming here under the amazing leadership of Michael Glennie [president of Boca Resorts and now president of the Fairmont Raffles Hotel International]. He modernized the traditional destination resort. Michael was a true visionary. He brought in Nick Nickolas [as director of food and beverage operations.] Nick operated Nick's Fish Market.
To put this in perspective, the front of this room, the Cathedral Room, goes back to 1929. Until the early 1980s, your choices for dining were a 6:30 or 8:30 seating. We were one of the first resort leaders to bring in third-party operators and restaurants.
When you look at a resort like the Boca resort, what Addison Mizner [the hotel and Boca Raton's developer] recognized in 1926 is so important today. There were 100 deeded homes and incredible accessibility on the [Florida East Coast Railway] trains. Now we are looking at bringing in Virgin Trains USA. Palm Beach County is such a dynamic 365-day community.
We employ over 1,650 amazing people that I get to work with every day. Tourism in Palm Beach County impacts 8 million people a year. There is $4.7 billion in direct economic impact. What's happening is amazing in this town, with the Mandarin Oriental [a 164-room resort with 92 homes that is under construction] and Waterstone [a Hilton resort that now has four AAA Diamonds.]
The Boca Raton Resort & Club is the No. 1 bed-tax provider, and tourists in the county pay $100 million a year in taxes. The Palm Beach Tourism Development Council gives back—with culture, sports, films and other ways—$54 million to the community."
The value of teamwork
I have the pleasure of working with the most inspired and incredible team members. Without those amazing team members, I wouldn't be here today. It's so critical that we recognize the moments of truth. Every time a team member interacts with a member or guest is a moment of truth. We want to deliver an unparalleled experience before a guest even knows that they want it.
Probably the most satisfying aspect of my job is watching our talent progress. Richard Hess, our front office manager, will be the new hotel manager at the Waldorf Astoria in Chicago. We had six local high school interns that were amazing. That talent will be our feature leaders.
Leadership style
I hope that I lead by example. I hope I set the passion and the vision for which we all live in.
We work very hard for our goals, a five-star resort, a five-star beach club and a five-star spa, every single day.
The beauty of this resort is it is one of the few that is a private club open to amazing local members. It provides 360 acres and has nearly 1,700 employees representing 56 countries. We do 8 million pounds of laundry annually. There are 50,00 rounds of golf. We bake 6,000 cakes. There are 8,000 to 10,000 meals a day. We have over 274,000 cars valeted in a given year.
When you are dealing with a 24/7 business, it's a lot of fun. Today's extraordinary is tomorrow's ordinary. How do we do it better?
High profile
events and guests
The Governor's Conference on Tourism is coming in September. It's important to Palm Beach County and Boca Raton. There's lot of conversation about funding Visit Florida [the state's travel planning organization]. It is one of the most important things we can do. We are seeing a lot of conversation about other parts of the state that don't think it's so important. There are 70,000 jobs in Florida directly impacted by tourism. We need to continue to promote the brand.
We have hosted the Republican National Governors Association and every sitting president since 1926. We have captains of industry and celebrities.
The $875 million purchase of the resort by MSD Capital Partners
"Our previous owner, in many ways, didn't get the credit it deserved as a private equity firm. Blackstone invested over $350 million in the resort since buying it in 2004. We have been blessed with many amazing owners: Addison Mizner, Arvida, Disney, a limited partnership with John Temple and several others. Look what Wayne Huizenga did in the 1990s. He bought it with Panther Holdings and then rolled it into a public company, Boca Resorts [which included Pier Sixty-Six and Bahia Mar in Fort Lauderdale, the Arizona Biltmore and the Registry in Naples, Florida.]
This time, we went through a process and there were four amazing groups. Michael Dell's capital group are amazing, amazing owners. We may look back in time and say they might be the most significant owners going back to Addison Mizner. Their investment strategy and investment horizon are second to none.
What's exciting about the initial conversation is it's really about enhancing the restaurants and public areas and amenities around the resort. We recognize the importance of this asset to the community and our stewardship of this great asset is to continue to make Boca Raton proud.
We are the most accessible destination resort in the country with a half-mile of beach and frontage on lakes and the Intracoastal Waterway. Where can you go, where you have the 365-day business, technology and all the things happening in Boca Raton? We have a winning combination." ♦
About CEO Connect
SFBW's CEO Connect series is an exclusive, invitation-only monthly event that brings together South Florida's top business leaders to meet and mingle.
The gold level sponsors are Celebrity Cruises, CenterState Bank, C3 & Broward Health.
The evening begins with a cocktail reception for about 100 guests followed by the highlight of the event, a live interview conducted by Gary Press, SFBW Chairman and CEO or Clayton Idle, Associate Publisher and a well-known C-level executive who provides insight into their personal lives, careers and views on issues affecting the business community.
Partnering with SFBW on this exclusive event provides an opportunity to network with the area's business elite, generate new business opportunities, and increase brand awareness. For information about event sponsorship opportunities, email Clayton Idle at cidle@sfbwmag.com.