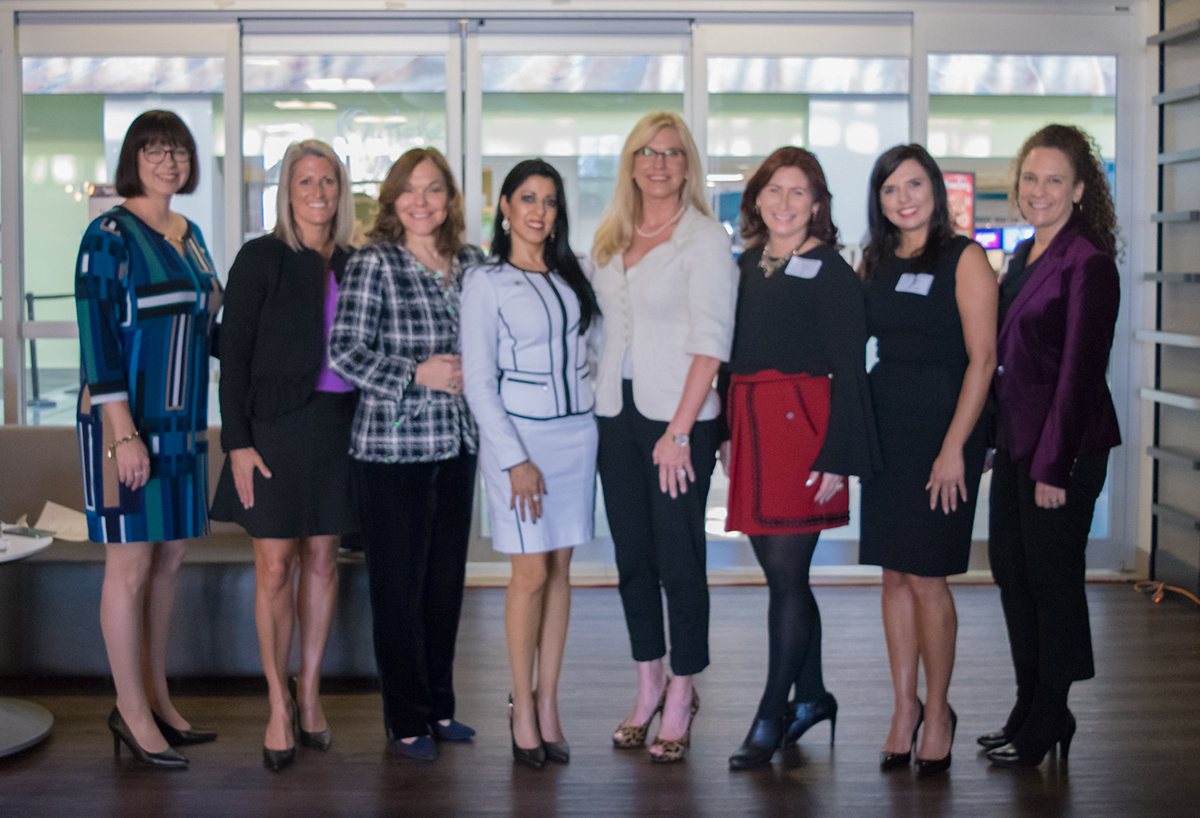 A Tech Focus for Growth and Innovation
The South Florida Executive Roundtable assembled a panel of leading executives at its Women's Leadership Roundtable Breakfast Panel at Nova Southeastern University.
Innovation, high levels of competition and a tight labor market were key challenges outlined by the panelists. The moderator was Caroline Fleischer, managing principal and marketing leader in South Florida for Cresa, which offers tenant representation. The panelists:
• Roberta Loomar, general counsel of Apotex, a generic pharmaceutical manufacturer.
• Cristina Allan, president and CEO of AlphaStaff, professional employer organization.
• Diana Dobin, president of Valley Forge Fabrics, called the world's largest decorative textile supplier to the hospitality industry.
• Jennifer Starkey, senior vice president and regional vice president at TD Bank.
• Courtney Seely, general counsel at Orangetheory Fitness.
SFBW is the media sponsor for the roundtable. The following transcript has been edited for brevity and clarity.
Courtney, please tell us a little bit about how innovation will impact your business or industry.
Seely: A little known secret about Orangetheory is, we think of ourselves not just as a fitness company but as a technology company. Within our corporate headquarters, we have about 140 employees—75 in technology.
We live to innovate in order to give people more life. What that really means is, connecting with our consumers in a more-intimate way—the way consumers are using social media and personal devices in their wearables. There's going to be a new way to check in to the studios. You can check in with a watch, with a mobile app. The way we communicate with you is no longer going to be text or email. It's going to be all through our technology platforms.
Jennifer, how will innovation impact service in the banking industry?
Starkey: Think about how you do your banking now. So many people just pick up the phone.
You may be surprised to learn that when we look at the data on who's using their phones to do their banking that the most common person is a woman in her 50s. You think it's the younger generation, but it's actually, the 50- to 55-year-old soccer mom that's using technology the most to do transactions.
TD Bank is actually the first bank in the nation to buy an AI company. We are really on the forefront of how we're going to be able to deliver our services across many different platforms—not just one platform, because not everyone is the same. We still have 30 percent of our clients who want to walk in the store and do a transaction and want a face-to-face interaction. Although what our stores may look like and what the experience is when you go in there, that's what's changing. We're actually looking to grow 45 more stores in Florida.
But from a technology standpoint, we're also using it to innovate what type of solutions we bring to our customers. Think about the amount of data that is collected from all of the transactions, either online or through credit cards.
We did a study, up in Canada, that found just looking at people's banking transactions over 12 months, we were able to predict with a 92 percent accuracy rate, whether someone was going to be having a baby.
Then you think about how could you deliver to that person from a marketing standpoint, from a solutions standpoint? What's going to be important for them?
Roberta, what are the biggest technological advances you see advancing or hindering the pharmaceutical industry over the next few years?
Loomar: My industry is all about innovation. What we do is we try to figure out a way to develop [generic] drugs that work the exact same way in the body, but at the same time don't infringe on intellectual property that's out there by the brand company.
Technology is critically important in terms of what we do, and innovating, creating jobs. Because of the dearth of pharmaceutical companies remaining in South Florida, in our field, it's very difficult to find really good people that have experience both on the manufacturing side and on the business side of our pharmaceutical experience. So, part of the technology sometimes is remotely working from home.
Cristina, how you see technology advancing your industry?
Allan: We touch small- to medium-size companies, between 10 employees to 3,000 employees. We handle all the administrative functions for those companies and their employees whether it is payables, benefits administration, risk management, any kind of HR outsourcing.
We have new competition the past maybe five or six years that we never had to deal with in the past. My industry, professional employer organizations, was never meant to be a very sexy, technology-driven kind of industry. It was more about, "Hey, get my payroll right, get my employee benefits right—and keep me out of trouble from an HR perspective." So now we have to deal with competition when you have companies that actually are IT companies that have very sexy way of doing things.
We have to make sure that we are innovating in our own technology and HR system. At the same time, you have to make sure that you continue to build a new value proposition. You establish the fact that you have great transactions—that you have zero error percentages and the people in the HR side of things, but at the same time you have to have the ability to show employees that they can come to you.
Diana, I'd like to hear from you about what's your biggest opportunity.
Dobin: We have a lot of threats, but one of the most significant is that the design of hotel rooms is changing dramatically. Rooms are getting smaller. Hotel owners want to have more rooms in the same building to be able to double their revenue. Also, the design inside the spaces is changing. Does anybody remember the big lounge chair with a little skirt on it and a big ottoman? Those pieces of furniture are gone. That big ottoman was four yards of fabric. Now you go to a hotel room and there's maybe a yard or half a yard on a side chair. For the same amount of revenue, we have to process double or sometimes triple the amount of orders.
We have a lot more competition. We're really good at the custom textiles in small quantities and for great prices. We have about 35 competitors today. Whereas 10 years ago, we had three, so that's also a big threat to us.
I think the largest threat of all is the state of the job market. It is really hard to find talent. So, we are really quickly working on battling that by being flexible. People want to spend more time with their children and people also want to work different hours than traditional work hours. So, as an employer we're focused on all of those things in order to help us in this very, very tight labor market.
Jennifer, would you tell us a little bit about TD Bank and your competitive advantage?
Starkey: We were one of the first banks in the country to be open seven days a week and many of the banks followed suit after that. I'd say the biggest advantage we have is our people. The people that we hire are very much like our customer base. So, we are always looking to be diverse and inclusive.
We have an onboarding system that is called "I Am TD," where people have an in-person onboarding day to learn about what TD is all about. And our mission as an organization is to enhance the lives of our community, our customers and our colleagues. And everything we do every day is focused around those three things. We are extremely customer-based. The customer is always right. Our bonuses are actually based on our legendary customer experience index. What that means is when a customer comes into our store, you can follow up with them to see what their experience was like. And that experience is given a score. And that score is applied to every single employee's bonus at the end of the year. If our customers aren't happy, then we're not getting paid.
We are a top 10 bank in the United States, but we are all local people working where we live and play, and all of our decision makers are local. So that gives our customers the advantage of having that small community bank feel but really having that financial powerhouse. So, whether that business is just starting out or getting ready to sell to private equity, we can help them in their entire business life.
Courtney, would you like to share your organization's competitive advantage?
Seely: First and foremost is the workout: It is phenomenal, and it works. That's how you go from one location in 2010 to over 1,100 in 23-plus countries in the span of eight years. We just tapped $1.1 billion in top line sales. When I started in June of 2017, we had approximately 550 locations and about half that top line sales number.
How are we doing that? We're staying true to our core as it relates to a focus on the fitness. We are investing heavily in technology and innovation. Our members are extremely competitive, whether it be with themselves or with others in the class or their coaches. And we're making the experience a really memorable experience, so that you can track your progress over time. You can know what your fastest run was and you can compare what you did a year ago on the same date.
I wear a fitness ring, as do all the executives, because we're always testing things. There's always beta testing going on. People wear fitness gear the to the headquarters office, irrespective of size, shape or fitness level. We have an employee spa, we have a corporate studio. So, the whole organization is all about fitness and technology.♦
SFBW is the exclusive media partner of the South Florida Executive Roundtable. For more information on SFER, visit SFexecRoundtable.com.