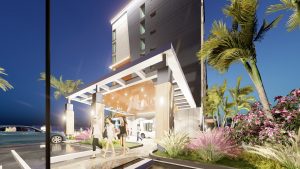 Adache Group Architects was chosen as the architect by P & S Hospitality Corporation to design the 92,032 square feet Staybridge Suites at 1531 SW 26th Street in Fort Lauderdale. The newly planned eight-story, 124-room hotel is the first branded Staybridge Suites prototype in South Florida. The modern-style design features clean lines and minimalistic and functional features. It includes an outdoor living room area with a fire pit for social gatherings and "socials" planned three days a week. 
Construction of the hotel is expected to begin in the spring of 2023, with an opening date of Winter 2024. The Staybridge brand hotel is an extended stay hotel experience with luxury suites ranging from king studio suites to two-bedroom double queen and king one-bedroom suites. 
"We are excited to announce the submission of the design of Staybridge Suites to the city for their approval and that construction is anticipated to begin in Spring 2023," Daniel Adache says, CEO of Adache Group Architects. "We appreciate the council's support of this project, which will bring this extended-stay option in the core of Fort Lauderdale."
The hotel's design is carefully positioned to preserve existing live oak trees on and around the site. Each unit type has a full kitchen and amenities such as an outdoor pool, multiple lounges and living spaces for relaxation. A gym and guest locker storage is available and a laundry room.
"As we embark on our first project with Adache Architects, we are already very impressed with their ability to stay on schedule, ultimate professionalism and hands-on personal work ethic," Shawn Patel says, Co-Founder of the P & S Corporation. 
P & S Corporation's Intercontinental Hotel Group (IHG) is located near the newly planned Staybridge Suites. The new project will become their sister property, which will allow the company to reach more of an upscale market for extended stays. P & S has three additional projects they own by acquisition.
"This Extended Stay Hotel is in a prime location – just steps away from the airport and the beaches," says Pete Patel, Co-Founder of the P & S Corporation.
Photos Courtesy of Adache Group Architects