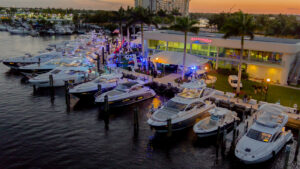 COVID-19 did little to slow the progress of the boating sales industry since rebounding from the Great Recession over 10 years ago. In fact, new boat transactions hit a 13-year high of 318,550 sales in 2020, according to the National Marine Manufacturers Association (NMMA), which estimates an annual economic impact of $23.3 billion in Florida, the highest of any state.
"New boat sales continued to be elevated through the latter part of 2020, up 40% September through December from 2019, an indication that consumers are snatching up boats as soon as they're coming off the production line. This heightened demand for new boats amounted to a record year in sales for the recreational boating industry as Americans sought ways to spend time on the water with their loved ones," says Vicky Yu, NMMA director of business intelligence.
In 2010, sales totaled less than 178,000 boats sold in the U.S. but began to rebound two years later and produced 286,000 sales in 2018. Aquila Power Catamarans launched its Aquila 70 Luxury and Aquila 54 Yacht vessels earlier this year. The rollouts were part of the brand's strategy to capitalize on the industry's growth, with MarineMax Pompano Yacht Center serving as one of its certified Aquila Power Catamaran dealers in South Florida.