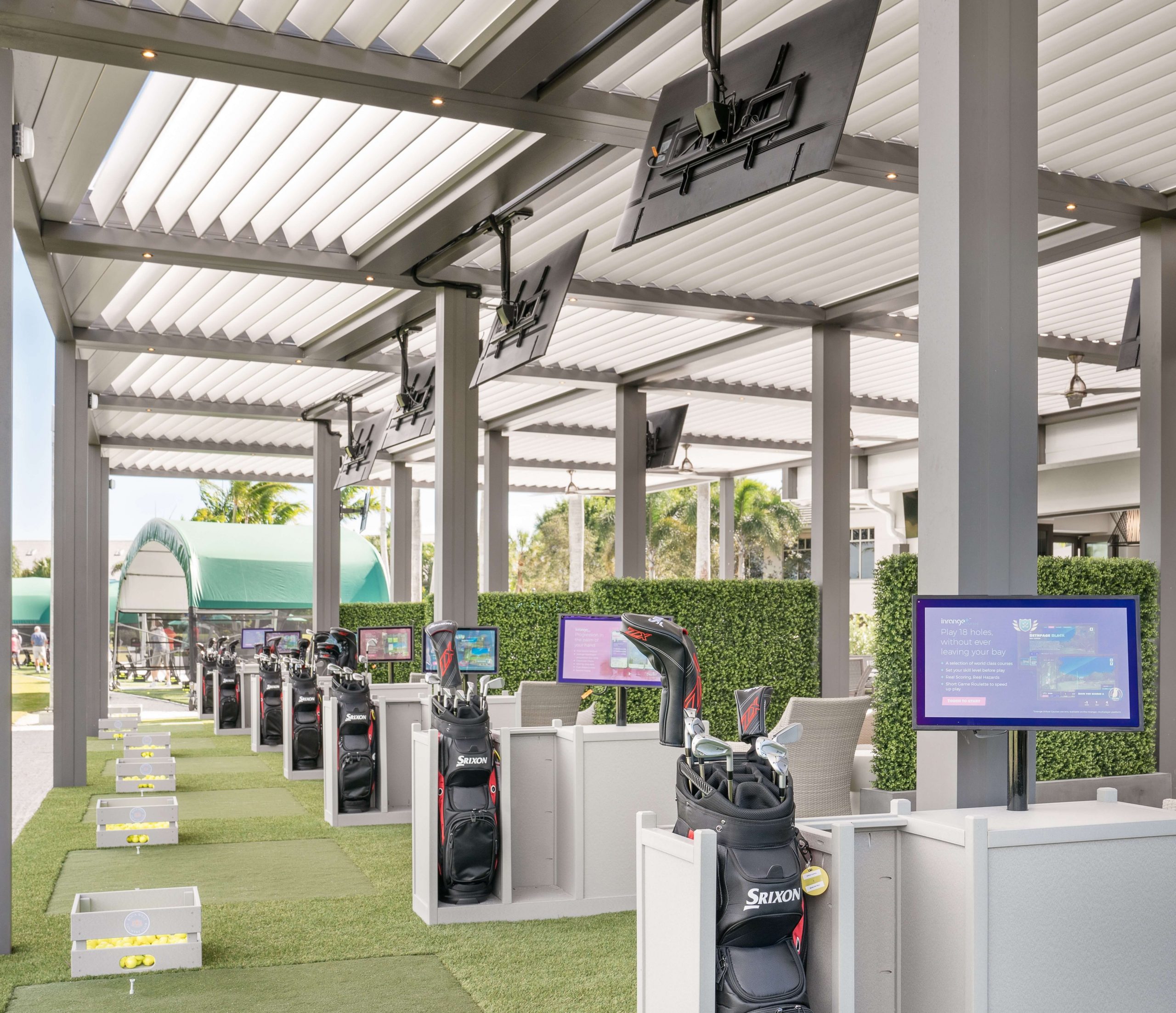 Boca West Country Club Raises the Technology Ante
Enjoy radar technology on the driving range
By Tom Bedell
Some golfers love pounding out balls on the driving range. Others liken it to donkeywork, and therefore don't practice as much as they should if they really hope to improve their games. Boca West Country Club has handily removed the obstacle of drudgery by installing Inrange radar technology at its south driving range. Members can now play target games with the new system, or measure their golf swing mechanics through a matching phone app.
With its four championship golf courses, an award-winning USTA tennis facility, a luxurious spa and fitness facility and seven restaurants, all spread out on 1,400 acres of tropical landscaping, Boca West has received a 5-Star Private Club ranking by Platinum Clubs of America every year since 1997. It was hardly lacking for amenities before installing the new radar system in December, a first for a private club in the country.
"As the first country club to offer this radar technology, we are further enhancing our reputation as a world-class destination for golfers of all skill levels and abilities," says Matthew Linderman, president, chief operating officer and general manager of Boca West.
In other words, who can resist a new toy, especially one as dazzling as the Inrange? "I was super excited to try it," says member Ellen Shapiro, who has a 10.5 handicap—in short, a player. "The first thing I did was to take my whole bag and just start hitting balls to see if I was truly carrying them as far as I thought I was. It was fascinating."
With the app, players can see their shot tracing, just like watching the pros on televised tournaments. "The target practice is mind-blowing, too," Shapiro says. "I tried practicing my pitching wedge—one of my issues—and I think at first I missed 15 to 20 in a row. For practice, the bottom line is it's very fun, very valuable and a very cool thing they've offered here."
Member Eric Reinstein is another serious golfer with a 5.4 index. "I use the practice function more than targeting," he says. "I just traded in for new clubs so I was interested to see how far I carry the ball on the fly, since my ball flight tends to be rather high. And the immediate feedback to see what you need to work on is just great."
There are 26 bays on the south range. Seven of them, called Drive Suites, are built right into the newly renovated Mr. D's restaurant, each equipped with 65-inch television monitors. The hazard there is that everyone in the restaurant can see how well you're doing (or not).
Boca West head professional Peter Taylor says, "These are popular for games, similar to Topgolf, and naturally the kids love these. There are closest to the pin games, or a game where you, theoretically, try to blow up parts of the driving range. But all the bays allow you to log in with your phone and track shots for game improvement, to see how far you're carrying your five iron, say—really making use of the data to work on one's game. And it's also great for us to assist members in club fitting."
The Drive Suites allow for nighttime use and multiplayer games. Members can also tee it up on simulated courses like Bethpage Black, Whistling Straits and a few fantasy courses, a great option on bad weather days or during rain delays.
Reinstein, who tried out a few of the Bethpage Black holes, said, "Of course, your ball is not landing in the same landscape of what's on the screen. You may be right in the middle of the range but on the screen you're in a bunker or behind a tree. But it's very cool."
Reinstein remembers playing the actual Bethpage Black: "It was the hardest course I ever played; I was never so happy to get to the 19th hole."
Another plus for the Drive Suites Inrange set-up—you're already right at the bar.